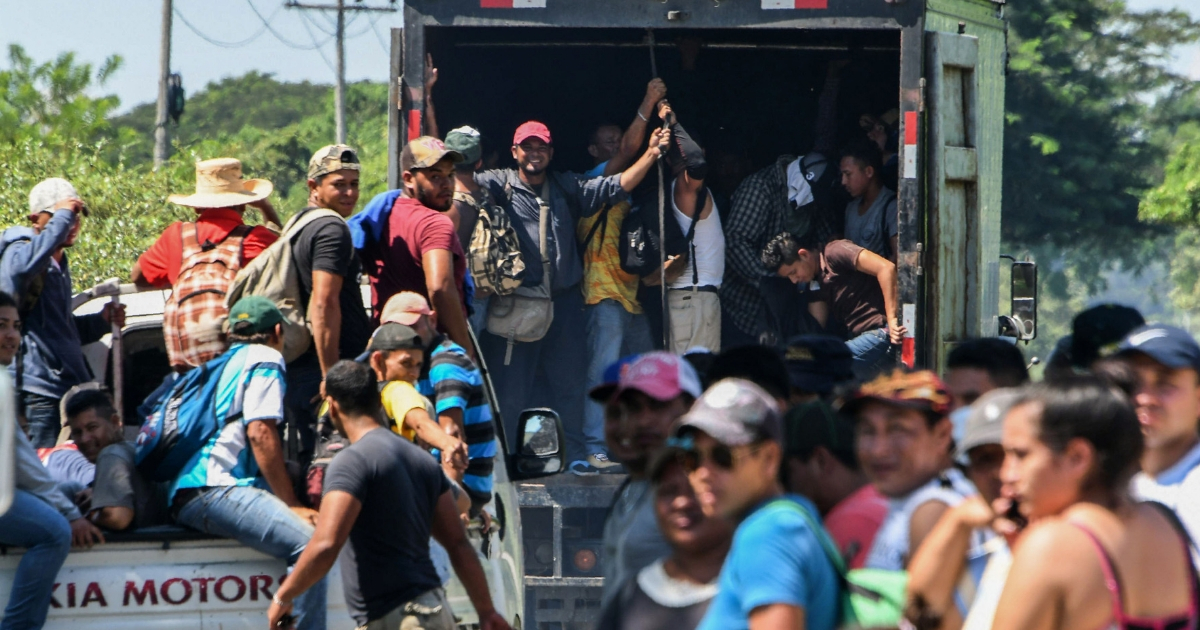 Second Caravan Begins Journey to US Border
A caravan of migrants with their sights set on getting into the United States left Honduras Friday, a day after Vice President Mike Pence urged leaders of Central American nations to do more to stop the influx of migrants hoping anywhere is better than where they currently live.
Although the march began with about 160 people, by Sunday it had swelled to 1,600 said Dunia Montoya, a volunteer assisting the migrants, according to The Associated Press.
"People leave Honduras every day, but this is the first time (they do it) in a public way and in a group," Montoya said.
Advertisement - story continues below
"There's a misery and a violence that is overwhelming people," she added. "People no longer have faith in this country, and they are fleeing."
A caravan of migrants heading through Honduras to Guatemala continues to grow larger. What began as a group of 160 people, now numbers about 1,600.
They plan to spend the night in a community centre before attempting to cross the border Monday. https://t.co/T59LoSQs5H

— CBC News Alerts (@CBCAlerts) October 14, 2018
The group plans to cross into Guatemala on Monday. After that, they hope to see asylum in Mexico so that they can then move north to the U.S. border.
This would be the second caravan of Central American migrants seeking to make a dramatic entry into the United States. The first, which arrived this spring, was at one point as large as 1,000 people. About 200 eventually attempted to enter the U.S. en masse, while others split off to try to cross the border on their own.
Advertisement - story continues below
On Thursday, Pence met with Honduran President Juan Orlando Hernandez, President Jimmy Morales of Guatemala and Vice President Oscar Ortiz of El Salvador, Fox News reported.
"If you do more, I'm here to say on behalf of the president of the United States and the American people, we'll do more," he said.
"Tell your people: Don't put your families at risk by taking the dangerous journey north to attempt to enter the United States illegally," said Pence.
Should Central American countries stop these migrants?
Hernandez said the U.S. needs to increase its funding for the nation to do more, Reuters reported.
Migrants say they are fleeing violence and poverty that the government does not control.
Advertisement - story continues below
"There is no work and so much violence that you can get killed walking down the street," said Javier Solis, 25, who tried to reach the U.S. once before but was deported by Mexico back to Honduras. 
Hernandez also said that the U.S. should puts its priority on reuniting children separated from their families.
"If you look at your conscience, if we all put ourselves in the shoes of these parents, imagine if a child from your country found himself or herself in that situation, you could understand the rejection this has caused in my country, the huge pressure we face," Hernandez said, according to Reuters.
A look at what awaits many of the migrants comes in an NBC report that said more than 1,400 Central American migrants have been dumped and left on their own in the Sonoran Desert along the Arizona-Mexico border.
Advertisement - story continues below
"We've seen large groups in the past, but never on this scale," said Border Patrol Agent Daniel Hernandez said. "It's definitely a serious concern because their safety is being put in jeopardy."
Conversation