Commentary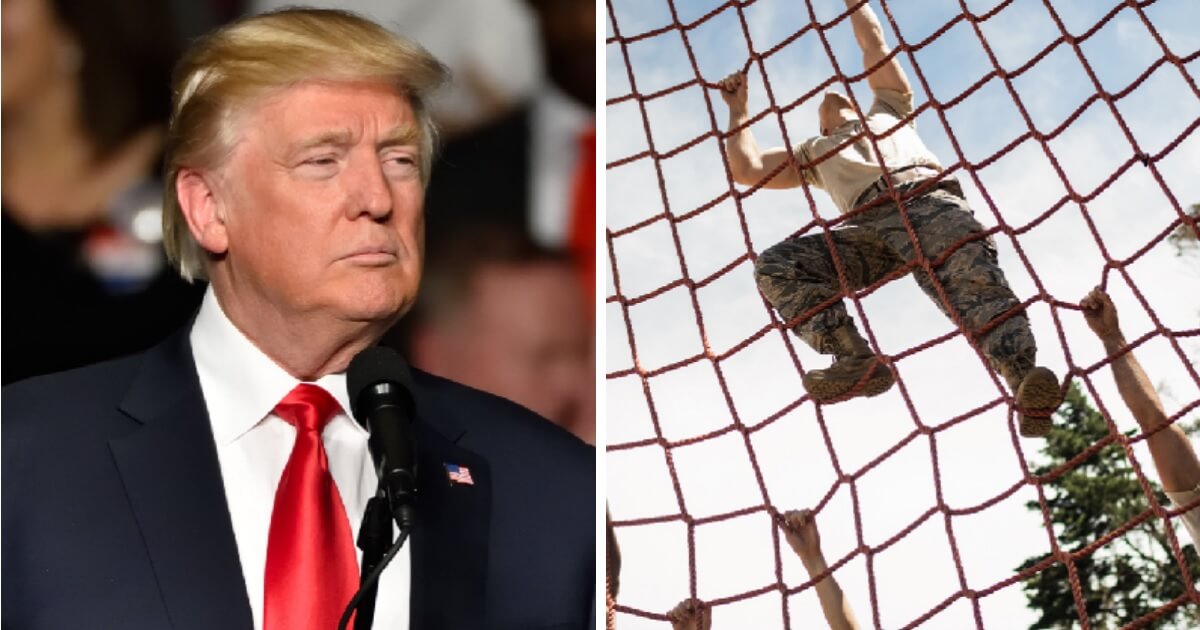 Out-of-Shape Soldiers Just Got Horrible News from Trump -- You're Out
If you're in the military and you're so out of shape that you can't deploy, the Trump administration wants to make you shape up or ship out to civilian life.
According to the Washington Examiner, under a new Pentagon policy colloquially referred to as "deploy or depart," 61,000 "stay-at-home soldiers" have been removed from the Army.
The Examiner reported the soldiers were confined to stateside duty for reasons "including physical fitness, medical conditions, or family circumstances."
Advertisement - story continues below
"Before the policy went into effect this summer, the Army had 121,000 soldiers listed as not available to deploy, which constituted roughly 15 percent of the force," the Examiner reported.
"The most recent numbers show that only about 60,000 soldiers or about 6 percent of the Army are still not deployable."
That number could go down further. The military announced last week that it was going to further cultivate a "culture of deployability."
"Soldiers who are non-deployable for an administrative reason … for more than six consecutive months, or six non-consecutive months in a 12-month period, will be processed for administrative separation," a statement from Army Secretary Mark Esper said, according to Military.com.
Advertisement - story continues below
Esper added said that soldiers who had been non-deployable for over a year would be given six months to rectify the issue.
"We must have a deployable and fit culture in the Army," Esper wrote in his memo. "Our nation deserves no less."
Do you agree with the Pentagon's policy on "deployability?"
Exceptions would be made for soldiers who were pregnant, had recently given birth or were combat-wounded.
Obviously, the military makes demands on its members that aren't comparable to employment in the civilian world — demands modern young people might not be accustomed to. And the Trump administration has already made clear it doesn't consider the military as the place to engage in social engineering.
The memo "lists six criteria that must be met by all uniformed personnel," the Examiner reported.
Advertisement - story continues below
"They include the ability to operate in an austere environment; carry and employ weapons; maneuver in body armor and chemical and biological protection gear; meet all physical demands, including passing the Army's physical fitness tests and executing individual 'warrior tasks' for any assigned mission; and being administratively, legally, and mentally cleared."
Physical fitness is going to be a serious health problem for the military in coming years. In February, a report from the Heritage Foundation sounded the alarm on what the conservative think tank called a "looming national security crisis": Individuals who weren't physically fit enough to serve their country.
"The military depends on a constant flow of volunteers every year. According to 2017 Pentagon data, 71 percent of young Americans between 17 and 24 are ineligible to serve in the United States military," the Heritage Foundation reported.
"Put another way: Over 24 million of the 34 million people of that age group cannot join the armed forces — even if they wanted to. This is an alarming situation that threatens the country's fundamental national security. If only 29 percent of the nation's young adults are qualified to serve, and if this trend continues, it is inevitable that the U.S. military will suffer from a lack of manpower. A manpower shortage in the United States Armed Forces directly compromises national security."
Advertisement - story continues below
The report cited a comment Maj. Gen. Mark Brilakis, former commander of the Marine Corps Recruiting Command, made to the Federal News Network in 2014:
"There are 30 some million 17- to 24-year-olds out there, but by the time you get all the way down to those that are qualified, you're down to less than a million young Americans."
Apparently, that unreadiness has also made itself felt inside the ranks, too — and the Trump administration is doing something about it, even if it means reducing the size of our armed forces.
Conversation