The Top Historical Places To Visit by State
Wherever you find yourself within the U.S., you're not too far from a fascinating historical site. Some are educational, others are entertaining, but all are worth visiting. Many Americans share the dream of seeing as much of the United States as possible. But with nearly 4 million square miles to cover, that can be a tricky goal. We're here to help with a list of the top historical places to visit by state.
Check out 50 of our favorite historical sites in the list below and start planning a trip of your own!
Advertisement - story continues below
Here's what makes these the top historical places to visit by state:
Significance – It might sound redundant, but each of these spots tells a unique story of America's past. Just because something is old doesn't mean it's historical. So we've focused on those with captivating and enlightening relevance.
Accessibility – Some of the coolest historical places to visit by state are shrouded in mystery. There are top secret and heavily guarded areas that might blow these other places away. But since we'll probably never know, spots like Area 51 did not make our list.
Regionality – Each of the places below have special historical significance for the country. But they are also important to their particular region. This allows visitors to experience the rich tapestry that is the United States.
Wherever your next road trip takes you, we hope these tips help you create great memories!
Alabama, Fort Mims 
Advertisement - story continues below
Fort Mims is a monument to the blood that was shed between factions of the Creek Indian tribe. The battle along the Alabama and Georgia border waged as the War of 1812 carried on elsewhere in the country. It hit its climax on August 30, 1813, with an assault by the Red Stick Creeks. That last stand happened on what is now the Fort Mims historical site. The Red Sticks were able to capture the fort and kill many of their enemies — including Americans.
The incident has gone down in history as the Fort Mims Massacre. When the Battle of Horseshoe Bend ended, the Creek War came to a brutal close. And the only place you will find the whole story is in Stockton, Alabama. Its preservation gives visitors an incredible glimpse of this tough early chapter in America's story.
Alaska, Klondike Gold Rush National Historical Park
Advertisement - story continues below
This state's remote location and late entry into the union do not mean it is devoid of history. There are stories of frontiersmen and women that could serve as inspiration or a cautionary tale even today. Our favorite is the Klondike Gold Rush, which is memorialized at the appropriately named national park in Skagway.
You might think of California when you recall the 19th century gold rush. But as the 20th century approached, tens of thousands headed to Alaska. In what turned out to be a big bust for most prospectors, Alaska's population temporarily boomed. Men and animals died of starvation, exposure and other maladies. But their sacrifice in pursuit of the promise of prosperity remains alive. You can even retrace their 600-mile journey. Historians sometimes refer to this gold rush as America's last great adventure. And when you hear the whole story, you just might agree.
Arizona, Mission San Xavier del Bac
Advertisement - story continues below
You can't go to Arizona without signs pointing you toward the Grand Canyon. But in our list of the top historical places to visit by state, we've picked San Xavier del Bac. It's a brilliant example of Spanish missions dating back centuries. In fact, it is among the oldest buildings with a European heritage to stand on American soil.
San Xavier del Bac was established in 1699, more than 200 years before Arizona became a U.S. state.
Arkansas, Eureka Springs
Advertisement - story continues below
Many of the top historical places to visit by state are specific locations. Our pick in Arkansas, however, is an entire town. Eureka Springs, like a few other towns, was known for its natural resources. Specifically, the spring water pouring from the Ozarks nearby provided a compelling draw for travelers. Thousands made the pilgrimage after the city was incorporated in the late 19th century.
Whether the water had healing powers or not remains a topic of debate. What is clear, however, is that the promise of restorative waters put Eureka Springs on the map. To this day, you can visit the preserved downtown area. And springs that once attracted visitors all year are now on display. Plenty of folks also picked up and moved to the growing town. At its peak, it was the state's fourth-largest city. By the way, it is also known as the nation's wedding capital. More couples per capita tie the knot in Eureka Springs than anywhere else in the country. There must be something in the water.
California, The War Memorial Complex
Advertisement - story continues below
The War Memorial complex has had local significance in California and beyond for nearly a century. Plans dating back to the 1910s intended this to serve as both a veterans memorial and an opera house. It wasn't until one of the nation's most trying periods that it earned international recognition. World leaders gathered at the height of World War II for lengthy meetings. These negotiations directly led to the formation of the United Nations. President Harry Truman was among the signatories on the opera house stage to sign the charter.
That should be enough of an impact to earn a spot among the top historical places to visit by state. But it would go on to serve as the backdrop for another world-changing event just a few years later. In 1951, tense talks in the veterans memorial building led to the Japanese peace treaty. And that document was signed next door in the adjacent opera house.
Colorado, Bent's Old Fort National Historic Site
Advertisement - story continues below
Few places on our list of top historical places to visit by state offer such a preserved story. Bent's Old Fort National Historic Site dates back to a trading post from nearly 200 years ago with structures and landscape that are artfully and accurately recreated.
The history of this site includes tales of community and commerce between Native American tribes. As tour guides reveal daily, Cheyenne and Arapaho tribes sent traders to this spot. The primary commodity was fur, but the location also served as a meeting point. It is situated beautifully on the Santa Fe Trail and captures a vital period in Colorado history.
Connecticut, Audubon Society Birdcraft Museum and Sanctuary
Advertisement - story continues below
Birdwatchers will be especially interested in our next pick. The Connecticut Audubon Society dates back to 1898 when Mabel Osgood Wright wanted to extend her growing efforts to conserve nature. She emphasized education along with advocating for ecological preservation.
That finally took shape in the form of the birdcraft sanctuary in 1914. Wright founded what was at the time the only private songbird refuge in America. A museum and nature preserve exist to memorialize her contribution. It has been a designated historical site in the state for more than 20 years. And you can see it all during your next trip to Connecticut.
Delaware, Kalmar Nyckel
Advertisement - story continues below
Few of the top historical sites by state are as attractive for kids as the Kalmar Nyckel. This is a recreation of a colonial sail ship that dates back nearly 400 years. And to this day, a full-scale replica fascinates visitors young and old.
There are plenty of ways you can experience the past. First, dozens of students per day can visit and explore the huge ship. Then, even when you get off of the ship and on to dry land, the fun continues. Instead of a static museum, there are four dynamic learning stations. You can experience the past through interactive games and presentations. Many visitors leave without quite knowing whether it was a museum or an amusement park.
Florida, Fort Jefferson
Advertisement - story continues below
Not only does this landmark take you off shore in the Florida Keys, it offers a great story. Covering about 16 acres and comprised of millions of bricks, Fort Jefferson is still unfinished. It is located in what was a prime trade route off of Florida's Key West.
Dating back to the Civil War era, this was planned by the military as one of the biggest forts ever conceived in an effort to protect a valuable harbor. But 30 years later, the structure remained only partially constructed and unarmed. Though it was once thought of as the "Guardian of the Gulf," it never had a chance to live up to that reputation. The fort did serve another purpose, though. After the U.S. Army dropped the project in the 1870s, military coal ships docked there to refuel. It might be unfinished, but the Fort Jefferson is the complete package for many Florida travelers. And we think it's a sure bet for any list of the top historical sites to visit by state.
Georgia, Historic Madison

Here's another beautiful town you could easily spend a weekend exploring. But from a purely historical perspective, you can find plenty here to enjoy. If you've ever been interested in the antebellum South, Madison is the place for you. It is the location of one of the state's largest national historic districts. Historic Madison is also one of the oldest.
Advertisement - story continues below
Find brilliantly preserved examples of homes and buildings from before the Civil War. Much of the downtown area consists of unique shops and restaurants. Plus, there are beautiful hiking trails to fascinate adventurers of all ages. You could make a detour and stop in Madison during your next road trip. But don't be surprised if you stick around longer than expected. Whether you're looking for Southern hospitality or a history lesson, Madison has it.
Hawaii, Puʻuhonua o Hōnaunau National Historical Park
You've probably noticed that many of the top historical places to visit by state actually predate statehood. This is especially true in Hawaii, a relative newcomer. The 50th state has an array of incredible sites dedicated to preserving its history. One of our favorites is Pu'uhonua o Honaunau National Historical Park. Many of the most iconic themes of the island are on full display at this site.
Advertisement - story continues below
Whether natural features like the lava flats or human history, you will find a bevy of information. Among the most captivating features is the place of refuge. This structure is set apart behind a huge masonry wall spanning nearly 1,000 feet. This was considered a revered and holy spot for islanders. Even today, the pristine location is kept as close to its original state as possible, and visitors are encouraged to enjoy the experience without disturbing the history captured all around them.
Idaho, Bear River Massacre Site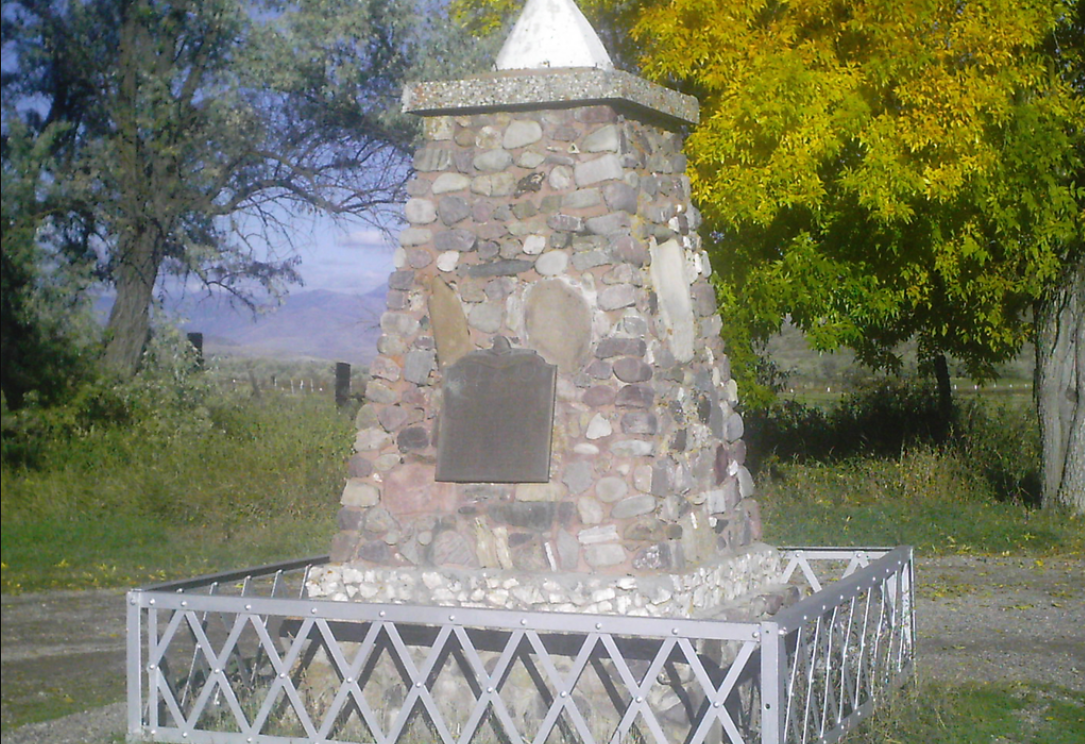 At the Bear River Massacre Monument, visitors can walk on soil soaked by Native American blood. This battle earned the tragic distinction of being the largest massacre of Native Americans in the nation's history.
Advertisement - story continues below
You can still pay respect to the fallen with tasteful monuments. For the most part, though, the field lays bare as a solemn tribute. There is a lone tree where visitors leave their own items. It obviously continues to hold special significance for members of the Shoshone tribe, as many of their ancestors were massacred on that spot. Each year, Native Americans host a memorial service to pay tribute to the loss.
Illinois, Eureka College

The second "Eureka" on our list of top historical places to visit by state brings us to Illinois. Of course, you know Chicago and many other places are steeped in history. But we think Eureka College is worth a visit.
Located in Eureka, as its name would imply, this college is more than a quaint establishment. It has all of the scenic beauty you would expect, but its historic importance goes back to its founding. In 1855, the college was founded by a group of abolitionists years before the Civil War. And it has since become known for its ties to a particular U.S. president. Long before his political ambitions, aspiring actor Ronald Reagan studied there and you can still find his imprint all over the campus. Specifically, there is a Reagan Peace Garden and an accompanying museum.
Advertisement - story continues below
Indiana, Lanier Mansion
Few men in Indiana business or politics wielded the influence of Franklin Doughty Lanier. During the beginning of the 19th century, he was a powerful banker and he commissioned the mansion that bears his name on property along the Ohio River. Today, it is a brilliant representation of Greek revival architecture.
In addition to the imposing columns and ornate crowns throughout, it is a testament to Lanier himself. The magnate wanted to leave a legacy, and he certainly did. Through funding everything from railroads to wars, his focus went beyond banking. He was a force to be reckoned with among the state's elected officials. And whatever you might think of his views, Lanier's legacy remains on this site and beyond.
Advertisement - story continues below
Iowa, Herbert Hoover National Historic Site
Iowa is a big deal each presidential election cycle. In addition to holding the first caucuses in the nation, it also has another deep presidential tie. The 31st president was born in West Branch, and the small cottage where he took his first breath is still standing.
If you're planning a trip to (or through) this town, be sure to check out the historic site. Herbert Hoover was born on August 10, 1874, in the small cabin on the property. His father built the residence by hand three years earlier, and it now sits on protected land. So you can visit not only his birthplace but the national historic site around it. Especially if you're a presidential buff, this one is a must.
Advertisement - story continues below
Kansas, Augusta Historic Theater

In 1930s America, it was extremely common to find a movie theater in any downtown. But when the Augusta Historic Theater first opened, the trend was on its downward trajectory. Nevertheless, the theater was completed in 1935 and has remained open. As it stands today, the historic site is a testament to the early days of American cinema.
This belongs among the top historical places to visit by state just based on its architecture. The Art Deco styling is classic and distinctive. Plus the Egyptian theme is prevalent throughout the expansive structure. But perhaps the best part is that the Augusta Historic Theater is still in operation. Catch a classic or current movie on the screen or a live show on the stage.
Kentucky, Lincoln birthplace
Advertisement - story continues below
If we're going to include Hoover's birthplace, it's only fair to add Lincoln's to the list. The Great Emancipator's life is full of tales both heroic and humble. But it all started with his birth in a cabin, and a replica is contained within the monument in Hodgenville.
This site is not just one of the many great monuments to this iconic American. It was the first memorial for Abraham Lincoln ever constructed. And instead of recognizing his great achievements, it memorializes his humble roots. A few of the top historical sites to visit by state provide a healthy dose of inspiration. But viewing the roots of one of the greatest U.S. presidents really resonates with many visitors. If someone from his background can change the course of history, nothing is impossible.
Louisiana, Preservation Hall
Advertisement - story continues below
It would be a shame to visit Louisiana and skip the beauty and charm of New Orleans. In addition to all of the great food, the culture is palpable. Jazz music has been a big part of that throughout the city's French-inspired past.
Preservation Hall keeps that history alive beautifully. The next time you're in the French Quarter, be sure to stop by this 18th century performance hall. Of course, you can check out the architecture and learn about its storied past. But you can also stick around to hear some live music in the same vein. Whether you're looking for old jazz pros or new artists coming up, you can find them jamming at Preservation Hall. As its name suggests, this hall is all about preserving an important tradition. Few of the top historical places to visit by state do that with such passion and artistry.
Maine, Sabbathday Lake Shaker Village
Advertisement - story continues below

Maybe you're familiar with the expert craftsmanship of their wood furniture. You might know a thing or two about their faith. But you probably don't know the whole story of the Shakers unless you've been here. That's because there are literally only a couple of adherents to the faith still alive. And their faith requires celibacy, so its only growth is external.
But even though only two are still alive, their story remains alive through Sabbathday Lake. This is a great chance to visit a preserved community and follow their path. You will learn about the religious persecution Shakers faced before leaving England. They headed to the New World in the 18th century and soon established this Maine village. To this day, you can walk in the same buildings they worked and lived in during those years.
Maryland, B & O Railroad Museum
Advertisement - story continues below
If you've played Monopoly, you've probably tried to buy this valuable property. But the Baltimore and Ohio rail line was huge in real life during the steam engine era. The site of this museum was also the origin of railroading in the United States. For that reason, historians recognize the importance of the site. Many railroad buffs call it the most significant railroad museum on the planet.
Whether you're into trains or not, you're likely to find something fascinating here. Getting up close and personal with these steam engines is an experience all its own — you can even still ride the rails. See where the innovations began that went on to let more Americans head west than ever before.
Massachusetts, Freedom Trail Walk Into History Tour

You can hardly take a step in Massachusetts without hitting a major historical site. But if you want to make those steps really count, we recommend the Freedom Trail. Walk the brick path spanning 2.5 miles and encounter rich stories of American history all along the way.
Advertisement - story continues below
You'll find more than a dozen preserved scenes of colonial life. That will include churches, graveyards, civic buildings and museums. And every one gives you a fresh perspective on the period. Tour at your own pace or with a private guide to get even more out of the experience. The story of the American Revolution lives large throughout Massachusetts.
Michigan, Lake Michigan Lighthouse Map & Circle Tour

When you think of Michigan, you probably think of the Great Lakes. One of the most incredible ways to appreciate the scale is this tour. Since Lake Michigan is the only one of the five lakes entirely within the U.S., it is uniquely accessible. The loop itself is a time-tested way to explore the lake and its lighthouses.
You'll encounter more than 100 beautiful historic lighthouses, as well as numerous other places worth a stop. These diversions include parks, beaches, islands and other attractions. Plus, you'll travel to the Mackinac Bridge, a feature known across the state and beyond.
Advertisement - story continues below
Minnesota, Fort Snelling
Few of the top historical places to visit by state combine the natural beauty and regional significance of Fort Snelling. This area along the Mississippi River dates back nearly two centuries. It was initially known as Fort Saint Anthony and survived as an active camp until World War II. In the decades since 1946, it has become an increasingly popular tourist site.
You can learn about its status as a training facility during the Civil War. Follow its important role through its active history. There is also plenty of information about this land's deep ties to indigenous Native American cultures. The natural beauty and awe-inspiring construction have been preserved for your enjoyment and enlightenment.
Advertisement - story continues below
Mississippi, Elvis Presley Birthplace

Mississippi is steeped in Southern history. But one of its most recognizable exports might just be the King of Rock and Roll. Graceland in Tennessee might be a more famous tribute, but you can find his humble origin story in Mississippi. The birthplace of Elvis Presley is not only a museum. You can find his actual birth home as well as the Assembly of God church he attended as a boy. Learn about his meager upbringing for the first 13 years of his life.
His poor family only lived in this house for a few years before being forced to leave after the rent went unpaid. But today it remains a shrine to the influential singer. The site is a key spot on the Mississippi Blues Trail. Whatever you think of Elvis, if you haven't seen this side you don't know it all.
Missouri, Anheuser-Busch Brewery Complex
Advertisement - story continues below

What is Missouri most famous for? Well, if you ask the right people, you might hear that it's Anheuser-Busch. It is expansive and covers 142 acres. The complex itself contains nearly 200 separate structures with tours.
Visitors over the legal age limit can look forward to two free glasses of beer. That comes at the end of the tour, which is packed with information. The brewery dates back to 1852 and its founder Adolphus Busch. It quickly went on to become an influential force in American beer brewing. The Anheuser-Busch brewery has also proven to be a major part of Missouri history. That is evident in the fact that it has been a historic site for more than 50 years.
Montana, Little Bighorn Battlefield National Monument

Several of the top historical places to visit by state honor sacrifices made on the battlefield. Few offer the raw emotion of this monument. Learn about the battle that lives on in tales throughout the state and in American history.
Advertisement - story continues below
The Battle of Little Bighorn ended after two days of fighting left 263 U.S. soldiers dead. Among them was Lt. Col. Goerge A. Custer. Thousands of Sioux and Cheyenne warriors showed up in an effort to protect their heritage. It was a major defeat for U.S. soldiers, and it remains a final show of force by Native Americans against U.S. forces.
Nebraska, Chimney Rock
Nebraska might be flat, but that doesn't mean it's boring. You can find countless natural features to capture your interest and imagination. Among our favorites is Chimney Rock monument in Bayard. It has been a national historic site for more than 60 years. But it was revered by nearly all who encountered it for generations before that.
Advertisement - story continues below
This natural landmark was recognized by travelers heading west along several legendary trails, and today's visitors can witness the same views. You can watch video and engage in educational tours of the features. Kids of all ages are sure to find their own treasure in the adjacent gift shop.
Nevada, Tule Springs Fossil Beds

From mining to gambling, there is plenty of history on display in Nevada. But for our money, we like the Tule Springs Fossil Beds. Experts say it is one of the world's best deposits of Ice Age fossils. The site is very accessible to today's travelers, so if you want to share a path with ancient creatures, this is a fun option.
This is not a sanitized museum but the actual spot where fossils are buried. We think it is a refreshing change of pace and a must-see for history buffs in the area. Like any outdoor activity in Nevada, though, we advise against exploring during scorching summer months.
Advertisement - story continues below
It's also a short distance from Las Vegas, so it makes a great addition to any trip to the strip.
New Hampshire, Market Square

Market Square remains the focal point of downtown Portsmouth. But it also exemplifies a bygone era of American life. Preserved within an active community, Market Square gives you a glimpse of colonial life. These 17th century buildings are still bustling with foot traffic.
Now you will find an array of shops and eateries. There are bookstores, antique shops and galleries showcasing local artists. While you enjoy the hospitality, you can admire the architecture and design. There are also informative and entertaining walking tours. If you've never gotten the full experience of such a site, we recommend his one.
Advertisement - story continues below
New Jersey, William Trent House

Few names are as important in New Jersey history as that of William Trent. His estate built in the early 18th century sits on the Delaware River, and it still looks as large and looming as it did nearly 300 years ago. It is designed with unique and visually appealing cues.
You can learn about the man himself and his influence in the state. Most notably, he initially set up the settlement that would later become a major city. He incorporated the area around his summer estate just a short time after it was completed. Using his own name as inspiration, he called the area Trenton.
New Mexico, Pecos National Historical Park
Advertisement - story continues below
The Pecos National Historical Park tells the story of an ancient civilization. The pueblo culture that inhabited the area included a community of more than 2,000, and they left behind a story that is still being told today.
You can learn about their prehistoric civilization and the way they lived. Structures and designs from that period still remain. On the same land, there is also information about the Spanish exploration that came centuries later. Few places have been the backdrop for such monumental periods. And among the top historical places to visit by state, we think this is one of the most intriguing.
New York, Ellis Island
Advertisement - story continues below

No other spot in the country exemplifies the melting pot that early 20th century American became than Ellis Island. In search of freedom and opportunity, millions came across Ellis Island.
It was a final stop on what was often a desperate and harsh journey. And many of the 12 million who came to the island between 1892 and 1954 faced further hardships. But through hard work and dedication, they were able to start a new chapter. The descendants of these brave men and women continue to advance that story today.
Not only were these immigrants risking it all, they gave America a chance to prove that it truly is the "land of the free." Visitors today can look up their own ancestors to get an idea of what they faced when coming to America.
North Carolina, Wright Brothers Monument
Advertisement - story continues below

If you've seen a North Carolina license plate, you've probably noticed that the state is proud of the Wright brothers. Orville and Wilbur gave the state its unique claim of being first in flight. On a December day in 1903, they took off from a sand dune.
The brothers had tinkered with flying machines for a while. Though they were known for their bicycles, planes were their passion. Since they didn't exist at the time, the brothers had to invent one. Sure, that initial flight wasn't very far. But it inspired the Wright brothers and others to keep trying. And a few short years later, planes were whirring in the clouds above everyone. So if you're planning a trip to the Carolina coast, this one is a must. Learn the story behind the legend and gain a new appreciation for this incredible invention.
North Dakota, Pembina State Museum

Several of the top historical places to visit by state have stories dating back hundreds, even thousands of years. But then there are some that date back millions. One of our favorites is the Pembina State Museum in North Dakota.
Advertisement - story continues below
The exhibits and interactive demonstrations gives a clear picture of the past. And that history dates back at least 100 million years. You can trace the inhabitants of this historic land from the Cretaceous Age to modern day. Plus, you can catch a view of it all from an observation room that rises seven stories. Helpful staff and guides will give you all the information you need to let your imagination run free.
Ohio, the Great Serpent Mound

Most of the places on our list are known for their historical narrative. A few of the top historical places to visit by state, however, are famous for their mystery. One such shrouded scene is Ohio's Great Serpent Mound.
Historians are not quite sure what to make of this wonder. There is still no clear consensus about when it was built. Researchers aren't certain of who built it, either. And the purpose of this incredible structure is only partially confirmed. You can visit today, but you will probably leave with more questions. There is a historical marker at the scene with a common tale. The shape of the structure is likely meant to represent the power of the serpent spirit. The entire construction is adjacent to a huge crater. Experts say that hole was likely left about a million years ago when an asteroid struck the planet.
Advertisement - story continues below
Oklahoma, Sequoyah's Cabin

Known as both Sequoyah and George Gist, the Native American leader was an important figure. He lived in this home between 1829 and 1844. During that time, he developed a written Cherokee language.
The cabin has been preserved and was registered as a historic site more than 50 years ago. The Oklahoma Historical Society maintains the property. And visitors today can see the property much the way it would have looked nearly 200 years ago. It is a small one-room cabin. But those who stop by today will find a museum nearby and plenty of exhibits. Learn how Sequoyah was able to create a written record of the Cherokee nation. While you're there, you can get a good idea of what life was like during this period of westward American expansion.
Oregon, Downtown Jacksonville
Advertisement - story continues below

You might think that we've neglected one of the most important periods of Oregon history. And certainly, the Oregon Trail belongs on any list of the top historical places to visit by state. But since that landmark is split into separate centers, we went with this one. Downtown Jacksonville stands as a great historical landmark on its own.
The entire downtown area is a designated historical site. You can find this area on the National Register of Historic Places. If you pay it a visit, you'll understand why. This is a great preservation of the gold rush that put much of Oregon on the map. For that reason, many of the state's oldest structures still stand there.
Pennsylvania, Independence Hall

There aren't many top historical places to visit by state with such a storied past as Philadelphia's Independence Hall. It was on this property that the second Continental Congress convened.
Advertisement - story continues below
The nation's founding documents were also ratified and signed here. You can still visit the spot where the Declaration of Independence and the U.S. Constitution were drafted. There are great American history museums across the country, but none give you the up-close experience of Independence Hall.
Rhode Island, The Breakers

Sure, Rhode Island might have the distinction of being the nation's smallest state. But it is packed with big history that spans every American era. Newport in particular is the home of many great locations. Within this one city, we found it hard to pick from the top historical places to visit by state.
We finally decided on the Breakers, one of several iconic mansions in the coastal city. This opulent structure remains in the Vanderbilt family after patriarch Cornelius Vanderbilt II commissioned it. The Breakers dates back to the late 19th century, and each turn in its expansive halls reveals another unique decoration. First of all, the architecture is impressive and the choice in furnishing is among the best in the world. Plus, there is an immaculate garden with a wide array of incredible plant life. We think this is an amazing destination, and visitors seem to agree with us. The Breakers is Rhode Island's most visited attraction.
Advertisement - story continues below
South Carolina, Fort Sumter

Too often, the top historical places to visit by state recall painful pasts. Among the states that declared their independence ahead of the Civil War, this is often the case. And in South Carolina, our pick is a constant reminder of that division.
The first shots of the Civil War rang out against this fort. It would be reduced to rubble and ashes by the end of the war. Confederate soldiers made a final stand to defend the small island fort after its capture. Though the site was renovated for the Spanish-American War, it will always be known for the Civil War. Shortly after the end of World War II, it has been operated by the National Parks Service. You can catch a ferry to see the site where American history changed forever.
South Dakota, Mount Rushmore
Advertisement - story continues below

There is perhaps no other American monument so visually overwhelming. The busts of four presidents are intricately carved in the side of the mountain. Work on the monument began in 1927 and did not officially end until more than 60 years later. Some have criticized the composition itself, and many others questioned the use of a mountain considered sacred to local Native Americans.
But there is no question that the monument is imposing. Visitors can take a walk along the Presidential Trail to get a close look. From that vantage point, it is an even more awe-inspiring sight. This feat of engineering required blasts that knocked nearly half a million tons of rock from the mountainside. From there, the detail designers were able to capture is incredible. Be sure to check out the visitor center perched high on the expansive monument.
Tennessee, Country Music Hall of Fame

Countless country music lovers have made the pilgrimage to Nashville. But we think the Country Music Hall of Fame and Museum is not just for die-hard fans. Love it or hate it, country and western is a uniquely American art form. And nowhere is this history better preserved than the hall of fame.
Advertisement - story continues below
Different installments provide a dynamic experience at the museum, and every star from the city's storied past is memorialized there and the affiliated hall. These are each fascinating stories, often filled with tragedy and triumph. Like the country itself, these singers embody resilience in the face of adversity. Even if you've been listening to them all your life, you probably don't know their whole stories.
Texas, The Alamo

You've probably heard the saying: "Remember the Alamo." But if you're not quite sure what everyone is remembering, you're in luck. The Alamo is beautifully preserved and remains one of Texas' most visited historical sites.
The reminders to remember the Alamo seem to have worked. Among the top historical places to visit by state, the Alamo is one of the most recognizable names. But if you're in the San Antonio area and want to learn more, we highly recommend it. The story of the battle that took place on that soil is fascinating and more than a little tragic. Learning about it while standing on the same ground is an experience a history buff shouldn't miss.
Advertisement - story continues below
Utah, Temple Square

You might immediately associate Utah with its Mormon population. But the historical significance probably goes deeper than you know. Salt Lake City is home to numerous important structures dedicated to the Church of Jesus Christ of Latter-Day Saints. But perhaps none is more significant than Temple Square.
The top historical places to visit by state are often religious in nature. But Temple Square is unique. It serves as the center of the faith. This is where the Mormon Temple and the Tabernacle reside. Only the temple is closed to the public. There are also important structures like Assembly Hall and the Seagull Monument.
Vermont, Brown Covered Bridge
Advertisement - story continues below
The United States is home to many incredible bridges. Each uses a specific engineering method to withstand constant traffic. But one of the most iconic is a small bridge in Clarendon, Vermont.
The Brown Covered Bridge is a designated historical location, and for good reason. It dates back to the late 19th century when Bridgewright Nichols Powers designed the lattice truss bridge and it still stands to this day. Go back in time to discover what makes this structure so special.
Virginia, Mount Vernon
Advertisement - story continues below

Mount Vernon is the most popular historic estate in the country. It tells the story of George Washington in the setting of his own estate and it is maintained impeccably.
It is also one of the oldest continuously operating historic sites. Since it opened in 1860, more than 85 million people have visited. These days, it welcomes about a million visitors every year.
Washington, Klondike Gold Rush National Historical Park

Here's another site dedicated to the gold rush. But located in downtown Seattle, this one is a bit more accessible.
Advertisement - story continues below
Learn the important role Seattle played in the Klondike gold rush. The influx of explorers also helped put the city back on the map after a devastating fire. The top historical places to visit by state tend to offer some inspiration. And despite the misadventure many of those explorers faced, this monument is encouraging as visitors are reminded of the spirit of innovation and perseverance in America's DNA.
West Virginia, Historic Charles Town

Visit historic Charles Town for a fascinating exploration of the nation's past. It dates back to 1786, when it was founded by George Washington's younger brother, Charles Washington.
In addition to that interesting establishment story, it also played a big role in a major trial.
Advertisement - story continues below
As with many of the top historical places to visit by state, this one coincides with a major moment. Abolitionist John Brown was tried and later executed in Charles Town. You can find much more information about his trial in the historical site today. There is also a great deal of information about slavery and its abolition. You can find one of the first stone buildings owned by free blacks in the U.S.
Wisconsin, Laura Ingalls Wilder Cabin

Author Laura Ingalls Wilder captured life on the land in her "Little House" series. And the cabin recreated here is from "Little House in the Big Woods." Visit the area she described and even experience the type of difficulties she faced.
Not only can you explore the cabin where the children's author grew up in the 1860s and 1870s, you can rough it. Or at least while you're visiting, practice pumping your own water. You might just leave realizing how easy kids (and adults) have it these days.
Advertisement - story continues below
Wyoming, Ames Monument

One of many great monuments to the early days of railroading, Ames Monument is worth a visit.
This six-story granite pyramid stands as a memorial to two influential brothers. Oakes and Oliver Ames were major investors in early rail lines. Later in his life, Oakes Ames faced criticism about the source of those funds. But by that time, nationwide rail service was already complete.
Learn more about the early days of the steam engine and the folks who made it possible. Transportation has always allowed for the expansion of this nation, so this monument belongs among the top historical places to visit by state.
Conversation