Commentary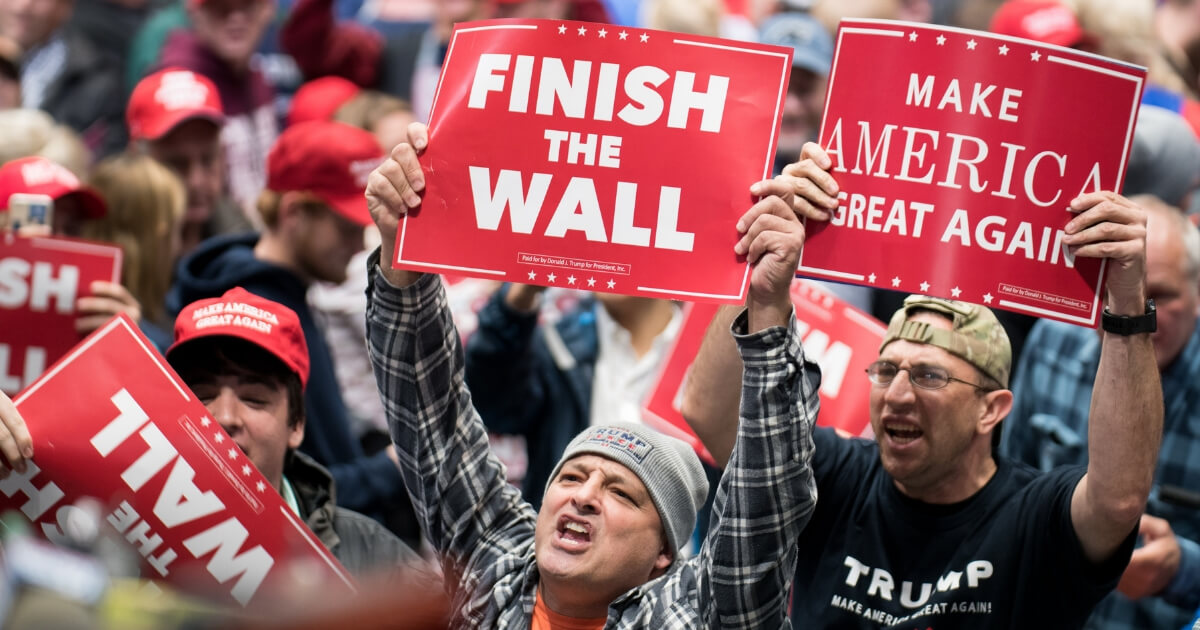 Trump Supporters Infiltrate Bernie Sanders Rally... Hilarity Ensues
Can you make socialism great again? Of course not — that implies it was once great.
The same principle applies to Bernie Sanders rallies. However, you can make the latter great for once by sneaking in pro-Trump banners.
Mind you, you'll probably get kicked out. But, hey — it'll actually be interesting for a change.
Advertisement - story continues below
According to the Reno Gazette-Journal, a group of students interrupted a Sanders speech at the University of Nevada, Reno on Thursday by unfurling "Make America Great Again" banners in the peanut gallery.
Needless to say, the banner triggered Sanders, who would go on to make the pro-Trump demonstrators a target of several straw-man attacks.
"Really? Do you really want to give $1 trillion in tax breaks to the 1 percent?" Sanders said as fans of the Vermont socialist cheered on. "Is that what you want?"
After those remarks, the Trump supporters were removed from the event by organizers.
Advertisement - story continues below
They were chased away by event MC Will Adler because they weren't standing in a "free speech zone," although the MC told the Gazette-Journal that it was done at the behest of the university.
Campus police would subsequently "politely remind" Adler that you can't do that at a public university; apparently, liberals only start reading the Bill of Rights after the Second Amendment, meaning they weren't aware the First Amendment prohibits zoning free speech at political rallies or kicking people out if they violate rules on said spaces at state schools. The pro-Trump protesters returned, albeit without the signs — and Sen. Sanders' straw-man attacks did, as well.
Do you think Bernie Sanders will run in 2020?
"While we're here on this great campus, we say loudly and proudly that we're going to make public colleges and universities tuition-free and we're going to substantially lower student debt," Sanders said, gesturing toward the Trump supporters.
"Unlike Trump and his friends, and (Nevada Republican Sen.) Dean Heller, we're not going to throw millions off the health care they have, we're going to move toward a Medicare-for-all, single payer program."
Sanders rallies Democrats around Rosen, heckles Trump supporters during spirited Reno stop https://t.co/k8IecBJGYH

— RGJ.com (@rgj) October 25, 2018
Advertisement - story continues below
Sanders was in Reno to support Heller's opponent, Democrat Rep. Jacky Rosen.
"Brothers and sisters, stand up, fight back," Sanders exhorted, no doubt studiously trying to avoid using the word "comrades."
"Vote, bring your friends out to vote. Let's elect Jacky Rosen to the U.S. Senate."
Advertisement - story continues below
Vote early, vote often! That's the Democrat way. Even as an independent, I'm sure Sanders is familiar with that. After all, the Democrat way is what ended up fixing the 2016 primary process against him.
Things have gotten better for Sanders since then, with Democrats suddenly warming to socialism and all things millennial. That still doesn't make Sanders, who has the personality of the oatmeal he no doubt eats every morning for breakfast, any more interesting.
Thankfully, if you go to a Sanders rally, you may be able to count on Trump supporters to make things more compelling.
Conversation