Commentary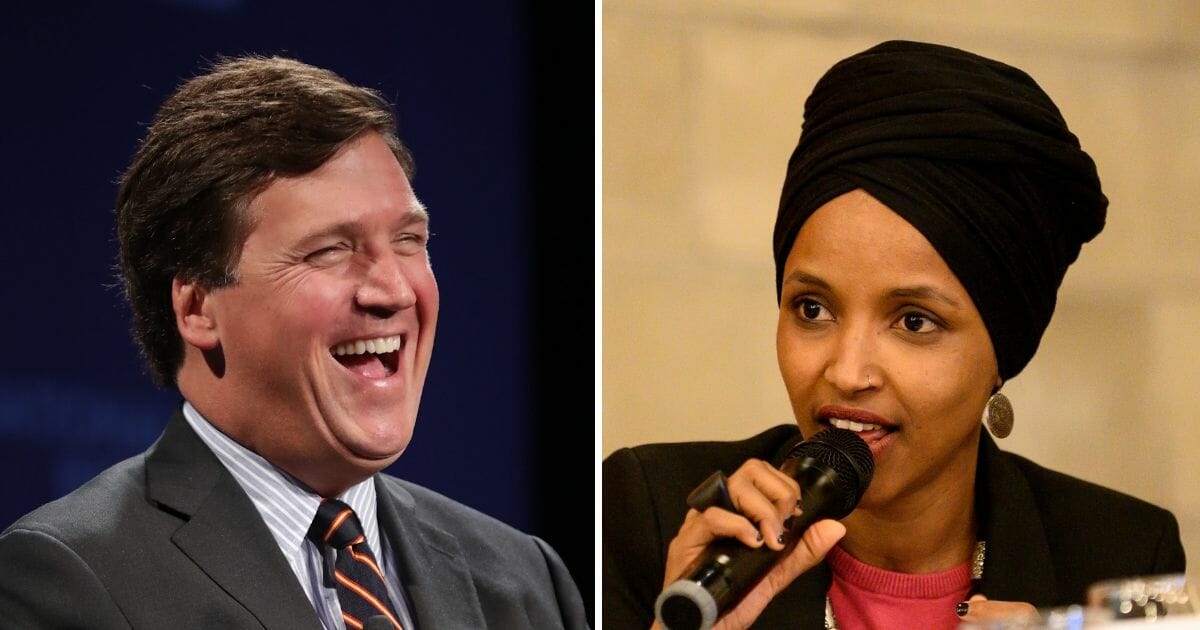 Tucker Carlson Rips Ilhan Omar For Hating America, She Can Only Call Him a 'Racist Fool'
Democratic Minnesota Rep. Ilhan Omar, one of the rising stars of the left, seems incapable of mentioning the United States without bashing the country as bigoted and racist.
Fox News host Tucker Carlson critiqued Omar's incendiary comments on his Tuesday show, according to The Daily Caller.
Advertisement - story continues below
Many in the establishment media jumped to Omar's defense after Carlson's segment aired. Omar herself chimed in on Twitter, dismissing the Fox personality as a "racist fool"
Not gonna lie, it's kinda fun watching a racist fool like this weeping about my presence in Congress 🤣🤣

No lies will stamp out my love for this country or my resolve to make our union more perfect.

They will just have to get used to calling me Congresswoman! https://t.co/nRS13yWivK

— Ilhan Omar (@IlhanMN) July 10, 2019
Carlson began his monologue by pointing out that most Americans take pride in how "penniless" immigrants can come to America, embrace American values, and live out the American dream.
Advertisement - story continues below
He went on to recap Omar's personal history, noting that her family fled a brutal civil war in Somalia and lived for several years in a squalid refugee camp before emigrating to America.
Carlson continued by describing how Omar had grown up free, attended college, ran for congress, and became "one of the most powerful women in America."
"Ilhan Omar has an awful lot to be grateful for, but she isn't grateful," Carlson said. "After everything America has done for Omar and for her family, she hates this country more than ever."
The Fox host referenced a recent article on Omar in The Washington Post, quoting a passage about the congresswoman's view of the nation.
"In Omar's version, America wasn't the bighearted country that saved her from a brutal war and a bleak refugee camp. It wasn't a meritocracy that helped her attend college or vaulted her into Congress. Instead, it was the country that had failed to live up to its founding ideals, a place that had disappointed her and so many immigrants, refugees and minorities like her."
"Omar isn't 'disappointed' in America, she's enraged by it," Carlson said. "Virtually every public statement she makes accuses Americans of bigotry and racism … She has undisguised contempt for the United States and for its people," he added.
Advertisement - story continues below
Do you think Omar has any rational answer to Tucker's critique?
"Ilhan Omar is living proof that the way we practice immigration has become dangerous to this country," he said. "A system designed to strengthen America is instead undermining it. Some of the very people we try hardest to help have come to hate us passionately."
Carlson concluded that Americans should be grateful for Omar for being "a living fire alarm, a warning to the rest of us that we better change our immigration system immediately, or else."
Omar smeared Carlson in a series of tweets, accusing him of preaching "xenophobia" and "white supremacist rhetoric."
Advertisement - story continues below
Of course, Omar offered few arguments against the content of Carlson's segment, finding ad hominems much more convenient.
Perhaps they're all she had to offer.
Truth and Accuracy
We are committed to truth and accuracy in all of our journalism. Read our editorial standards.
Conversation