Sports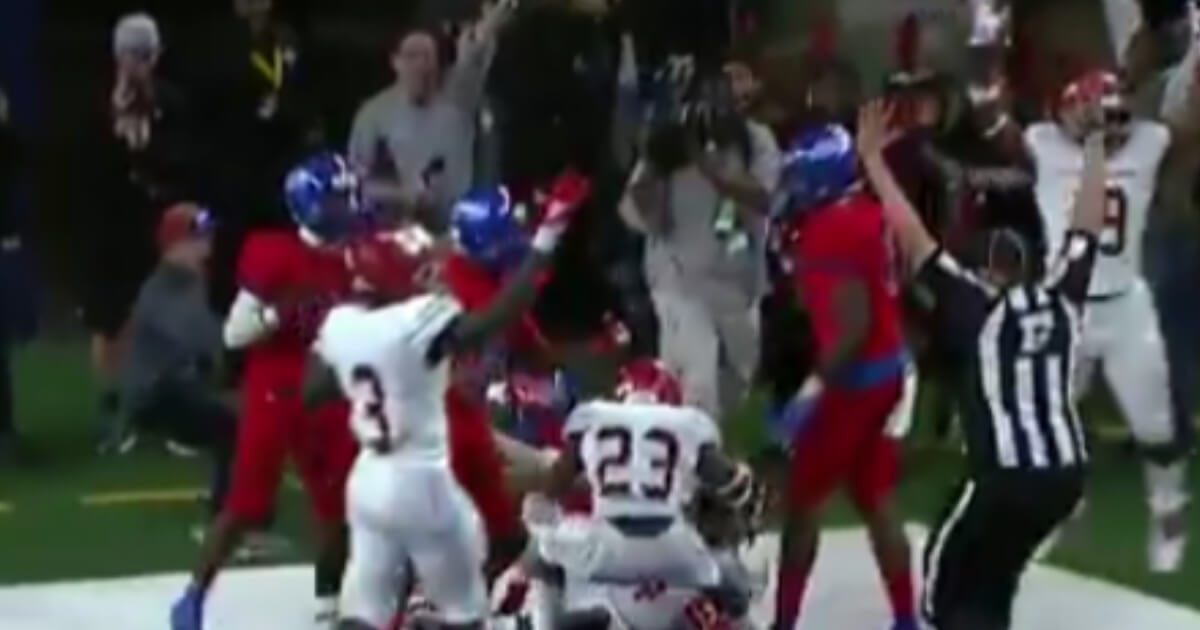 Watch: HS Team Wins State Title on Insane Last-Second Desperation Play
There's nothing quite like Texas high school football.
The latest example came in the Class 6A Division I final between Galena Park North Shore and Duncanville last Saturday night at AT&T Stadium, the home of the Dallas Cowboys.
Galena Park North Shore won the state title 41-36 in stunning and dramatic fashion. The Mustangs scored on a last-second Hail Mary as time expired.
Advertisement - story continues below
HOLY COW!!!

In one of the most amazing plays you will EVER see, @NSNationFB wins on a Hail Mary heave to the end zone!#UILonFOX pic.twitter.com/dLF0dkDQO4

— FOX Sports Southwest (@FOXSportsSW) December 23, 2018
Trailing 36-35 with three seconds remaining, Galena Park was down to its final play. The Mustangs had the ball on Duncanville's 45-yard line and called for the Hail Mary.
Quarterback Dematrius Davis dropped back and was forced out of the pocket by the Duncanville pass rush.
Advertisement - story continues below
He stepped up out of the pocket and let the desperation pass fly toward the end zone. His left foot was perilously close to the line of scrimmage, but clearly behind it, when he threw the pass.
Davis threw a high arching pass toward wide receiver A.J. Carter in the back right corner of the end zone.
Carter was surrounded by Duncanville defenders, but somehow managed to come down with the ball for the touchdown.
"I knew he was going to catch it because he's just long. AJ is 6-3," Davis said after the game, reported the Fort Worth Star-Telegram.
"I just knew he was going to catch it. It's a blessing to be one of the best teams in the nation. I just owe it all to my team. None of this is me. It's my O line, my receivers, it's all them," Davis added.
Advertisement - story continues below
The hero of the night! AJ Carter had the game-winning touchdown reception in the end zone with no time left. #txhsfb @jordanrevels95 @ShadrachBanks @Runzekerun01 @NSSHS_gpisd @GalenaParkISD @Dematrius09 @Tbradford97 #uilstate pic.twitter.com/L3Q5b4Izti

— VYPE Houston (@vypehouston) December 23, 2018
"I was so excited I couldn't even breathe," Carter said after making the catch. "This is a blessing. I'll never forget this."
It was a wild game filled with eight lead changes. Duncanville had scored a touchdown with 1:02 left in the game to take a 36-35 lead,
Advertisement - story continues below
"Proud of the kids," Duncanville coach Reginald Samples told the Star-Telegram. "I'd be worse off if they didn't fight until the end. Who would've thought that was going to happen? I'm proud of them."
"It was a great season. It was a one-play season, that was the game. It's not the first time you've seen that, you see it in all levels," Samples said.
Conversation