Commentary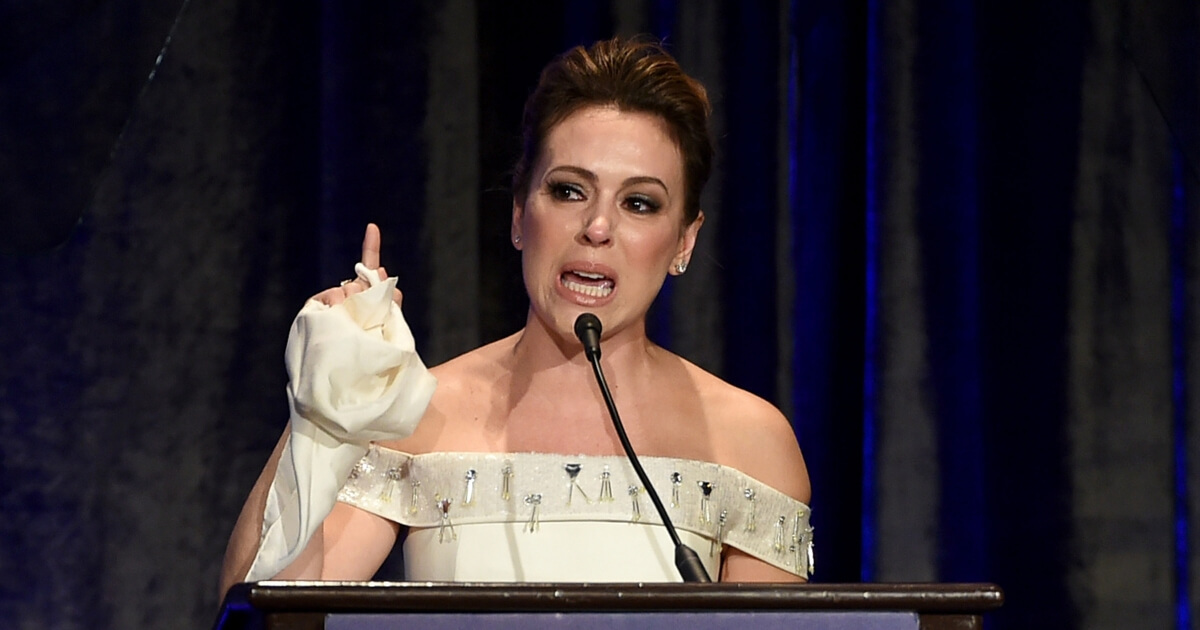 Actress Who Helped Lynch Kavanaugh Says MAGA Hat Is the New White Hood
Things were not looking good for the partisan left going into this weekend, what with the latest anti-Trump "bombshell" from Buzzfeed imploding in their faces, President Donald Trump making a wholly reasonable compromise offer to Democrats to end the government shutdown, and a massive turnout at Friday's March for Life in comparison to the weak turnout Saturday for the leftist Women's March.
In need of a distraction to shift attention away from those leftist narrative-busting stories, the predominately liberal media focused in on a manufactured "hate crime" based off a deceptively edited snippet of video which portrayed a left-leaning Native American activist as being victimized by a large group of Catholic high school, red MAGA hat-wearing teenage boys after the March for Life event, which much of the media ran with even as counter-evidence undermining that story was quickly produced.
Joining in on the leftist pile-on of the Catholic school boys was washed-up has-been actress turned progressive activist Alyssa Milano, who unsurprisingly and uncritically took the side of the Native American activist while demonizing and smearing the boys as nothing more than unrepentant racists and white supremacists emboldened by Trump and their white privilege, or some other such nonsense.
Advertisement - story continues below
In a tweet on Sunday — which, by the way, was posted well after the left's narrative of the Catholic school boys vs. the Native American activist had been thoroughly debunked — Milano wrote, "The red MAGA hat is the new white hood. Without white boys being able to empathize with other people, humanity will continue to destroy itself. #FirstThoughtsWhenIWakeUp"
The red MAGA hat is the new white hood.

Without white boys being able to empathize with other people, humanity will continue to destroy itself. #FirstThoughtsWhenIWakeUp

— Alyssa Milano (@Alyssa_Milano) January 20, 2019
As can be seen in the above tweet, Milano included the hastag "FirstThoughtsWhenIWakeUp," but she could just as easily have included the hashtag "MoronicThoughtsByAHatefulLeftist," or something to that effect, and achieved the exact same result, judging by the critical comments that flooded her ill-advised post comparing high school kids to the Ku Klux Klan and blaming an entire race for all of the world's problems.
Advertisement - story continues below
The thing is, this isn't the first time that Milano has attempted to "lynch" conservative white people over unproven allegations — which is exactly what she was trying to do here — as that was indisputably her overarching goal during the recent debacle that was the confirmation hearings of Supreme Court Justice Brett Kavanaugh.
In Kavanaugh's case, Milano bit hook, line and sinker on the baseless and uncorroborated allegations of sexual improprieties smeared on the judge, and extrapolated that out into a running attack on conservative white males as a whole.
Should Milano apologize for her effort to "lynch" the MAGA hat-wearing Catholic school boys?
CNN provided lauding coverage of Milano's "brave" and "difficult" stance in attending Kavanaugh's confirmation hearings as a form of protest, largely due to the fact that CNN was all-in on opposing Kavanaugh as well … much like how they also went full-bore in condemning the Catholic high school boys both before and even after the full story of that incident had emerged.
Milano told CNN of the hearings, "It was a very hard day to be in that room, but I was proud to be a woman and I was proud to be a survivor, and I felt like I needed to be there for other survivors that couldn't be there."
She added, "I thought it was important to stand in solidarity with Dr. Ford and all women and men who have been victims of crazy abuses of power."
Advertisement - story continues below
"And I felt blessed to be able to do that and to be there, no matter how stoic I had to be and sort of prevent myself from, you know, rolling my eyes. I just had to sit there and be stoic, and that was difficult. It was definitely an exercise in how to constrain and restrain yourself," she said, implying that, if given the chance, she might have exacted some sort of physical retribution against Kavanaugh for his supposed — yet still unproven — crimes against women.
Further, with regard to Kavanaugh's vehement denial of the allegations against him, Milano played the gender card and said, "If a woman acted like that during a line of questioning, she would have been considered totally unhinged or like she was having a meltdown, which I think proves that he doesn't have the temperament to be on the Supreme Court."
Fast-forward to today and — much like she did against Kavanaugh — Milano exhibited no due diligence and displayed a lack of critical thinking as she unquestioningly joined the leftist lynch mob out for blood against the Catholic school boys accused of racism and white privilege and other such BS.
As has been made abundantly clear by now, the Catholic school boys did nothing particularly wrong, and were themselves targeted for vile harassment by angry leftist protesters. Indeed, the drum-beating Native American activist instigated the confrontation in front of the Lincoln Memorial, then lied about what had occurred to a leftist media willing to run with his malicious and false account, which of course was seized upon by folks like Milano.
Advertisement - story continues below
Alyssa Milano and her leftist cohorts formed a hateful and racist lynch mob to go after the Catholic school boys on the sole basis of their race, gender and unverified allegations against them, exactly the same way Milano and her comrades did to Kavanaugh. Their actions are shameful and only lead to the further coarsening of our society, and she should apologize to both the Catholic school boys and Kavanaugh … though she probably never will.
The Western Journal has reached out to Milano for comment but has not yet received a response. We will update this article if and when we do.
Conversation