Commentary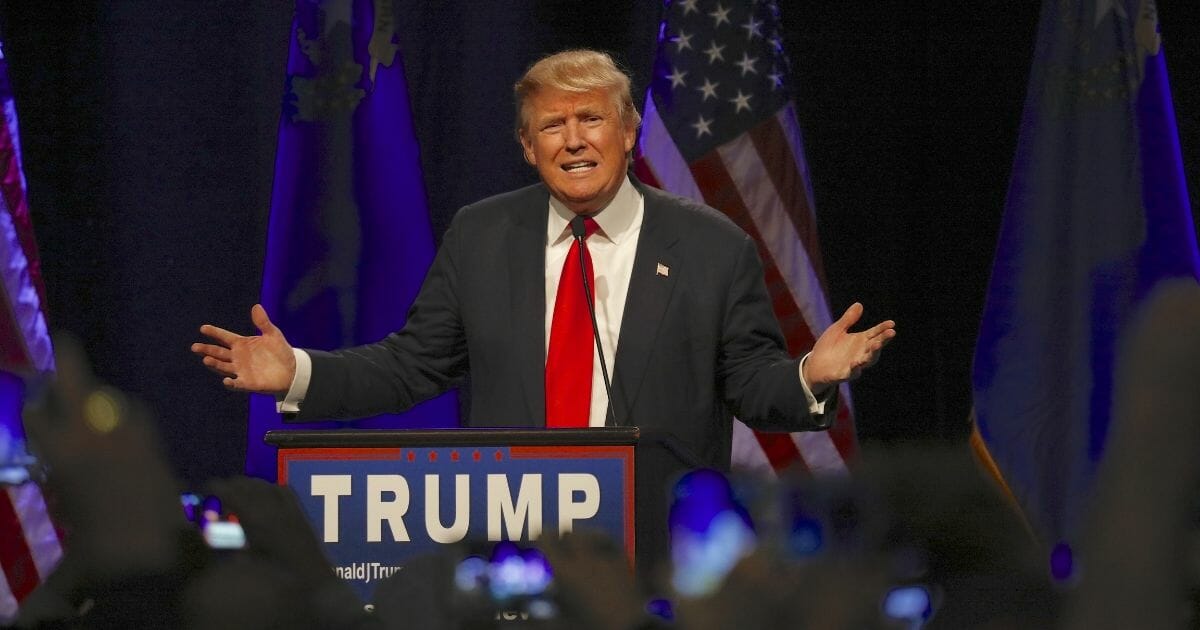 Advice Columnist Accuses Trump of Rape Right Before Launch of Her Book 'What Do We Need Men For?'
E. Jean Carroll is an advice columnist, among other things. She's been such for a number of years. She's prominent enough that her name would stop one in their tracks. I remember her best for her salacious biography of journalist Hunter S. Thompson.
All of which is to say that E. Jean Carroll is a well-known person. If there was a time for her to contribute to the national conversation, particularly if she were to accuse President Donald Trump of rape, it probably would have been before 2019 and before she was releasing a book called "What Do We Need Men For?: A Modest Proposal."
It is 2019 and E. Jean Carroll is indeed releasing a book under that title, in which she accuses Trump of rape.
Advertisement - story continues below
"Carroll, 75, describes an alleged under-three-minute 'colossal struggle' with Trump during which she said he unzipped his pants, leading her to knee him to run away," The Daily Caller reported.
The columnist, who says she was 52 at the time, says that she was sexually assaulted by the president in a Bergdorf Goodman dressing room almost 25 years ago. According to Carroll, she was assailed as she was helping Trump pick out lingerie for an unnamed female at the store.
"The moment the dressing-room door is closed, he lunges at me, pushes me against the wall, hitting my head quite badly, and puts his mouth against my lips," Carroll writes.
WARNING: Readers might find the following passage distressing. Discretion is advised.
Advertisement - story continues below
"I am so shocked I shove him back and start laughing again. He seizes both my arms and pushes me up against the wall a second time, and, as I become aware of how large he is, he holds me against the wall with his shoulder and jams his hand under my coat dress and pulls down my tights," she writes
"I am astonished by what I'm about to write: I keep laughing. The next moment, still wearing correct business attire, shirt, tie, suit jacket, overcoat, he opens the overcoat, unzips his pants, and, forcing his fingers around my private area, thrusts his penis halfway — or completely, I'm not certain — inside me. It turns into a colossal struggle," the passage continues.
Do you think Trump will win the 2020 election?
"I am wearing a pair of sturdy black patent-leather four-inch Barneys high heels, which puts my height around six-one, and I try to stomp his foot. I try to push him off with my one free hand — for some reason, I keep holding my purse with the other — and I finally get a knee up high enough to push him out and off and I turn, open the door, and run out of the dressing room."
I've not read "What Do We Need Men For?: A Modest Proposal" yet. I have read her biography of Thompson, which was published before the alleged rape occurred.
But, as she makes clear in the snippet published in New York Magazine, "he's not alone on the list of awful men in my life."
Advertisement - story continues below
I don't particularly want to dismiss anyone's claim of sexual assault as lawn fertilizer, but the fact remains that this is one of the most eminent advice columnists in America and she decided that the moment we all needed to know about the fact she was raped by the president of the United States — or someone who would possibly become the president of the United States — is right before her book was about to be published.
What one wonders about is the timing, particularly the ugliness of the thing. Carroll isn't armed with a whole lot of evidence. She is armed with a) kinda sorta provenance and b) a story that the media is going to love.
Here's a "modest proposal" straight out of Jonathan Swift: Don't "eat" someone just because they disagree with you. Think about it first. Donald Trump is who he says he is. There are, on the other hand, a lot of people who are discovering for the first time who E. Jean Carroll is, precisely because she's willing to say something about someone.
It is interesting that she didn't come out with her allegations during the time when Trump was gaining power and influence.
Conversation