Commentary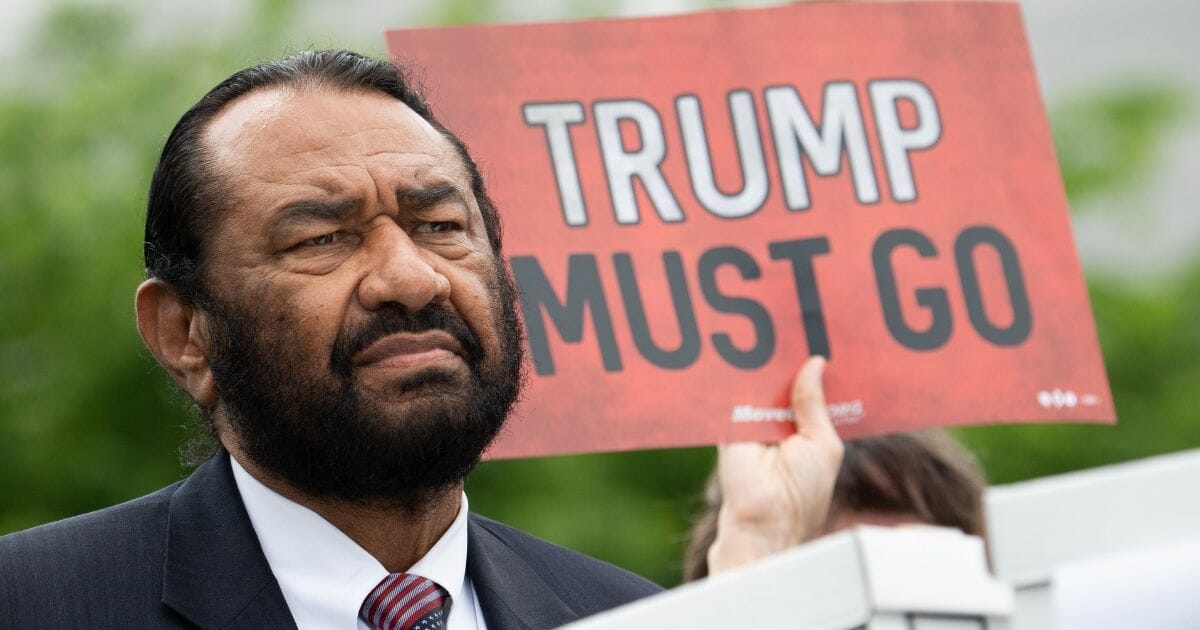 Al Green's Delusional Impeachment Attempt Was to 'Punish' Trump
It turns out that, in spite of what Rep. Rashida Tlaib said on the day of her nomination, the Democrats aren't gonna go in and impeach Donald Trump.
Yes, even at the height of anti-Trump mania in the Democrat-controlled House of Representatives, just one day after the body voted to condemn the president as "racist" for his controversial weekend tweets which seemed to refer to "the squad" — freshman progressive Reps. Alexandria Ocasio-Cortez, Ilhan Omar, Ayanna Pressley and the aforementioned Tlaib.
Essentially, Rep. Al Green's impeachment resolution was pretty much tied to this, saying that the tweets — among other things — had brought the office into "ridicule, disgrace and disrepute."
Advertisement - story continues below
"The 332-to-95 vote to table the impeachment article drafted by Representative Al Green, Democrat of Texas, constituted the first action by the House since Democrats took control in January on a measure to impeach Mr. Trump, a significant move that Speaker Nancy Pelosi of California and other party leaders have toiled to avoid," The New York Times reported.
"By agreeing to table [deny consideration of] the article, Ms. Pelosi and the Democrats put off — at least for now — a prolonged and divisive debate over whether Mr. Trump's conduct warrants his expulsion."
"But it was hardly the last word on the topic from Democrats torn about how to deal with the president, between progressives who want to challenge him more aggressively and moderates desperate to quash talk of impeachment and stick to a poll-tested agenda that includes improving health coverage and raising wages for working people."
Green had to know this vote was going to fail. House Speaker Nancy Pelosi has, if reports are to be believed, alternately said she either wants Trump defeated at the ballot box or "in prison" as opposed to being impeached.
Advertisement - story continues below
Even an investigation into impeachment has been reined in by the speaker and the more moderate members of the Democrat caucus before the House Judiciary Committee and its impeachment-happy chairman, Rep. Jerrold Nadler of New York, could get started. The fact that Green got 95 votes is actually a victory for him — and nothing close to the vote total he would need.
So what were the "high crimes and misdemeanors" — the chief grounds for impeachment in the Constitution, derived from an English parliamentary term that's far more specific than most people seem to think it is — Green thought the president was guilty of?
Not really anything, actually, aside from bigotry.
Green appeared on C-SPAN's "Washington Journal" on Wednesday before the vote was held. He likened the process to a courtroom trial where the president had already been found guilty with Tuesday's resolution and that the impeachment vote was to "punish" him.
.@RepAlGreen on introducing articles of impeachment:

"The President was condemned, today we'll have a vote to punish… We have to punish the President & impeachment is the means by which he can be punished… We ought to impeach this President for his bigotry" pic.twitter.com/UTiQjb4Fe7

— Washington Journal (@cspanwj) July 17, 2019
Advertisement - story continues below
"This is similar to going to court — not the same," Green said. "The first phase of the trial is to determine whether someone is guilty or not. Clearly, 240 votes, he was found guilty."
"Today, we have the opportunity to punish. There was no fine imposed. The president is not going to lose his job. You or I might lose our job if we did something like this … So we have to punish the president and impeachment is the means by which he can be punished."
In fact, this wasn't even about obtaining a conviction for Green.
"I understand that there are those who say it's not designed to punish," he said. "But when you're going to impeach and you have that stain on your record, indelible stain, on your record, for the rest of your life, that's punishment."
Advertisement - story continues below
Not that he doesn't think Trump should be punished or anything, saying that "this president merits that for his behavior because he is stoking hate and fear in this country." He cited the 2017 Charlottesville killing, noting that: "This is serious business, and we ought to take it as such, and we ought to impeach this president for his bigotry which we have condemned."
Do you think President Trump should be impeached?
Naturally, this isn't actually why Green wants Trump impeached. Impeachment for Green has been an end unto itself, a legislative cottage industry of sorts which has brought the Texas Democrat positive attention among the faction of party that believes the dodgier theories being pushed on Rachel Maddow's show.
His first impeachment resolution, introduced back in 2017, accused the president of "high misdemeanors" and said that he was "unfit to be President," adding that Trump had "harmed the society of the United States" and had created "discord among the people of the United States."
Advertisement - story continues below
At least that resolution induced some concord within the House of Representatives, leading to a 364-58 vote to table it. Green called the vote one of the "greatest moments" of his life, according to the Texas Tribune, which is a sign that the 71-year-old legislator desperately needs to start living.
He tried again in January of 2018 and again didn't succeed. Now that he's failed a third time, he says he's going to push for impeachment again, according to CNN, apparently in a bid to become to unsuccessful impeachment votes what Lyndon LaRouche was to unsuccessful presidential campaigns.
"We had nearly 100 people this time, up from the 58 the first time. I do believe that this president will be impeached and I believe that it is our duty to do so," Green said.
Note that there wasn't even the barest endeavor to connect this impeachment attempt to a law that President Trump has broken. Green thinks Trump a bigot. He knows that he won't get removed from office and only 40 percent of the Democrat caucus supports this impeachment attempt. However, he thinks that the most solemn of constitutional punishments should be used upon the president because, well, he needed to be punished.
Advertisement - story continues below
And what, pray tell, was the resolution to condemn the president? Oh, that was just the courtroom trial. Now it's time to punish him.
Be careful what you wish for. If impeachment votes and trials become a way to punish a president for media outrages and specious claims, it can pretty much be used against anyone — which means it doesn't mean anything anymore. Congress will spend its time tied up because one party is outraged at the other's president, not because they met the bar for "high crimes and misdemeanors."
Say what you will about Nancy Pelosi, at least she seems to recognize that. When asked if she supported Green's impeachment resolution, she said, "No I don't. Does that come as any surprise?"
Not necessarily, but what is a surprise is that most Democrats still tend that way no matter how far the party wants to lilt to the left. As it turns out, they're not gonna go in and impeach Trump — not unless something shifts in a dramatic way. And, if it does, you can't imagine that Trump will mind; few acts would so fully crystallize what the new Democrats are truly about and where their legislative priorities lie. Talk about a gift for 2020.
Conversation