News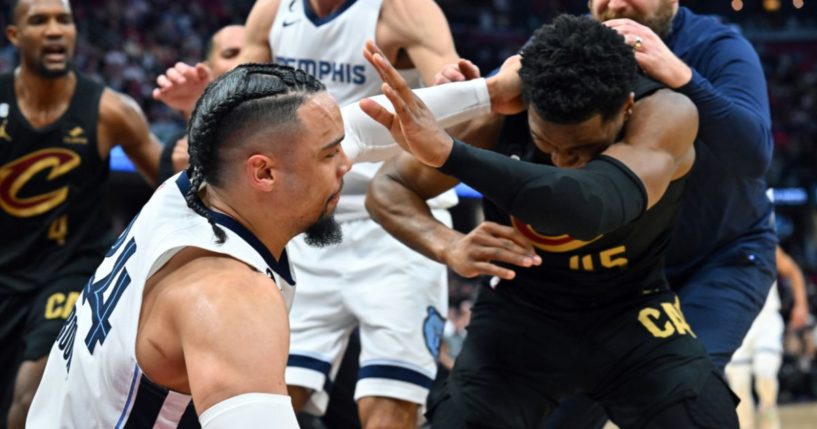 Below-the-Belt 'Cheap Shot' Sparks NBA Brawl, Leading to Ejections
Donovan Mitchell took his most vicious shots at Dillon Brooks after the game.
Accusing Brooks of being a dirty player, Mitchell said the NBA needs to do something about the Memphis guard's unruly behavior after he smashed Mitchell in the groin during the Cavaliers' 128-113 victory over the Grizzlies on Thursday night.
Spida and Dillon Brooks get CHIPPY 😳 pic.twitter.com/jGhYHa8VAS

— Bleacher Report (@BleacherReport) February 3, 2023
Advertisement - story continues below
"That's just who he is," said Mitchell, who was ejected in the third quarter for throwing the ball at Brooks. "We've seen it a bunch in this league with him. Him and I have had our personal battles for years.
"There's no place for that in the game. This has been brewing for years with me and other guys in the league. You all see it. This isn't new."
Darius Garland scored 32 points and carried Cleveland following Mitchell's ejection as the Cavs handed the Grizzlies their seventh loss in eight games.
Advertisement - story continues below
Mitchell, voted an All-Star starter last week, threw the ball at Brooks after the pair tangled under the basket. Brooks also was thrown out.
Should Brooks be punished for this incident?
With the Cavs leading 81-76, Brooks missed a shot and fell in the lane. While on the floor, he flung his arm back and struck Mitchell, who was standing over him, in the groin area.
Mitchell dropped in pain and retaliated by firing the ball at Brooks and then charging and shoving him along the baseline in front of the Memphis bench.
As the altercation threatened to spill into the seats, officials and players were able to get things under control before any punches were thrown.
It's possible the league could punish Brooks further, and Mitchell believes additional penalties are warranted.
Advertisement - story continues below
"There should be something," he said. "This isn't just a Donovan thing. This has happened to other players throughout this league."
Cavs coach J.B. Bickerstaff felt Mitchell had every right to defend himself.
"That was a cheap shot in multiple ways," he said. "A guy should have the right to stand up for himself. I thought Donovan did that."
Brooks refused to discuss the altercation with Mitchell in any detail. When he was asked about the exchange, Memphis All-Star Ja Morant stepped in and said the Grizzlies would not talk about the incident.
Advertisement - story continues below
The Grizzlies have a reputation as the NBA's most talkative team, but Morant believes they're being unfairly judged.
While Mitchell said he and Brooks have a long history, Morant denied the Grizzlies having any issues with the four-time All-Star.
"We don't got no history with nobody," Morant said. "We don't beef with nobody."
The Western Journal has reviewed this Associated Press story and may have altered it prior to publication to ensure that it meets our editorial standards.
Conversation