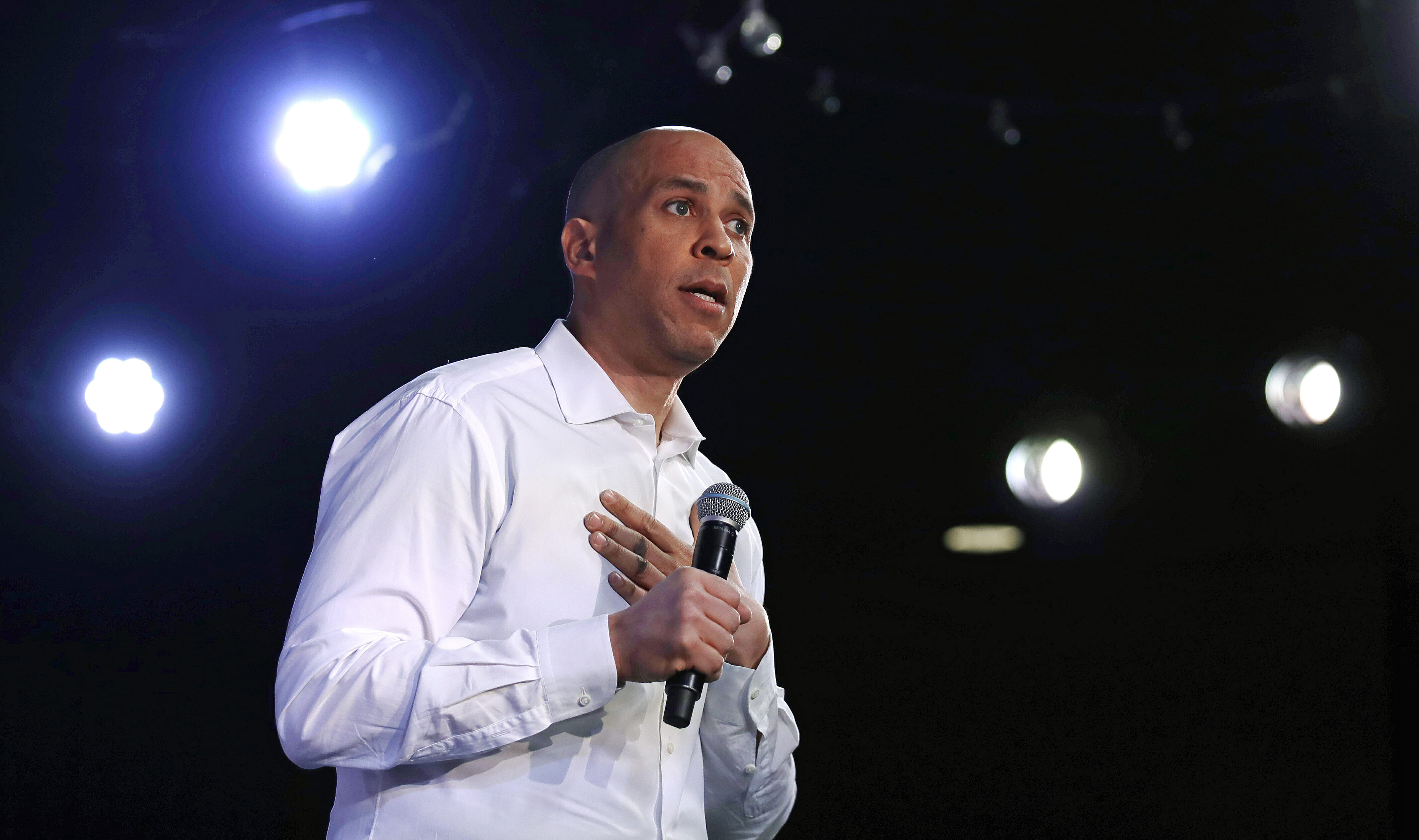 Early-voting states are focus for Democrats in 2020 contest
Democratic presidential candidates spent Sunday courting voters in states with influential early roles in the 2020 primary, their busy pace of holiday weekend campaigning demonstrating that the contest to challenge President Donald Trump is fully underway.
The weeklong congressional recess for President's Day gives senators already running for president some extra time to promote their agendas, and all were taking advantage by visiting at least one of four pivotal early-voting states: Iowa, New Hampshire, South Carolina and Nevada.
Sen. Cory Booker of New Jersey set the briskest pace Sunday, meeting supporters in Rochester and Manchester, New Hampshire. Sen. Kirsten Gillibrand of New York also was campaigning in the Granite State, and Sen. Kamala Harris of California was due there on Monday.
Advertisement - story continues below
In the Midwest, Minnesota Sen. Amy Klobuchar was set to visit Iowa. Farther west, Massachusetts Sen. Elizabeth Warren was headed to Nevada, the first Western state to vote in the 2020 presidential primary.
Highlights from the trail:
___
CORY BOOKER
Advertisement - story continues below
The New Jersey Democrat told reporters he is reserving judgment after new reports about the alleged attack on "Empire" actor Jussie Smollett. When Smollett initially reported that he was attacked by two men who yelled homophobic and racial slurs, Booker called the incident a "modern-day lynching."
In Chicago over the weekend, police said their investigation had "shifted" after detectives questioned two brothers about the attack and released them without charges. Smollett's lawyers said late Saturday that the actor felt "victimized" by reports that he played a role in the assault and would continue to cooperate with police.
Booker told reporters in Rochester, New Hampshire, that he was waiting "until all the information actually comes out from on-the-record sources." He urged a broader fight against hate crimes and called for a unified pushback against "attacks on people because they're different."
Asked by a voter at an event in Manchester about so-called Medicare for All, Booker said passing such a bill in the Senate would require the difficult task of rounding up 60 votes to prevent a filibuster. Otherwise, he said, "we've got to be ready to take the pathways" that get as far as possible toward universal health insurance coverage.
Liberal activists have called on Democrats to consider eliminating the Senate procedural tool to make ambitious legislation easier for a future Democratic president to pass. Booker, however, has spoken in favor of preserving the filibuster.
Advertisement - story continues below
___
WILLIAM WELD
The first Republican to move toward a primary challenge against President Donald Trump said he plans to campaign on what he calls Trump's reckless spending and lack of preparation in helping workers shift to jobs in a more automated economy.
Former Massachusetts Gov. William Weld, who announced on Friday that he was forming an exploratory committee for president, told ABC's "This Week" that Trump is racking up $1 trillion a year in debt that will crush taxpayers.
Advertisement - story continues below
Weld said the government should be preparing workers to shift to jobs in "artificial intelligence and robotics and drones and machine learning and autonomous vehicles."
But Weld added that policymakers aren't paying attention to that because "they're so busy with divisiveness and trying to make everyone feel awful."
The Western Journal has not reviewed this Associated Press story prior to publication. Therefore, it may contain editorial bias or may in some other way not meet our normal editorial standards. It is provided to our readers as a service from The Western Journal.
Conversation