News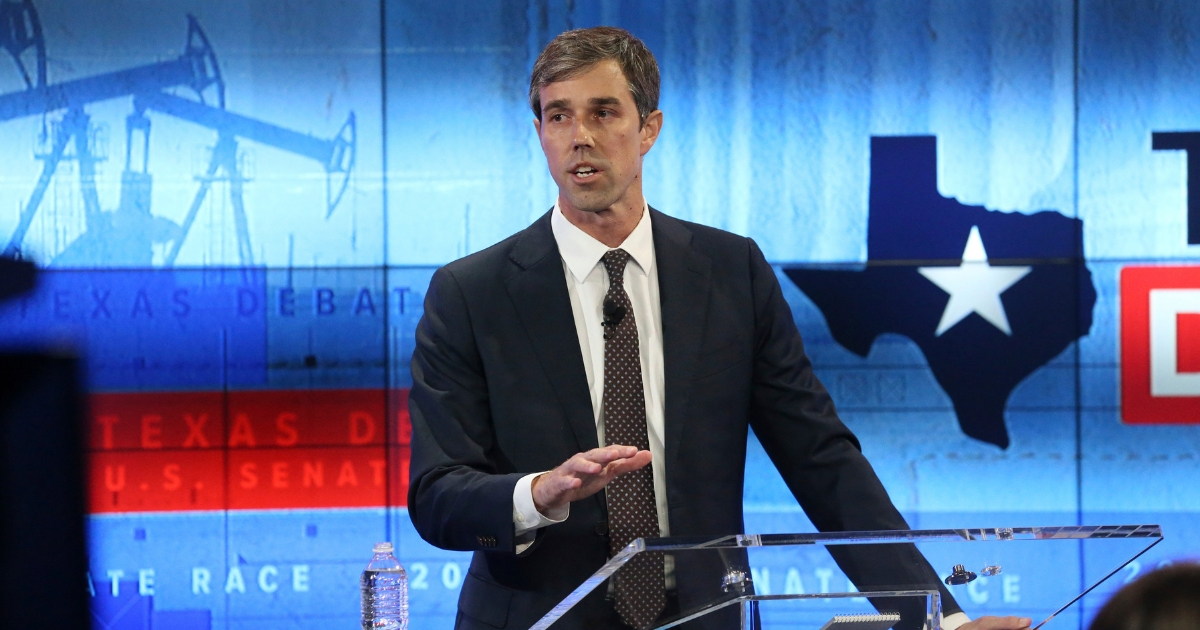 Beto O'Rourke Has Already Broken a Campaign Promise Before Election Day
Texas Senate candidate Rep. Beto O'Rourke appears to have already broken one of his campaign promises. Fox News reported that the Democratic candidate spent almost $18 million on a DNC affiliated consultancy company after he promised not to do so.
Federal Election Commission records show that in the last quarter, O'Rourke's campaign spent almost $18 million on Screen Strategies Media, a "full service media strategy, planning and buying agency" that offers "strategic consulting," "media planning" and "full service media placement," according to the company's website.
O'Rourke is looking to replace incumbent Republican Sen. Ted Cruz in the upcoming midterm election.
Advertisement - story continues below
Cruz has a history in politics, beyond his voting record in the United States Senate reaching back five years, due to his service as the Solicitor General of Texas. O'Rourke however, is only recently under the statewide microscope.
The Democratic challenger made a point of making multiple promises to his would-be constituents, promising, among other things, to never hire a consultancy firm.
"Since 1988, when Lloyd Bentsen won re-election to the Senate, Democrats have spent close to a billion dollars on consultants and pollsters and experts and campaign wizards and have performed terribly," O'Rourke told The Texas Tribune in the spring of 2017.
He gave the same message to the Dallas Morning News around the same time, saying "My heart's in it, I want to do this, I'm driven to do it. I'm not poll-testing it. I'm not consulting with consultants."
Advertisement - story continues below
Just a month later, O'Rourke had to walk that declaration back after The Texas Tribune outed him for spending some of his numerous campaign dollars on consulting firms.
At the time The Tribune revealed what he was spending his money on, O'Rourke said that he was using the companies for "technical" purposes, but he would not use them to "sharpen" his message.
Do you think Cruz will beat O'Rourke?
"When I talk about this, I talk about the fact that we don't take PAC money, we don't take special interest contributions and we don't take corporate cash," he told the newspaper.
"I don't have consultants who tell me what to say or sharpen my message."
On the campaign trail shortly afterward, O'Rourke seemed to attempt damage control and offered his supporters an amended version of his no-consultants pledge.
Advertisement - story continues below
"I don't have a pollster," O'Rourke told supporters in Garland, according to the Tribune.
"I don't have a consultant who packages the message, tells me what to say, says, 'This is what Texas believes,' or 'You've got to tack to the middle to get to them over here.'"
Fox News reported that the O'Rourke campaign didn't immediately respond to their request for comment about the most recent consultancy findings.
While Texas hasn't elected a Democrat to a statewide office in years, O'Rourke has had record-breaking fundraising, outperforming Cruz by tens of millions.
Advertisement - story continues below
Just weeks ago, O'Rourke rejoiced over his fundraising haul, once again saying that he was individually driven and supported.
You just raised a record-breaking $38.1 million in three months. From 802,836 contributions. No PACs, no special interests, no corporations. All people, all the time, everywhere, every single day. pic.twitter.com/IDMFNFwezB

— Beto O'Rourke (@BetoORourke) October 12, 2018
O'Rourke has also earned some heat from his own party because of his unwillingness to share his funds with other Democrats who might have better chances of winning their seats, according to Fox News.
Despite his excessive funding, however, some polls show him trailing the Republican incumbent. Fox News reported that the most recent poll showed that Cruz would beat O'Rourke by 10 points.
Conversation