Commentary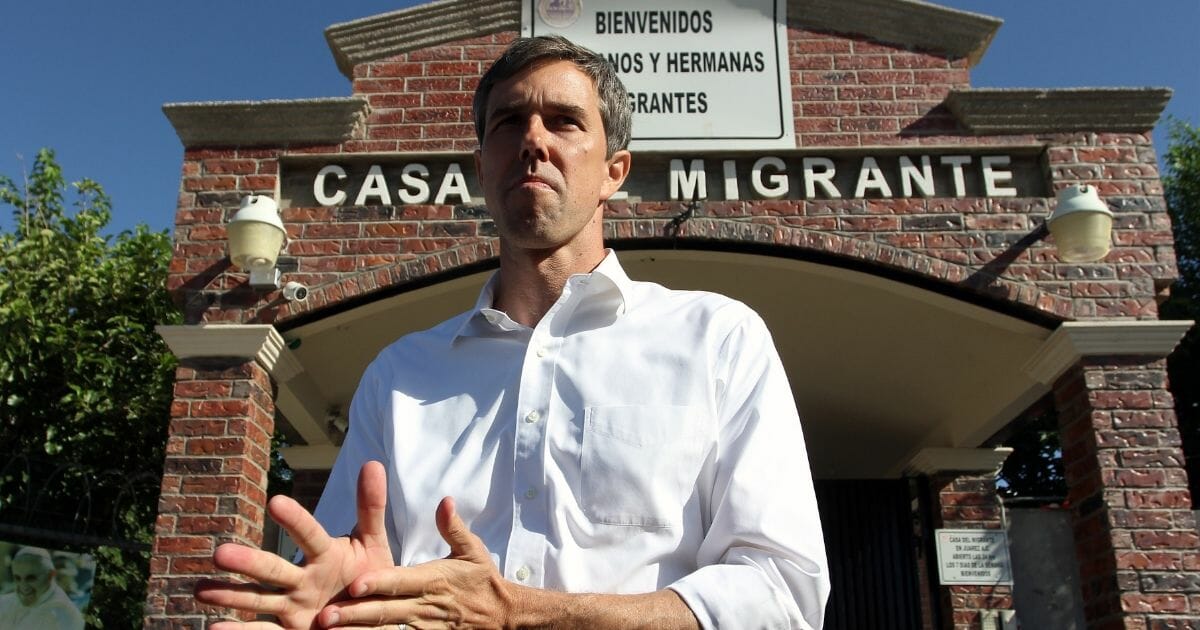 Beto O'Rourke Is Now Campaigning for President of the United States - in Mexico
Maye he should try getting more Americans to vote for him.
Robert "Beto" O'Rourke, the Democratic presidential contender who was polling about 2.8 percent on Monday, according to RealClearPolitics, obviously didn't help himself out much in last week's primary debate.
But a Sunday trip across the border to visit would-be immigrants tearful that they'd been denied entry into the United States might not have made for the kind of boost he was looking for.
Advertisement - story continues below
According to The Associated Press, the former Texas congressman crossed the Rio Grande to Mexico from his hometown of El Paso to visit with what he described in a Facebook post as "individuals and families directly impacted by Donald Trump's cruel and inhumane policies."
OK. Well, maybe it would behoove the former Texas congressman — whose biggest claim to fame is losing a Senate race to Republican Ted Cruz in the 2018 election — to think about the American families directly impacted by the influx of illegal aliens who have crossed the border into the United States with impunity over the years.
Unfortunately, there are plenty of them.
He could concern himself with the men and women whose sons and daughters have been killed by illegal aliens.
Advertisement - story continues below
He could champion the needs of the towns that have been so overrun by illegals that they've been forced to declare states of emergency.
Instead, he chose to actually leave the United States to seek out non-citizens to court their support.
Do you think this was a publicity stunt by the O'Rourke campaign?
His campaign probably thinks it's a way to get back some momentum after O'Rourke — the Bobby Kennedy wannabe — was widely viewed to have lost ground at Wednesday's Democratic debate in Miami to rival Julian Castro, the former Obama administration secretary of Housing and Urban Development.
(Castro was polling at 0.8 percent on Monday, so he's not exactly a juggernaut at this point).
Judging by the media reaction, though, the move didn't exactly knock the ball out of the park.
Advertisement - story continues below
Most news outlets blew off the stunt completely, relying on the AP coverage, though O'Rourke's Facebook page gamely — and somewhat deceptively — posted the version of the AP story carried by The New York Times.
(That might make O'Rourke's followers think the house organ of the Democratic Party actually cared enough about his Mexican jaunt to send a reporter along).
CNN gave it a prominent promotional plug on Twitter.
Advertisement - story continues below
But even in that liberal-friendly world, the Beto-bashers outnumbered his supporters by a significant percentage.
Here's a sampling:
Is he running for the president of Mexico?

— Anastasia (@sf_anastasia) June 30, 2019
Advertisement - story continues below
So he's going to hold a rally for illegal votes. Got it ??

— Bleeepity bleep (@apservice337) June 30, 2019
Publicity stunt. What a complete joker.

— Wrigleyville Ute (@jhallito) June 30, 2019
Advertisement - story continues below
Headline should read: Beto O'Rourke is set to drop out of race after visit to Mexico on Sunday to meet with migrants, as well as holding a "Rally for Children" outside a Border Patrol facility in Clint, Texas

— insert name here (@jones_calsones) June 30, 2019
And this one might have summed it up perfectly:
Campaigns over bud.

— Mark (@JustMaintain) June 30, 2019
Advertisement - story continues below
O'Rourke's border gambit on Sunday was a pretty obvious bid to get flattering media coverage so liberals disheartened by last week's debate debacle will know he really cares about illegal immigrants.
Not even Beto's once-fawning liberal media would bite, though. And what coverage the trip did generate ended up more or less backfiring on him.
If O'Rourke can't figure out that it's more important to try getting Americans to vote for him than to have his picture taken with would-be immigrants — who may have a questionable (to say the least) appreciation for the laws of the country O'Rourke wants to lead — the message is clear:
Advertisement - story continues below
Campaign's over, bud.
Conversation