Commentary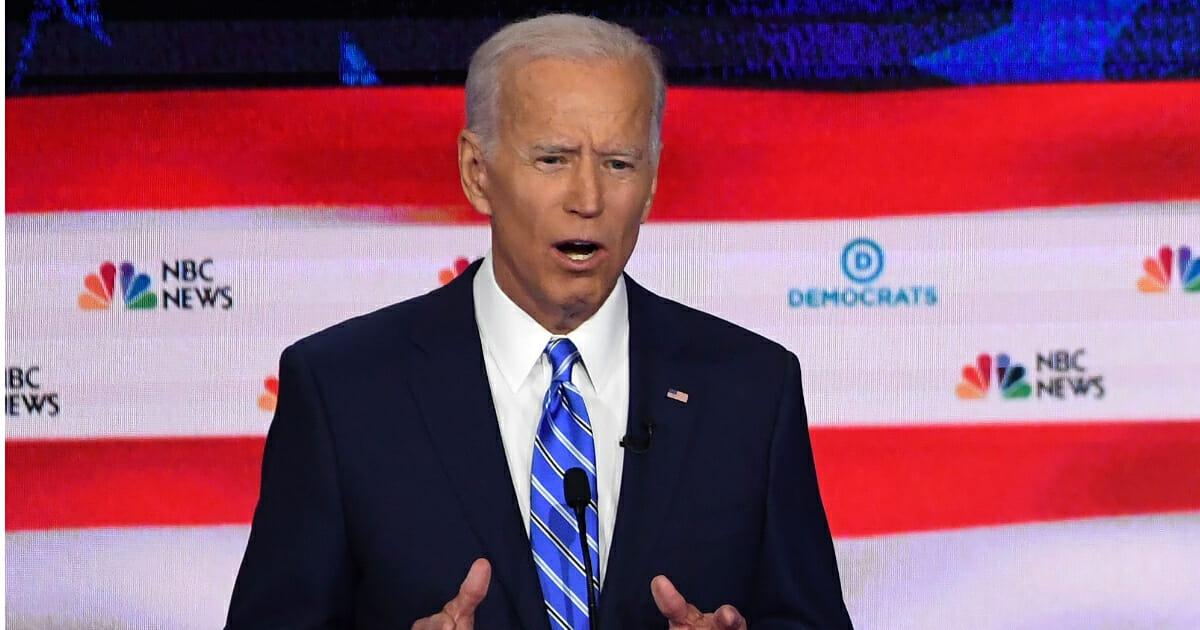 Did Biden's Spox Really Just Suggest He'll Be Too Tired To Answer Questions After Debate?
Former Vice President Joe Biden had to spend two hours on the stage Thursday night during the 2020 Democratic presidential debate.
According to one of his spokespeople, it could be enough to tire the 76-year-old out.
No, seriously!
Advertisement - story continues below
Prior to the debate, Kate Bedingfield, who serves as communications director and deputy campaign manager for the former vice president, was asked on CNN why Biden would not be speaking to reporters in the "spin room" following the debate.
"I understand just finally, Vice President Joe Biden won't go to the spin room tonight after the debate to talk to reporters," CNN's Anderson Cooper said.
"I still can't believe it's actually called the spin room, it seems like the most honest thing in politics, and I can surely understand never wanting to set foot in one," he added. "But [Biden] is a candidate, why is he not going to go?"
According to Bedingfield, Biden said it would just be too long of a night!
Advertisement - story continues below
"Well, he's going to have spent two hours answering questions on-stage, and he talks to the press everywhere he goes," she responded.
Biden's Deputy Campaign Manager says he won't go to the #DemDebate spin room because he'll be tired after having "spent 2 hours answering questions on stage" and "people know where Joe Biden stands on issues," even though he just flip-flopped on several of them. pic.twitter.com/b6XeguAEOf

— Matt Wolking (@MattWolking) June 28, 2019
Do you think Joe Biden has what it takes to lead the free world?
"I think there's no question the American people know where Joe Biden stands on issues."
It was a ridiculous response, of course.
Advertisement - story continues below
If Biden wants to be president, he'd better get ready for some late nights.
A two-hour debate followed by answering some questions from reporters afterward? That really should be nothing.
After all, the debate was set to end at 11 p.m. ET.
Let's say Biden stayed for an extra 30 minutes, then it took him 30 minutes to get home.
Advertisement - story continues below
Was Bedingfield really suggesting that's past Biden's bedtime?
Here's the thing: Important world events happen late at night, when the rest of the country is in bed.
A would-be president needs to be ready to deal with those things, not tell his aides that he'll worry about it in the morning.
It's also possible, of course, that Biden just didn't want to face the media. Considering he has a long history of flip-flopping on just about, well, everything, that wouldn't be terribly surprising.
Advertisement - story continues below
I'll leave it to you to decide.
Donald Trump Jr, meanwhile, had the perfect response to Bedingfield.
"OMG, I mean 11pm is really late and all… Good thing nothing happens in the middle of the night he may want to be up for," he tweeted.
OMG, I mean 11pm is really late and all… Good thing nothing happens in the middle of the night he may want to be up for. #Benghazi ? #DemDebate2

Biden's Spox Says He'll Be Too Tuckered Out After The Debate To Talk With Media – The Daily Caller https://t.co/zuLl7NxbNB

— Donald Trump Jr. (@DonaldJTrumpJr) June 28, 2019
Advertisement - story continues below
"#Benghazi."
Conversation