Commentary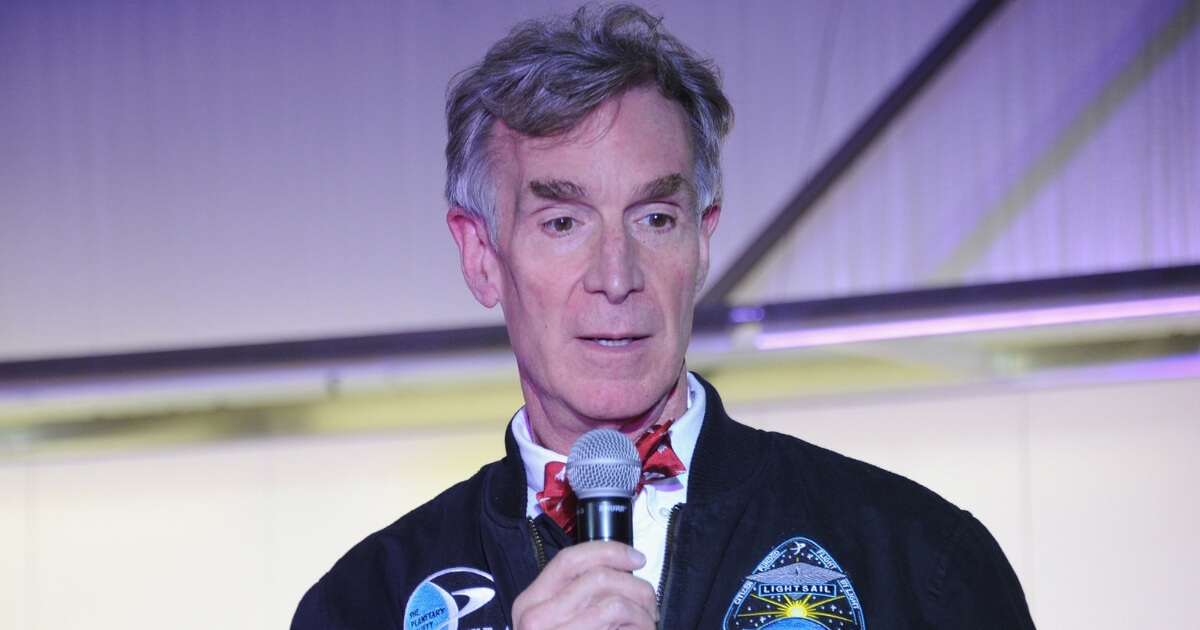 Bill Nye Gets Dealt Blistering Fact-Check by an Actual Scientist
We are all probably watching the weather developments in the Carolinas — big storms tend to make us sit up and pay attention, no matter where we are.
But something else I hope you have also paid attention to are the left's psychotic claims that President Donald Trump is to blame for the climate change that supposedly caused Hurricane Florence.
Well, facts are funny things: They have a pesky way of collapsing the liberal narrative.
Advertisement - story continues below
On Friday, Tucker Carlson interviewed Former NASA scientist Dr. Roy Spencer, who blew the liberal climate change theories out of the water.
In the interview, Dr. Spencer threw cold water all over Bill Nye the Science Guy's statements that Hurricane Florence is caused by climate change.
https://www.youtube.com/watch?v=AojYglkd1a8
Dr Spencer acknowledges the earth has gotten warmer, but he doesn't think the change in temperature is due to climate change. He believes it's part of the earth's natural weather cycles. And Bill Nye isn't going to like Spencer's scientific data that supports his findings.
Advertisement - story continues below
Dr Spencer explains to Fox News' Tucker Carlson: "Well, it has gotten warmer as you said, since the 1950s there has been a warming trend, but what we haven't seen in terns of any long term weather measurements is whether there's been any change in severe weather. There hasn't been any increase in hurricanes. That's on a global basis in the United States."
"The frequency of hits of the United States by major hurricanes has gone down by 50 percent since the 1930s and 1940s. There's been no increase in droughts, no increase in floods. Tornados are down but still weather varies a lot especially hurricanes, year to year, decade to decade."
Do you think Bill Nye the Science Guy is qualified to talk about climate change?
"So there is a huge amount of variability, OK, some stall, produce a bunch of rain. Certainly North Carolina is going to have a major flooding disaster, but this is what Mother Nature does naturally, and if there's a human influence there you wouldn't know it because there's so much natural variability," said Dr. Spencer.
Enter common sense as Carlson asks the obvious question as to why people are claiming global warming is to blame for hurricanes if the data doesn't support it?
Dr. Spencer's refreshingly candid remarks might just floor the global warming fanatics. It appears he believes as I do, that they are just saying "stupid things."
Advertisement - story continues below
"I don't know, why do people like The Washington Post say such stupid things? It's because the people who are informing us in the media about global warming are people like Al Gore, Bill Nye the Science Guy, Neil deGrasse Tyson, people that don't know anything about atmospheric science," he said.
Dr. Spencer also responded to Carlson's challenge of Nye's qualifications as a scientist. "He's not a trained scientist. I believe he's an engineer of some sort."
"Plus he has a widely viewed YouTube video called 'Climate 101' where he faked an experiment," Spencer added.
Liberals would do well to pay attention when choosing to follow the lead of their so-called experts.
Advertisement - story continues below
On Tuesday, an article by The Washington Post accused President Trump of being "complicit" in facilitating global warming.
"Yet when it comes to extreme weather, Mr. Trump is complicit. He plays down humans' role in increasing the risks, and he continues to dismantle efforts to address those risks. It is hard to attribute any single weather event to climate change. But there is no reasonable doubt that humans are priming the Earth's systems to produce disasters."
On Wednesday, Bill Nye the Science Guy told MSNBC that Florence was the direct result of climate change: "Now I look forward of course to all the hate tweets. It's going to be great, about a guy who took a lot of physics can't possibly read a graph. I got all that. But everybody, this is not in anybody's best interests to continue to deny climate change."
Hurricane season is just beginning and from the looks of things it's going to be a long one. And I have no doubt there will be more "stupid" discourse from liberals about climate change and why the president is responsible for it.
Advertisement - story continues below
Maybe the bright side in this discussion is that more real scientific experts are coming forward with hard facts that will continue to weaken the liberal global warming narrative.
Conversation