Commentary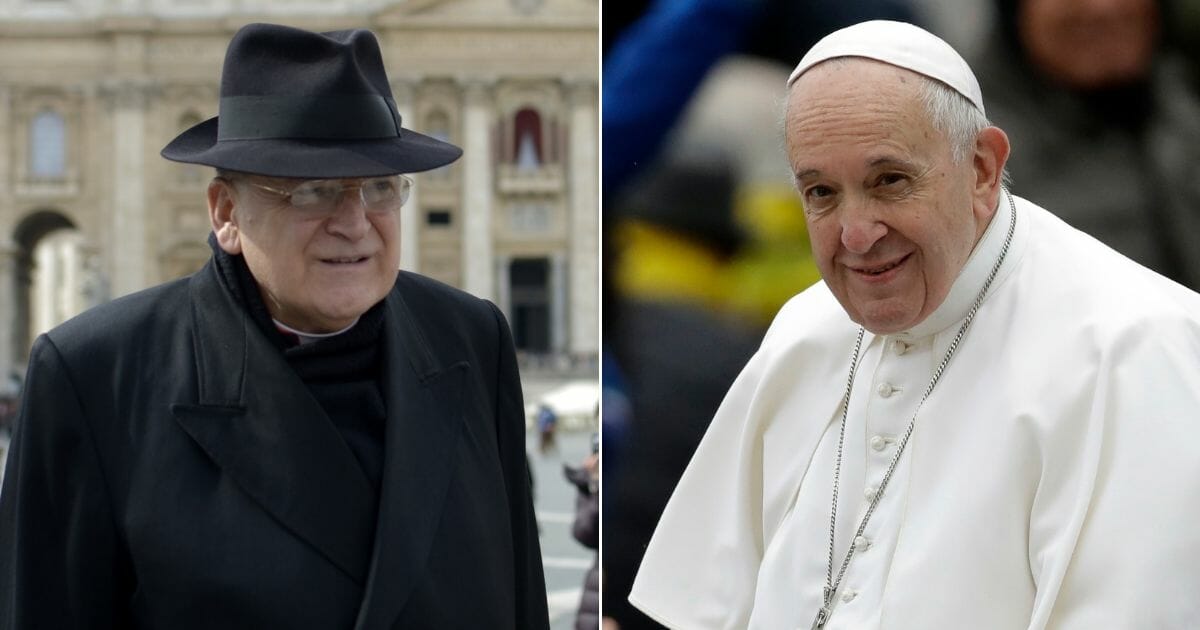 Bold Cardinal Denounces One-World Gov't, Repudiates Pope's Globalist Ideals
"Globalist" has apparently become a nasty epithet when used in a negative sense. The fact that the term was once used with anti-Semitic undertones makes it eternally anti-Semitic — even when those who are against globalism direct their strongest ire at a deliberative body that countenances anti-Semitism like whoa, the United Nations.
So, let's be clear what globalism is, shorn of any baggage deliberately thrown onto it: It's the belief that supranational organizations with power and influence over individual nation states are both good and necessary for human affairs.
Among the most perfervid believers in this matter is the current pope, the artist formerly known as Jorge Mario Bergoglio.
Advertisement - story continues below
"In the current situation of globalization not only of the economy but also of technological and cultural exchanges, the nation state is no longer able to procure the common good of its population alone," Pope Francis told an audience at the Pontifical Academy of Social Sciences earlier this month.
"The common good has become global and nations must associate for their own benefit," he said. "While, according to the principle of subsidiarity, individual nations must be given the power to operate as far as they can, on the other hand, groups of neighboring nations – as is already the case – can strengthen their cooperation by attributing the exercise of certain functions and services to intergovernmental institutions that manage their common interests."
"When a supranational common good is clearly identified, there is need for a special legally constituted authority capable of facilitating its implementation," he added.
While this wasn't the first time he'd given public support to a more aggressive form of globalism, it was certainly the most full-throated defense of it he has given so far. And, just a few weeks later, it got a stinging rebuke from one of his biggest critics within the church.
Advertisement - story continues below
Cardinal Raymond Burke, an American known for his conservative views — he wasn't confirmed to the Congregation for Bishops by Pope Francis back in 2013, which was seen as a rebuke for not mirroring the current pope's more liberal views on social matters within the church — told an audience at the Rome Life Forum last week that "[t]he divine authority, in accord with the order written upon the human heart, does not make just and legitimate a single global government."
Burke's speech, titled "Filial Piety and National Patriotism as Essential Virtues of Citizens of Heaven at Work on Earth," argued that — well, actually, you can probably get a decent idea from that alone.
Do you agree with Cardinal Burke?
"I now reflect on an essential aspect of our daily life, which pertains to the grace of piety and the practice of the virtue of piety. It has to do with a truth which is called into question in our time. I refer to our relationship with our homeland, which demands of us the practice of that part of piety which is called patriotism," Burke said.
"Before the challenges of our time, there are those who propose and work for a single global government, that is, for the elimination of individual national governments, so that all of humanity would be under the control of a single political authority. For those who are convinced that the only way to achieve the common good is the concentration of all government in a single authority, loyalty to one's homeland or patriotism has become an evil. It is often called nationalism, a term which evokes the evils of a misguided or corrupt national identity, obscuring the truth of our natural identity with a certain land and its culture."
However, Burke argued that "[t]he virtue of patriotism reflects excellence in the fulfillment of the demands of the Fourth Commandment," to honor thy mother and thy father. To that end, he quoted Saint Thomas Aquinas, who noted that "man is debtor chiefly to his parents and his country, after God."
Advertisement - story continues below
"It is clear from the Angelic Doctor's exposition that, not only is patriotism not a sin, but it is a requirement of nature itself," Burke said.
"The divine authority, in accord with the order written upon the human heart, does not make just and legitimate a single global government. In fact, the divine law illumines our minds and hearts to see that such a government would be, by definition, totalitarian, assuming the divine authority over the governance of the world," Burke said toward the end of his speech, noting that the "sinful pride which inspires the pursuit of a single global government has been likened to the pride of our ancient ancestors, after the Deluge, who thought that they could unite heaven with earth by their forces alone, building the Tower of Babel," he said in conclusion.
"On the contrary, God meets us and orders our lives for the good in the family and in the homeland."
I'm going to guess he's not going to be getting that appointment the next time around, either.
Advertisement - story continues below
To be clear, this isn't a cardinal who had the scales fall from his eyes on the Damascene political highway and, after hearing Pope Francis' comments earlier this month, decided it was time to go rogue. Cardinal Burke has long been a thorn in the side of the current pontiff on issues that tend to have a political bent to them and — one assumes from this speech — will continue in that role.
The takeaway, however, ought to be that the imprimatur of the Holy See on a more aggressive form of supranational government is a premature one. The pope doth not the entire Catholic Church make, and God isn't necessarily for the United Nations and against Westphalian sovereignty. Globalism isn't necessarily a good thing, and critiquing it is neither evil nor prejudicial.
Will the media remember these things the next time we get a piece of over-adulating, uncritical praise for Pope Francis when he tacitly or implicitly states none of these things are true?
Of course not. You should, though.
Conversation