Commentary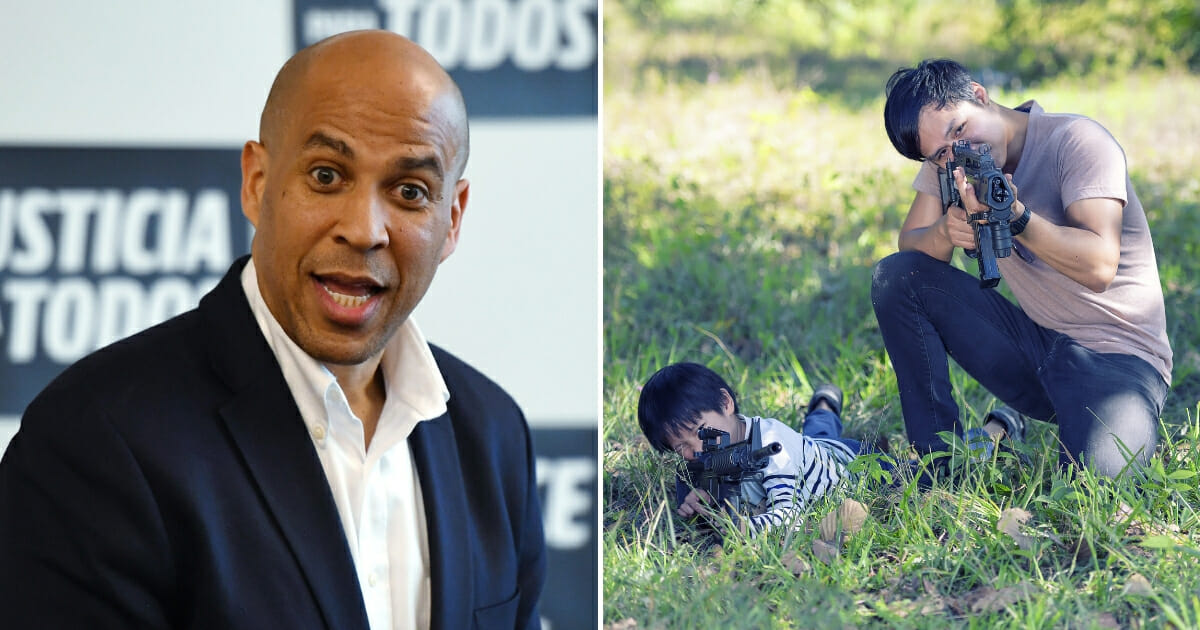 Watch: Booker Refuses To Tell CNN He Won't Throw Gun Owners in Jail
When Democrats put forward various gun control proposals in the past, they would quickly add the caveat that they respected the Second Amendment and nobody wanted to take away the guns that American citizens already lawfully owned.
Recently, some on the left have begun to dispense with that false formality and are now being honest about their intentions when it comes to gun control. They intend to completely ban certain firearms that are in common use and have no qualms about taking those firearms away from the citizenry and imprisoning anyone who refuses to hand over their lawfully purchased weapons.
Democratic California Rep. Eric Swalwell — who is running for his party's 2020 presidential nomination and once joked about using nuclear weapons against recalcitrant gun owners who refused to comply to his dictates — was one of the first to openly call for the prosecution of gun owners who refuse to turn in banned weapons.
Advertisement - story continues below
We can add Democratic New Jersey Sen. Cory Booker — another 2020 presidential candidate — to that mix, as he just released a ludicrous, incredibly dishonest and patently unworkable "Plan to end the gun violence epidemic."
That plan includes banning — and presumably confiscating to "remove from the streets" — so-called "assault weapons" and "high capacity" magazines, while at the same time siccing the IRS on the National Rifle Association, among other absurd things, like a federal licensing scheme for gun ownership that would inevitably be an unconstitutional federal registry of gun owners.
Booker was asked about his insane gun control plan on Monday during an appearance on CNN, and though he initially attempted to dance around whether gun owners who refuse to comply with confiscatory bans should be prosecuted and jailed, he nevertheless ended up signaling his support in a roundabout way.
Advertisement - story continues below
CNN host Poppy Harlow said, "Your fellow competitor in the 2020 race, Congressman Eric Swalwell, has also, like you, proposed an 'assault weapons' ban. But he's proposing a buy-back program, where Americans who currently have those guns could sell them, essentially, to the government."
"But if they don't, within a certain period of time, they would be prosecuted, so subject to be thrown in jail, perhaps. Are you supportive of the same measure?" Harlow asked.
Do you stand firmly opposed to confiscatory gun control schemes?
Booker attempted to side-step that question by talking about his experiences in dealing with gun violence as the former mayor of Newark, and then falsely asserted that "Most Americans agree that these weapons of war should not be on our streets."
To her credit, Harlow pressed Booker for a specific answer: "But would you prosecute people? Do you support the government buying them back, and if not, potentially people could go to jail if they don't want to sell them back, yes or no?"
Booker replied, "Again, we should have a law that bans these weapons, and we should have a reasonable period in which people can turn in these weapons. Right now we have a nation that allows, in streets and communities like mine, these weapons that should not exist."
Advertisement - story continues below
Though he didn't come right out and explicitly say "Yes, lock 'em all up and throw away the key," it was implied that the American people could, and probably should, expect to face legal ramifications if they refused to comply with an order to turn in certain weapons following a "reasonable period."
By the way, these so-called "assault weapons" and "weapons of war" that Booker says shouldn't even exist, are little more than normal semi-automatic rifles that merely look like military weapons, but in reality are no different than the average wood-stock hunting rifle, and have the same sort of firing mechanism and rate of fire as the typical semi-automatic handgun.
Sen. Cory Booker would send you to prison if you declined to sell your lawfully acquired AR-15 rifle in a government buy-back — as if the government had somehow owned the weapons in the first place — an unjust and un-American stance that is in direct opposition to a fundamental freedom enshrined within the U.S. Constitution, the right to keep and bear arms.
While conservatives and independents and libertarians utterly decry such an unconstitutional trampling of gun rights, at least some Democrats like Booker and Swalwell are being honest about their intentions instead of continuing to perpetuate the obvious lie that "nobody wants to take away your guns."
Conversation