Commentary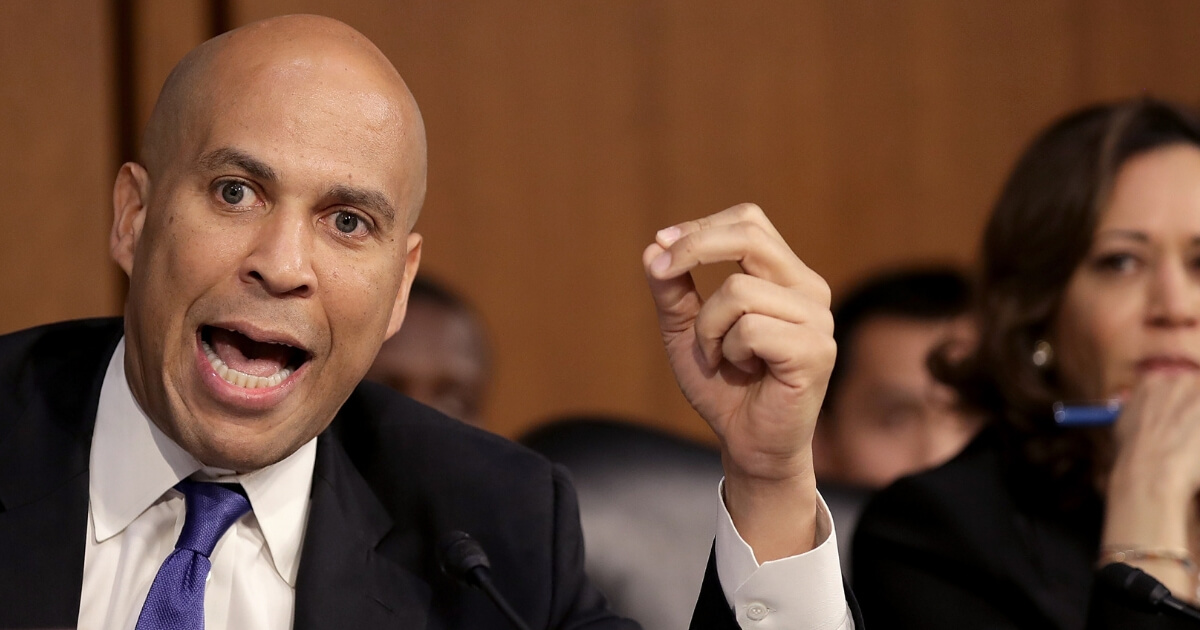 Self-Righteous Booker Tells Reporter Way He Asked Question Violates Constitution
So as you may have heard, New Jersey Democrat senator and almost certain 2020 presidential contender Cory Booker had his self-appointed "Spartacus moment" on Thursday, bravely releasing classified information that had been declassified hours earlier. It was sort of like if Daniel Ellsberg, instead of releasing the Pentagon Papers, had just given The Washington Post the script to "Dr. Strangelove" instead.
Booker's latest clubfooted attempt at 2020 posturing didn't exactly go over swimmingly in the media, particularly given the absolute lack of courage it took to perform an act he described as the height of political valor. But that wasn't the silliest he looked on Thursday.
Instead, Spartacus decided to tell a Wall Street Journal reporter that he was violating the Constitution by being in Booker's way while asking a question.
Advertisement - story continues below
Okay, for those of you who missed it, here's what happened before the question was asked. As the Washington Free Beacon reports, Sen. Booker used the Kavanaugh hearing to supposedly release classified emails Kavanaugh had written when he was with the Bush administration — emails which actually didn't make Kavanaugh look that bad.
"I understand the penalty comes with potential ousting from the Senate," Booker said.
"This is about the closest I'll probably ever have in my life to an 'I am Spartacus' moment."
That's prima facie silly to begin with, particularly since expulsion requires a two-thirds vote and the only thing Booker's act would have moved two-thirds of the Senate to do was laugh at him.
Advertisement - story continues below
But it turns out the whole thing was even sillier than that.
"We cleared the documents (to be released) last night shortly after Senator Booker's staff asked us to," Bill Burck, Bush's presidential records representative, said about the emails.
Do you think Sen. Booker resembles Spartacus in any way?
"We were surprised to learn about Senator Booker's histrionics this morning because we had already told him he could use the documents publicly. In fact, we have said yes to every request made by the Senate Democrats to make documents public."
The Wall Street Journal's Byron Tau decided to ask him the obvious question: Was this a political stunt? He didn't ask him the other obvious question: If the answer is no, why are you such a bad liar?
But that's probably because Booker's answer to the first question was even more fundamentally unserious than his display in the Judiciary Committee.
Advertisement - story continues below
Democrats knew full well that the documents that Booker and Hirono released this morning were no longer confidential, according to D+R lawmakers and aides.

I asked @CoryBooker if his remarks in committee were a stunt. He told me I violating the constitution by being in his way.

— Byron Tau (@ByronTau) September 6, 2018
Uh, okay. Apparently Spartacus couldn't devise a better way to not answer a question than to invoke the Speech and Debate Clause of the Constitution, which states that lawmakers "in going to and from (session) … shall not be questioned in any other Place."
However, as the Free Beacon points out, the idea of not "questioning" legislators "in going to and from" their duties applies to law enforcement, who could interrogate lawmakers to stop them from voting or something to that effect.
Instead, Booker's interpretation is that no reporter may be able to question him as he goes from session to session — which is pretty much any time they're in the Capitol, if you want to go down this particular interpretive pathway, since all legislators are technically "going to" a session at some point in the future and have come "from" a session at some point in the past, right?
Advertisement - story continues below
That's a bit of a stretch, but so was pretty much everything that came out of Cory Booker's mouth on Thursday.
I don't remember Spartacus being so irrational or narcissistic. Maybe I need to watch the movie again, but I somehow doubt it.
Conversation