Commentary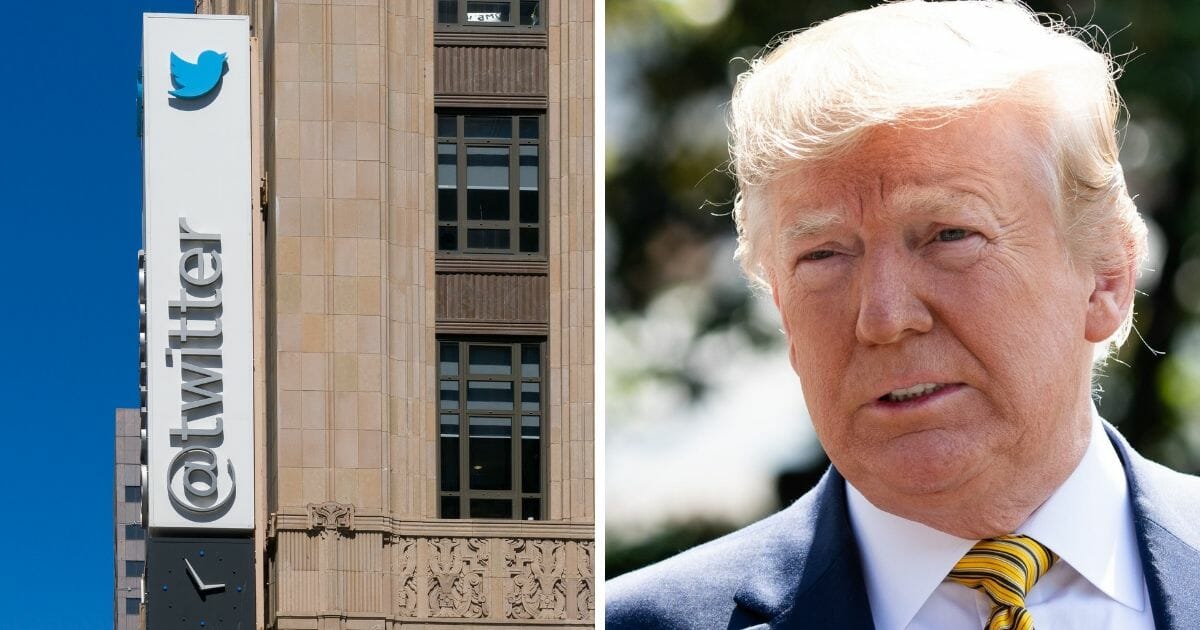 Breaking: Twitter Sets Stage To Start Down Ranking, Suppressing Tweets Like Trump's
In a Thursday morning statement, Twitter announced a dramatic new policy that could censor the impact of tweets from influential world leaders who post content that Twitter feels has violated its rules.
"There are certain cases where it may be in the public's interest to have access to certain Tweets, even if they would otherwise be in violation of our rules," Twitter's statement reads.
"We may allow controversial content or behavior which may otherwise violate our rules to remain on our service because we believe there is a legitimate public interest in its availability," the company added in an explanation about how its notices work.
Advertisement - story continues below
"When this happens, we add a notice to clarify that the Tweet violates our rules, but we believe it should be left up to serve this purpose."
So now, when Twitter decides that a government leader — a verified, elected official or candidate for public office with more than 100,000 followers — has violated its content rules, the company will put a notice over the tweet like the one below.
If users still want to read the tweet, they will have to click through the notice to see the content.
Advertisement - story continues below
When the Twitter team decides that content meets the criteria to deserve the censorial notice, several things happen.
First, the tweet won't appear within Twitter's "safe search" results. Second, the tweet will not appear in the Twitter timeline of any users who have not changed their default timeline preference from the "top tweets" setting. That is currently the default setting.
Do you think this Twitter policy will hurt President Trump?
Additionally, the hidden tweets will not appear on live event pages, the "Notifications" tab or the "Explore" section.
The leftists are already giddy that Twitter might use this weapon against President Donald Trump. And they're probably right.
Virtually every news source I could find on the announcement opined that it would affect the president's tweets.
Advertisement - story continues below
Left-leaning snowflake publication, Vox, drooled with glee that dangerous tweets such as Trump's tweet in September 2017 that North Korea "won't be around much longer" might be punished by Twitter's new tool.
Twitter's announcement comes amid a firestorm of criticism regarding censorship of conservatives by social media companies. Some of that criticism has come from the president himself.
In response to a question Wednesday during an interview with Fox Business Network's Maria Bartiromo about whether technology companies are censoring conservatives, Trump was vocal about Twitter's actions.
"Well, they're doing it to me on Twitter," Trump complained. "What they did to me on Twitter is incredible. I have millions and millions of followers, but I will tell you, they make it very hard for people to join me on Twitter. And they make it very much harder for me to get out the message. It's incredible."
Advertisement - story continues below
WATCH: President Trump rips @Twitter, @Google and @Facebook for trying to rig the 2020 election against conservatives. #BigTech #censorship pic.twitter.com/hIuUmcAYoV

— Trump War Room (@TrumpWarRoom) June 26, 2019
In the same interview, Trump had a warning about the purpose behind the censorship and bias.
"Let me tell you — they're trying to rig the election," Trump said. "That's what we should be looking at."
Conversation