Commentary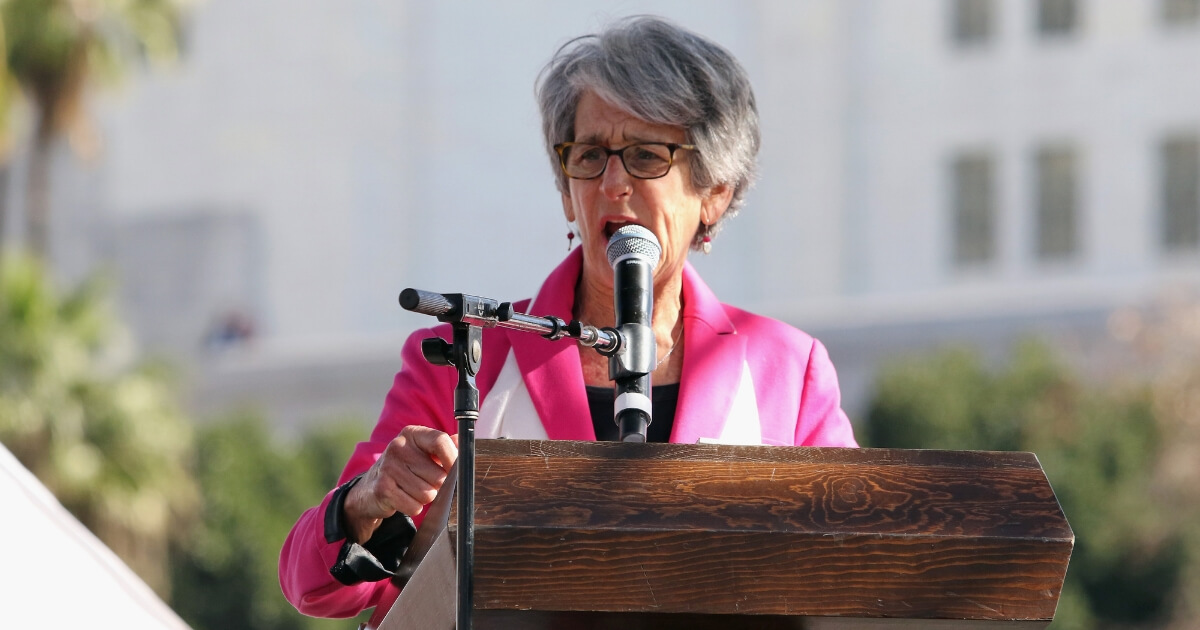 Cali State Senator Enforces Gender Neutrality, Bans Committee Use of 'He' and 'She'
If you're a legislator on California's Senate Judiciary Committee, you can no longer use the personal pronouns used to refer to members of the male and female genders. At all. Instead, thanks to the chair of the committee, all members will be referred to as a faceless, grey "they."
According to the Daily Wire, California Senate Judiciary Committee chair Sen. Hannah-Beth Jackson, a Santa Barbara Democrat, announced the change during the first session of committee on Thursday.
"Our first order of business is to approve the committee rules. I'd like to note — in respecting the fact that we are now a state recognizing the non-binary designation as a gender — he and she, we are now merging them so we are using what my grammar teacher would have had a heart attack over: we are using the phrase 'they' and replacing other designations so it's a gender neutral designation: 'they,'" Jackson announced.
Advertisement - story continues below
"Basically, that's the primary reforms and revisions to the committee rules."
"In the spirit of gender neutrality for the rules of this committee, we now designate the chair as 'they,'" she added. "The world is a different place. My grammar teacher is long gone and we won't be hearing from her."
She continued on until laughter from the room forced her to correct herself: "From them! From they!"
California, as of Jan. 1, allowed residents to list their gender as "non-binary" on their drivers licenses, according to KGTV-TV.
Advertisement - story continues below
SB 179, which mandated the change, was signed by outgoing California Gov. Jerry Brown in November.
The Daily Wire also reported that the "non-binary" option could be chosen on "birth certificates, marriage licenses, and other-state issued documents."
Do you think that California's LGBT laws are out of control?
"For me, it was surprising to see this change," transgender activist Al Johnson told KGTV.
"Not only does it mean we're being recognized by society and the people around us but were also being recognized by government entities as valid and real people," said Johnson, who prefers to be referred to by the pronouns they/them.
Scott Wiener, the Democrat who initially proposed the bill in the state Senate, said that it was a big victory for people who "should be allowed to be who they are."
Advertisement - story continues below
Gov signed our SB179: allows ppl to identify as non-binary, easily correct gender. Big win 4 notion ppl should be allowed to be who they are

— Scott Wiener (@Scott_Wiener) October 16, 2017
The first meeting of the California Senate Judiciary Committee proves that these initiatives are always significantly more far-reaching than they initially appear.
I don't know if there's particularly any legal precedent that says the committee must use they/them as the default (and only) personal pronoun, but watching the proceedings should be unintentionally humorous — provided you don't think too hard about the chilling Orwellian pall being put on language in the United States of America.
Advertisement - story continues below
Lest you think this stops at licenses, California is also the state where misgendering an individual in a senior or nursing care facility is actually a crime. The idea that it will stop there is patently ludicrous.
It's clear that language policing in the Golden State will continue to creep into more and more areas until, in some spaces, the mere mention of "him" or "her" — personal pronouns in use since time immemorial — will be punishable in one way or another.
This is what LGBT madness has become in California. And if you think it'll be the last state where you see something like this, you're wrong. There are plenty of Hannah-Beth Jacksons out there.
Conversation