Op-Ed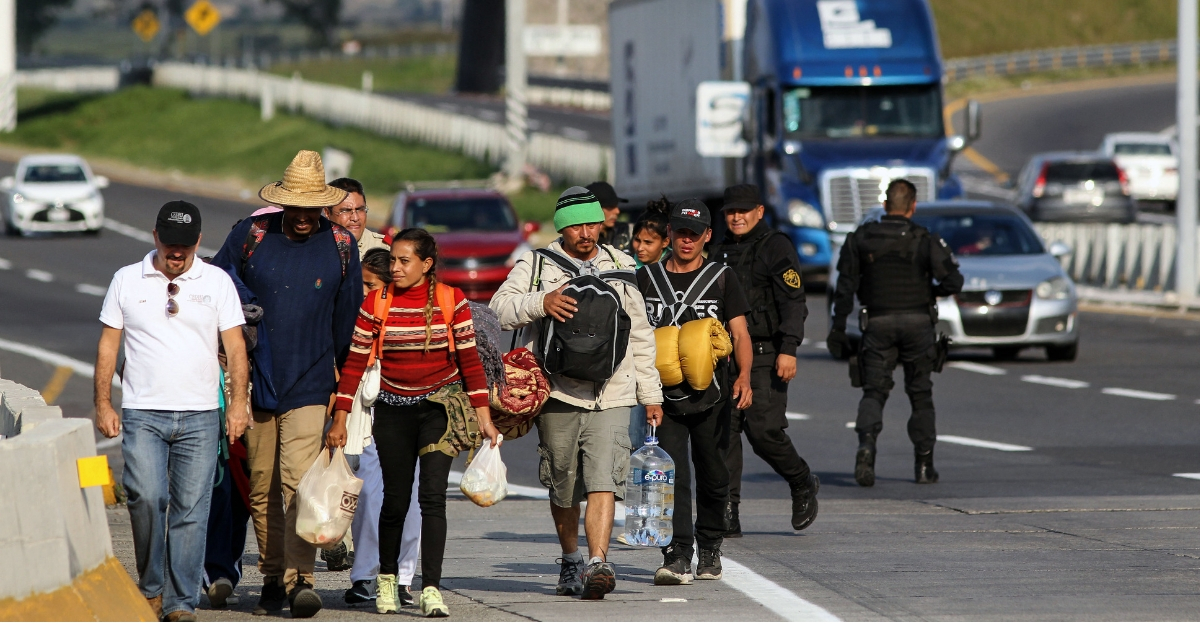 The Caravan Is Here and Acosta Has Egg on His Face
The migrant caravanners are here! And leading figures in the media from CNN's Jim Acosta to political leaders like former president Barack Obama — who made all sorts of false or baseless claims about them — have egg all over their face.
In his now infamous confrontation with President Donald Trump during a White House news conference just after the midterm elections, Acosta admonished the president that the migrants were, "hundreds and hundreds of miles away." It turns out over 5,000 of them started showing up in Tijuana, the Mexican town opposite San Diego, just days later. The migrants have been squatting in and around the town's sports stadium just feet away from the U.S. border.
Acosta also berated Trump for calling the migrant caravan an "invasion" and claimed it's not. Yet, hundreds of migrants just stormed our border, pushed past the feckless Mexican police to threw rocks and glass bottles at U.S. Border Patrol agents. Acosta said they're not going to be climbing over walls. Yet, the migrants climbed over walls and tore apart sections of our dilapidated border fence trying to break into our country. Many made it. At least 42 migrants were arrested in the U.S. Every assertion of Acosta's turned out to be false and every one of Trump's to be true.
Advertisement - story continues below
Yet, Democratic politicians would not be outdone by the media. While barnstorming in support of Democratic candidates in the days leading up to the midterms, Obama said of Trump, "They do this every election cycle — try to terrify folks — and then the election comes and the problem suddenly magically vanishes. You never hear about it again." Yet, we've been hearing about and trying to deal with this problem every day since the election. Obama claimed, "It's an old playbook. It's one that the powerful and the privileged turn to whenever control starts slipping away. They'll get folks riled up just to protect their power and their privilege." Yet, it's the powerful and privileged — from Amazon's Jeff Bezos to the Koch brothers — and not Trump's working-class voters who want open borders and unlimited immigration. The rich want these migrants to work for them at low wages in their farms, factories, warehouses, construction sites and resorts, and like rich celebrity Kelly Osborne, in their mansions cleaning their toilets.
Leading Democrats and the media also label Trump a racist because of his opposition to opening the border and allowing the migrant caravan to drive right in. At a speech in Miami, Obama, trying to stir up the Democrats' base, claimed that Trump's statements about the caravan were part of his political strategy that, "pits us against one another to make us believe that order will somehow be restored if it just weren't for those folks who don't look like we look."
Obama is claiming Trump's determination to enforce immigration law and protect our southern border from lawless entry is a call to racist white Americans. That's par for the course. Many white Americans, particularly Trump supporters, are used to being called racist. But, what about the millions of darker-skinned Americans who oppose lawlessness on our borders? And, what about Mexicans who desire order in their towns and on the border? Are they racists too?
The migrant caravan is trying to push into the U.S., but it landed and has taken up residence in Tijuana. As thousands of Central Americans have disembarked in Tijuana, hundreds of its residents have taken to the streets in protest; in scenes similar to a Trump rally, they're waving "Mexico First" signs and the Mexican flag, shouting "No to the Invasion," and singing the Mexican national anthem.
Advertisement - story continues below
Patricia Reyes, a Mexican woman, sounding a lot like Trump, told one reporter, "We want the caravan to go; they are invading us. They should have come into Mexico correctly, legally, but they came in like animals." Another Mexican woman, Magdalena Baltazar, said, "We work hard here. We don't get handouts. The government shouldn't be giving things to migrants when plenty of Mexicans are in a difficult position."
The need to clothe, feed and shelter thousands of migrants is causing a severe financial strain on the Tijuana city budget. Its mayor declared, "I will not compromise public services. I will not spend Tijuanans' money, I will not bring Tijuana into debt now…" The mayor, who sports a red, "Make Tijuana Great Again" hat, paraphrasing President Trump, said, "Sure, there are some good people in the caravan, but many are very bad for the city."
Crime in Tijuana has surged with the coming of the migrants. City authorities announced, "108 migrants have been arrested so far, including 104 for administrative offenses, such as possession of drugs, public intoxication and disturbance. The remaining four are to be prosecuted for robbery, fights and insulting authorities." And those crime numbers are from before the recent clashes with Mexican police and U.S. Border Patrol agents.
Are the Mexican mayor and all these Mexicans racist? No. They, like most Americans of various colors, races and ethnicities, just want order on our borders and for these migrants and all immigrants to apply to enter our country legally.
Marc A. Scaringi, Esq. is an attorney in Harrisburg, Pennsylvania. He's a former Republican U.S. Senate candidate, Trump-endorsed Delegate to the Republican National Convention and host of a weekly talk radio show, The Marc Scaringi Show, on WHP 580AM and iHeartRADIO.
The views expressed in this opinion article are those of their author and are not necessarily either shared or endorsed by the owners of this website. If you are interested in contributing an Op-Ed to The Western Journal, you can learn about our submission guidelines and process here.
Conversation