Commentary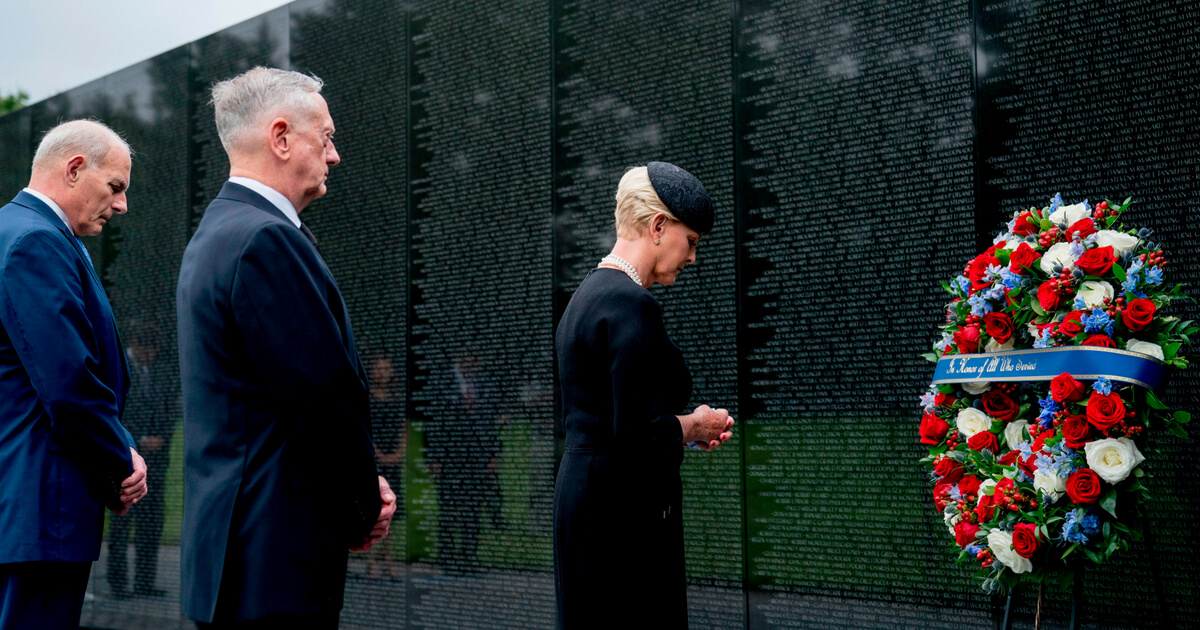 Cindy McCain Has Incredible Tribute to Vietnam Vets Moments Before Entering Ceremony
Just prior to Saturday's funeral service for late Arizona Senator John McCain, a special tribute was captured on film. It would have been easy to miss, but fortunately, not everyone did.
According to The Hill, the touching moments began with McCain's family going to the Vietnam Veterans Memorial in Washington, D.C.. It was there that McCain's widow, Cindy, was seen at the memorial, placing a wreath in tribute.
Cindy was accompanied by her daughter Meghan. They were "flanked by Gen. John Kelly, currently White House chief of staff, and Defense Secretary Gen. James Mattis," according to The Hill.
Advertisement - story continues below
Cindy McCain lays a wreath at the Vietnam Veterans Memorial in Washington, D.C. pic.twitter.com/KOOviKNb2p

— Fox News (@FoxNews) September 1, 2018
The Hill noted that the wreath had a ribbon on it with wording. The message read, "in honor of all those who served."
After the memorial wreath honoring all Vietnam Vets was placed, Cindy took a moment or two, "offering a silent prayer," wrote The Hill. The friends and family in attendance were shown to be visibly moved and grieving. As seen in the video, a salute was also offered by a uniformed onlooker in tribute.
The late senator had served in the Vietnam War. He'd been captured and tortured, suffering from some of his injuries for the rest of his life.
Advertisement - story continues below
Just days prior to Cindy's touching tribute to Vietnam Veterans, she was paid an honor along a similar theme. The Washington Post wrote that it was a "chance encounter" that led to the special moment between Cindy and a Vietnam veteran:
"David Carrasco got to the funeral home on Monday morning, he wasn't sure what he would find. But he wanted to pay his respects to the man who had represented Arizona in the Senate for 31 years, and who had fought in the same faraway Vietnam War he had, decades earlier."
Did Cindy McCain do a good thing by honoring all Vietnam Veterans in this way?
Carrasco was surprised when Cindy exited the funeral home. But then she added to that surprise when she began talking to him.
He wasn't sure what to do, but instinct seemed to have kicked in. "I gave her a medallion that was presented to me over two years ago, during Operation Freedom Bird."
"When she came out, that was the first thought that came to me. I wanted to give her something that related to her husband's service."
Advertisement - story continues below
Carrasco told Cindy, "This was given to me at one of the ceremonies for Vietnam veterans. It would be my honor to present this to you on our behalf."
U.S. Vet David Carrasco met Cindy McCain yesterday & gave her one of his medals because he said, "I was just moved to do that." #McCain #CBS pic.twitter.com/WsSZmXCNQi

— Patty Talahongva (@WiteSpider) August 28, 2018
He went on to state that he was not done honoring the late senator. He intended "to stand vigil until McCain is moved on Wednesday."
Although critics of the late senator have been plentiful, not everyone has had such strong negative feelings toward him. Even many of those who have had such feelings have put them aside to join in supporting his grieving family and paying tribute to his service to this country as a soldier and as a member of Congress.
Conversation