Sports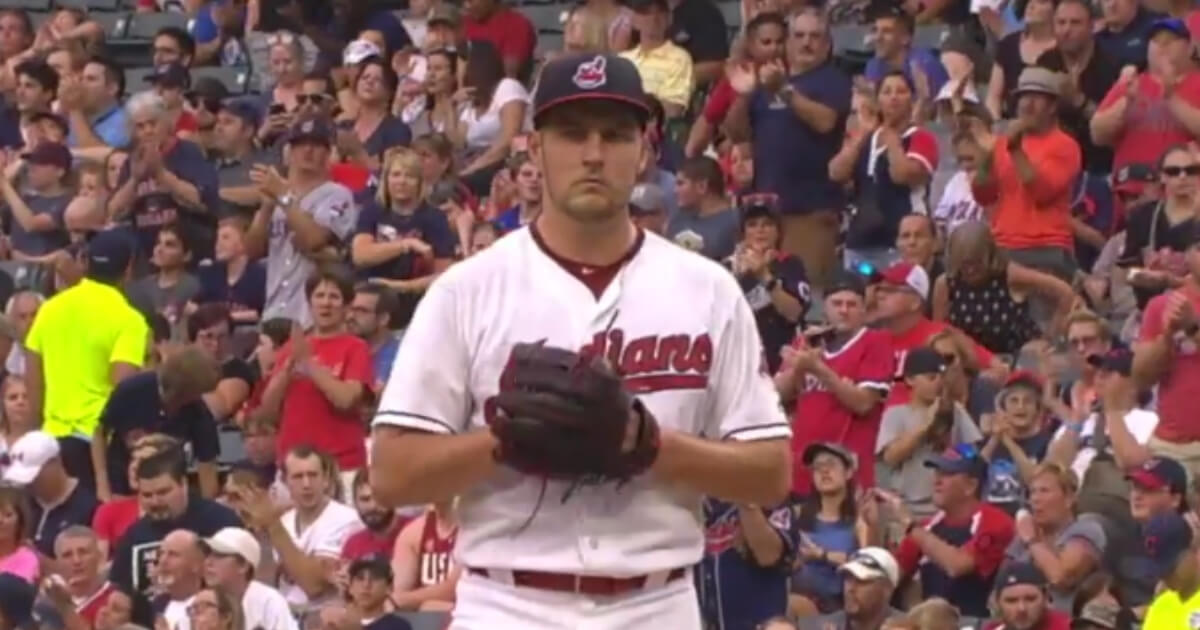 Cleveland Indians Make Pitching History, Accomplish an MLB First
Last Saturday, the Indians clinched the AL Central for the 10th time in franchise history. Exactly one week later, they did something that's never happened before in MLB history.
Indians' starter Mike Clevinger struck out six Red Sox batters en route to a 5-4 Indians win. Clevinger reached 200 strikeouts for the season which makes the Indians the first team in major league history to have four pitchers with at least 200 strikeouts.
Clevinger (202 strikeouts) joins Carlos Carrasco (217), Trevor Bauer (215) and Corey Kluber (205) in the Indians' 200-strikeout club. All four pitchers rank among the top eight in strikeouts in the American League.
Advertisement - story continues below
As a team, the Indians have 1,464 strikeouts on the season which ranks fifth in the majors. The team needs 151 strikeouts over its last eight games to surpass last season's mark of 1,614, which is the most in franchise history.
Corey Kluber. Trevor Bauer. Carlos Carrasco. Mike Clevinger.

We are the 1st team in Major League history to have 4 starting pitchers record 200 or more strikeouts in a single season.#RallyTogether pic.twitter.com/1yLh8j1les

— Cleveland Indians (@Indians) September 22, 2018
Coincidentally, that mark of 1,614 was not only the most in Indians franchise history, it was the most for any team in a season until the Astros surpassed them, also on Saturday.
Entering play Sunday, the Astros have more strikeouts than any team in MLB history with eight games to go.
Advertisement - story continues below
Before the Indians' foursome reached 200 strikeouts, only three other teams had even three players reach the milestone — the 2013 Tigers, 1969 Astros and 1967 Twins.
"I think that speaks to their work ethic, too," Indians manager Terry Francona said. "They prepare so well and they stay out there — and it was kind of a cool thing to see. It kind of snuck up on me tonight when it happened, but those guys ought to be proud of themselves."
Will the Cleveland Indians represent the American League in the World Series?
Clevinger also wasn't aware that not only did the Indians make history, he reached a personal milestone as well with his 200th strikeout.
"It was a big moment in the game," Clevinger said. "I was fired up about [the situation]. Then I looked up and realized what happened, and I was like, 'Oh, gosh, that is the 200th,' and I had to step back and I wanted to get locked back in before I got back on the mound.
"It's special. A lot of people are going to say it's our division or whatever the case may be, but it's a lot of work, a lot of effort, and a lot of process that went into all of our stories and the way we got here. I'm just proud to be a part of this."
Advertisement - story continues below
While the Indians use a five-man rotation, don't expect their fifth starter to even approach 200 strikeouts this season.
Shane Bieber is fifth on the team with 109 strikeouts after being called up in late May. No other Indian has more than 76 strikeouts.
Even though the Indians' rotation has been adept at generating strikeouts, the Indians' batters have avoided them.
Cleveland's batters have struck out 1,126 times this season which is the fewest in the American League.
Conversation