Commentary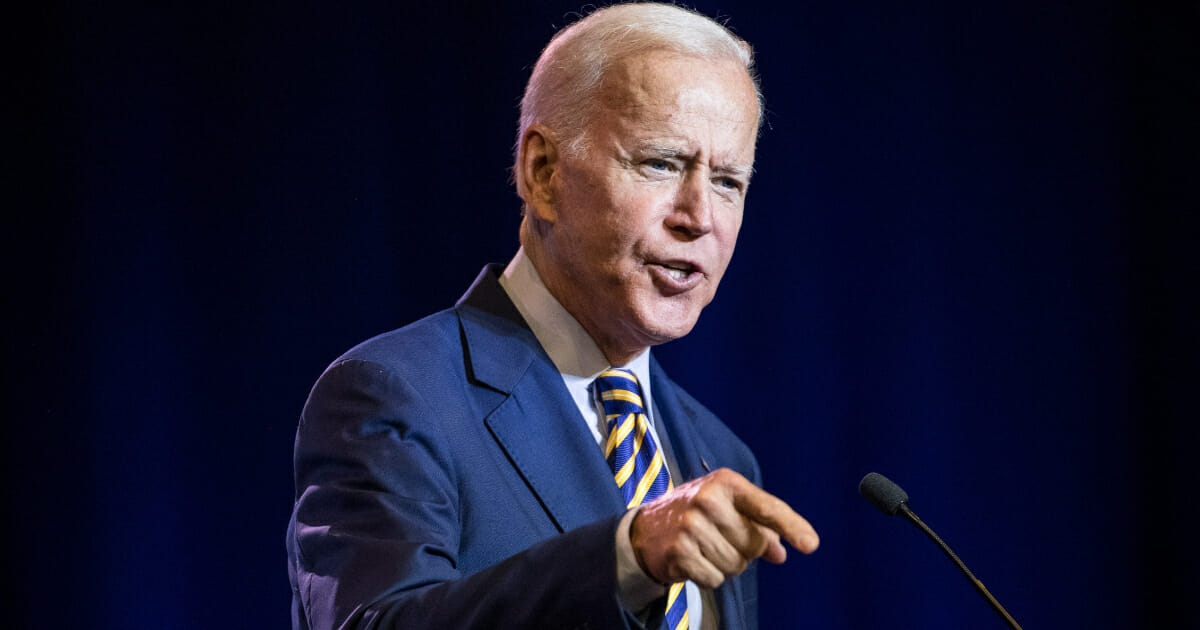 CNN Fact Check Debunks Biden's Claim of Ending Private Prisons as VP: 'There Was No Bill'
Boy, the establishment media sure did love former President Barack Obama.
But his vice president? Apparently, not so much.
On Monday, a fact-check article by none other than CNN demolished 2020 Democrat presidential candidate Joe Biden and rebuked his latest suggestion that as vice president, he was involved in pushing a bill to end private prisons.
Advertisement - story continues below
"No more mandatory minimums, period," Biden said during a speech at the South Carolina Democratic Convention.
"End private prisons, which we did in our bill, period."
But CNN's Daniel Dale and Holmes Lybrand weren't having it.
They exposed the former vice president's false statement, plainly writing, "Biden was not involved in a bill that ended, or would have ended, the use of private prisons."
Advertisement - story continues below
They went on to explain that Biden "might have been referring to the Obama-Biden administration's 2016 decision to reduce the federal use of private prisons."
However, CNN noted that the decision was merely a memo from Sally Yates — the deputy attorney general at the time — and added, "There was no bill."
Do you think Joe Biden will secure the 2020 Democrat nomination?
Even if Biden was erroneously talking about the memo, the left-leaning media network said that he completely overstated its effect.
The memo did nothing for state-level private prisons and didn't apply to "private immigration detention facilities governed by Immigration and Customs Enforcement," according to CNN.
It was a step taken to "reduce" the use of certain federal government-run private prisons, not eliminate them entirely.
Advertisement - story continues below
For some extra sweet icing on the cake, CNN reached out to Biden's campaign about the inaccuracy, but his team predictably "declined to comment on the record."
Watch a clip of Biden's goof at the convention below.
Joe Biden speaks in SC: "We need to pass Congressman Bobby Scott's from Virginia's Safe Justice Act. I've met with him, we've got to add a few things that I've been proposing. No more mandatory minimums period. End private prisons, which we did in our bill, period." pic.twitter.com/nPu5eXRxKP

— The Hill (@thehill) June 23, 2019
Advertisement - story continues below
The embarrassing blunder comes on the heels of several others from the former vice president, like his claim that he would "cure cancer" if elected president and his recent comment about resorting to violence to push his Democrat agenda.
In an interview with MSNBC's Joy Reid earlier this month, Biden was asked about how he would deal with a Republican majority in the Senate should he be elected to the White House.
"There are certain things where it just takes a brass knuckle fight," he said in response.
"If you start off with the notion, 'there's nothing you can do,' then why don't you go home then, man?" Biden said.
Advertisement - story continues below
"Or let's start a real physical revolution if you're talking about it. Because we have to be able to change what we're doing within our system."
What won't this man say to get elected?
It's almost as if he just tosses these words out there hoping they'll stick and won't be rebuked.
That probably worked really well before, you know, the internet.
Advertisement - story continues below
But now it's 2019, and that tactic ain't gonna cut it anymore.
This is likely just the beginning of Biden's inevitable 2020 campaign gaffes.
As the pressure mounts, it's probably going to get a lot worse for him.
At the very least, he'll have a lot of explaining to do.
Advertisement - story continues below
However, if you were to ask President Donald Trump, he's probably just fine with "crazy Uncle Joe" making as many gaffes as possible, given that it looks like Biden could be the president's most likely general election opponent in 2020.
Conversation