Commentary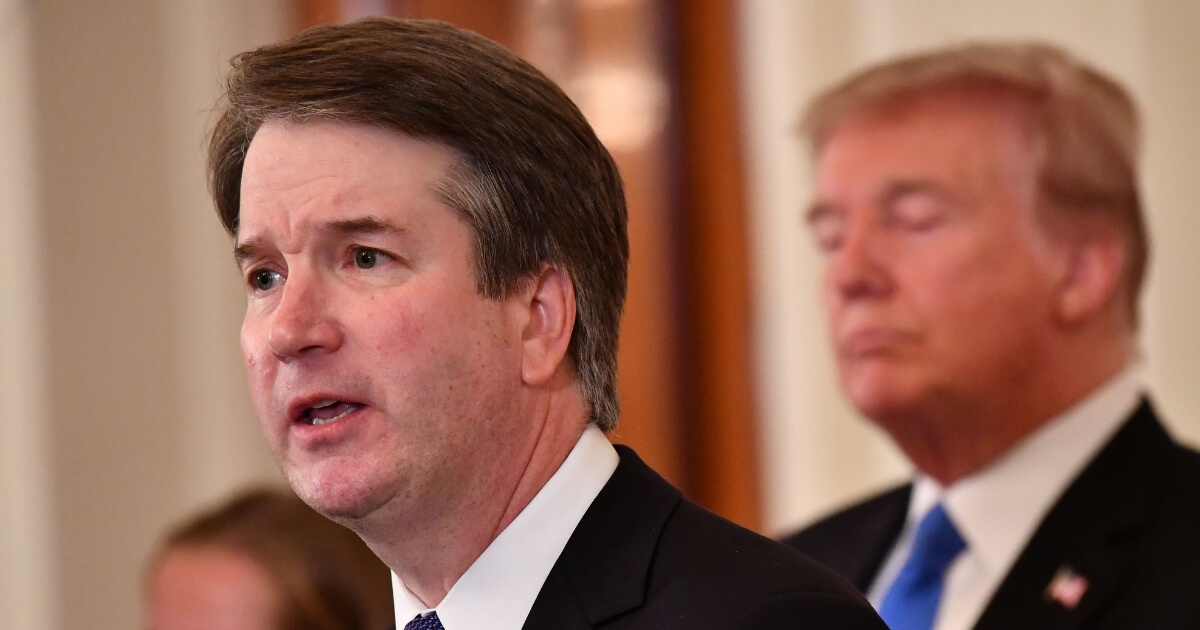 CNN Publishes False Allegation Against Kavanaugh After Accuser Already Recanted
CNN was caught blatantly spreading misinformation about Supreme Court nominee Brett Kavanaugh on Wednesday as it tried to reinforce the view of him as a serial sexual assaulter.

You may have missed the supposed fifth assault accusation against Kavanaugh. It's the one involving an incident on a boat in Rhode Island — and it was retracted soon after it was made.

According to a transcript released Wednesday by the Senate Judiciary Committee, Kavanaugh was asked about the allegation on Tuesday, which was raised by Sen. Sheldon Whitehouse of Rhode Island.

Advertisement - story continues below

According to the Washington Times, Whitehouse told the committee that someone had contacted him on Monday, telling him that someone they knew "was sexually assaulted by two heavily inebriated men she referred to at the time as Brett and Mark" in August of 1985 on a small boat in Newport, Rhode Island.

The informant told Whitehouse that he and another man wrestled with "Brett and Mark" at the time of incident, but that it was not until recently he "realized that one of the men was Brett Kavanaugh when he saw Kavanaugh's high school yearbook photo on television over the weekend," according to the transcript.

The committee staffer read Kavanaugh two tweets alleging the assault. These tweets were discovered to be attributed to the account @JeffreyCatala16.

Kavanaugh denied the claim, along with another allegation coming from an anonymous complaint to Sen. Cory Gardner of Colorado, which accused Kavanaugh of drunkenly shoving a woman in 1989.

Advertisement - story continues below

Do you think the establishment media is running a smear campaign against Kavanaugh?

"I was not in Newport, haven't been on a boat in Newport. Not with Mark Judge on a boat, nor all those three things combined," Kavanaugh said. "This is just completely made up, or at least not me. I don't know what they're referring to."

The fact that the Twitter account, which has previously accused Trump of murdering a Russian woman and often tweets in the same vein, was taken seriously by reporters is preposterous.

A tweet from @JeffreyCatala16 reversed the statement on Wednesday. "[T]o everyone who is going crazy about what I had said I have recanted because I have made a mistake and apologize for such mistake," the tweet read.
Do everyone who is going crazy about what I had said I have recanted because I have made a mistake and apologize for such mistake

— Jeffrey Catalan (@JeffreyCatala16) September 26, 2018
What's more preposterous is that CNN published an article about the so-called fifth allegation without noting that the accuser had already denied the truth of it, in effect blatantly spreading misinformation to smear Kavanaugh.
CNN published a story about the Rhode Island allegation at 9 p.m., over an hour after the tweet denying it came out. The story had no mention of the denial, only the initial allegation, with no mention that it was false.
Advertisement - story continues below
Even after the recant of the allegation, CNN continued to run a caption which said that there were five allegations against Kavanaugh.
CNN is also saying 5 allegations with their chyron. No clever parenthesis again, that the RI boat accuser has fully recanted. pic.twitter.com/15znwXsvLJ

— Stephen Miller (@redsteeze) September 27, 2018
CNN finally updated the story to make mention of the accusation being recanted at 11:48 p.m., despite the fact that the detail they added had also been available at the time of the original publishing.
The network knowingly ran fake news and then waited nearly three hours before adding a correction. No wonder so many conservatives believe shameless lies and propaganda are now commonplace in the establishment media.
Conversation