Commentary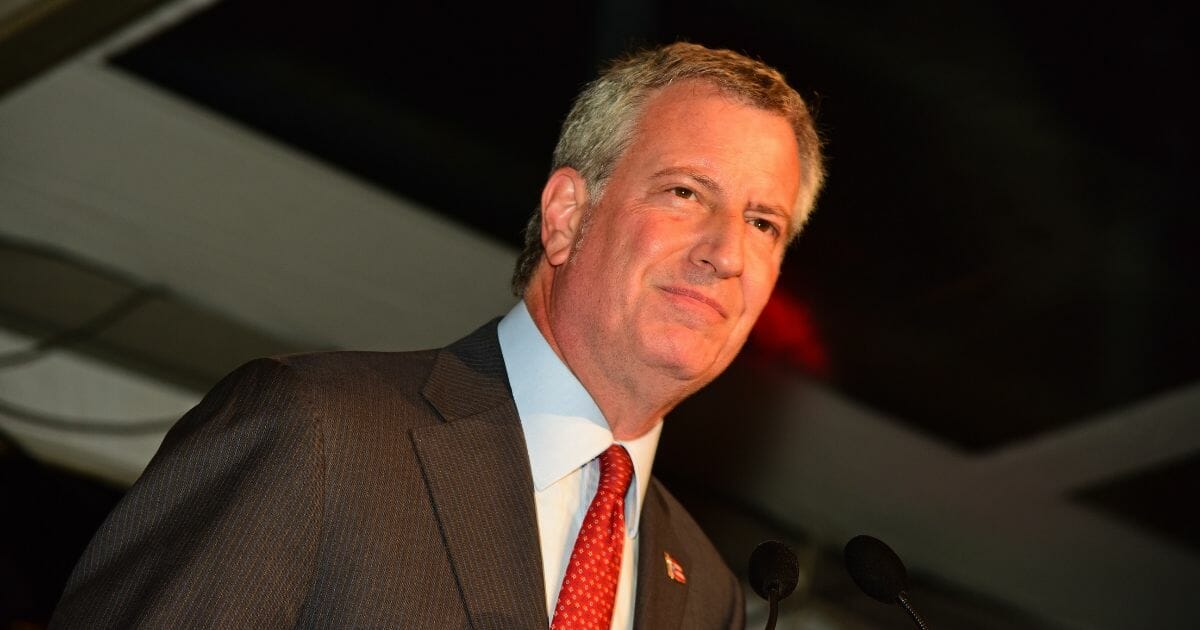 De Blasio Brags About Representing 8.6 Million People to 'Crowd' of 15
If you didn't know New York City Mayor Bill de Blasio was running for president, you're not alone.
In a crowded field of contenders, de Blasio stands at 0.3 percent in the latest RealClearPolitics polling average. That's the same as Marianne Williamson, a peddler of new-age gobbledygook whose most prominent campaign proposal seems to be establishing a Department of Peace and who has never held a public office or done anything of note aside from writing a bunch of Deepak Chopra-esque bestsellers.
This probably should be a sign that de Blasio might want to set his sights back on the city he governs — particularly since no one has ever gone directly from mayor to president and only two individuals in recent-ish memory, Rudy Giuliani and John Lindsay, have used the New York mayor's position as a jumping-off point to a serious presidential campaign.
Advertisement - story continues below
But don't tell that to de Blasio. He wants you to know that he represents 8.6 million people in the city of New York, even if he's telling it to only 15 people.
According to NY1, de Blasio spent the weekend down in Columbia, South Carolina, where the state Democratic convention was taking place.
During the trip, he was at a speaking event with the mayor of Orangeburg, South Carolina, who was the first politician to endorse de Blasio in his run for president.
(If you can name who the mayor of Orangeburg, South Carolina is, I can safely guess you're probably one of the 14,000 or so people who live in Orangeburg, South Carolina. But I digress. And the answer is Michael Butler, if you must know.)
Advertisement - story continues below
De Blasio was the big draw at the event, given that he is, as he said, the mayor of a city of 8.6 million people.
Grace Rauh is the unfortunate woman who came up with the short straw when the folks in the NY1 newsroom were deciding who would cover de Blasio's presidential campaign. She was at the event with the Orangeburg mayor on Saturday. Very few other people were.
15 people, including the mayor of Orangeburg, SC (the first person to endorse the mayor's 2020 campaign) come to hear @BilldeBlasio @Chirlane speak in Columbia, SC this morning. pic.twitter.com/FM0viKDe0Q

— Grace Rauh (@gracerauh) June 22, 2019
"I represent 8.6 million people," Mayor de Blasio tells the 15 people who came out to hear from him this morning in Columbia, SC. https://t.co/xhnqtibHVs

— Grace Rauh (@gracerauh) June 22, 2019
Advertisement - story continues below
Rauh was even more brutal later in the thread.
As one national political reporter put it to me: de Blasio is not running a campaign. He is just showing up to events.

— Grace Rauh (@gracerauh) June 22, 2019

He may represent 8.6 million people in New York, but when it comes to the presidential campaign, he's drawing a little more like 8.6 people.
I'm not quite sure why de Blasio is still in the campaign other than the fact that getting out of it after just a month on the trail would be an embarrassment.
Advertisement - story continues below
Do you think Bill de Blasio has a shot at the Democratic nomination?
Perhaps it's because he's looking at the example being set by South Bend, Indiana, Mayor Pete Buttigieg, who's rocketed to fame and something resembling a chance at the Democratic nomination despite having only slightly adumbrated any real policy positions.
Perhaps he sees the Democrats' lurch to the left and thinks he can position himself as one of the first major politicians to place himself on the progressive fringes of the party.
Whatever it is, it doesn't seem to be working. At least elsewhere in the state, he had an audience — and he used it to say that he would use his position to investigate the rape allegations made against President Trump by writer E. Jean Carroll in her new book, an encounter that allegedly took place in New York City back in the mid-1990s.
Advertisement - story continues below
"The moment we in New York City and our police department have a complaint, we will investigate immediately. We will find out the truth," de Blasio said.
This is pretty much a meaningless stand to take, inasmuch as Carroll says she isn't going to press charges.
(Quelle surprise, given the fact that nobody has produced any evidence that this encounter ever took place and, even though she's a relatively well-known writer and personality, she decided to wait to make this allegation public until right before a book launch, timing that might make such a case incredibly difficult in the believability department.)
De Blasio also touted his universal pre-K education program for New York, arguing he could take it national.
Advertisement - story continues below
"We gave full-day pre-K to every child in our city for free," de Blasio said. "Do you want that, South Carolina? Do you think people need that all over this country?"
If they do, de Blasio almost certainly won't be the one to give it to them. Of the 20-odd candidates in the Democrat field, I'd arguably give the mayor among the worst odds (besides Marianne Williamson — maybe). He hasn't done anything spectacular as mayor of New York, he isn't particularly charismatic and he doesn't have a great backstory.
But then again, that can be said for almost anyone running. That's arguably the reason why Joe Biden has run away from the field: At least he has a record of doing important stuff, problematic though that record may be.
De Blasio may represent 8.6 million people, but that doesn't appear to be worth very much at the moment.
Conversation