Commentary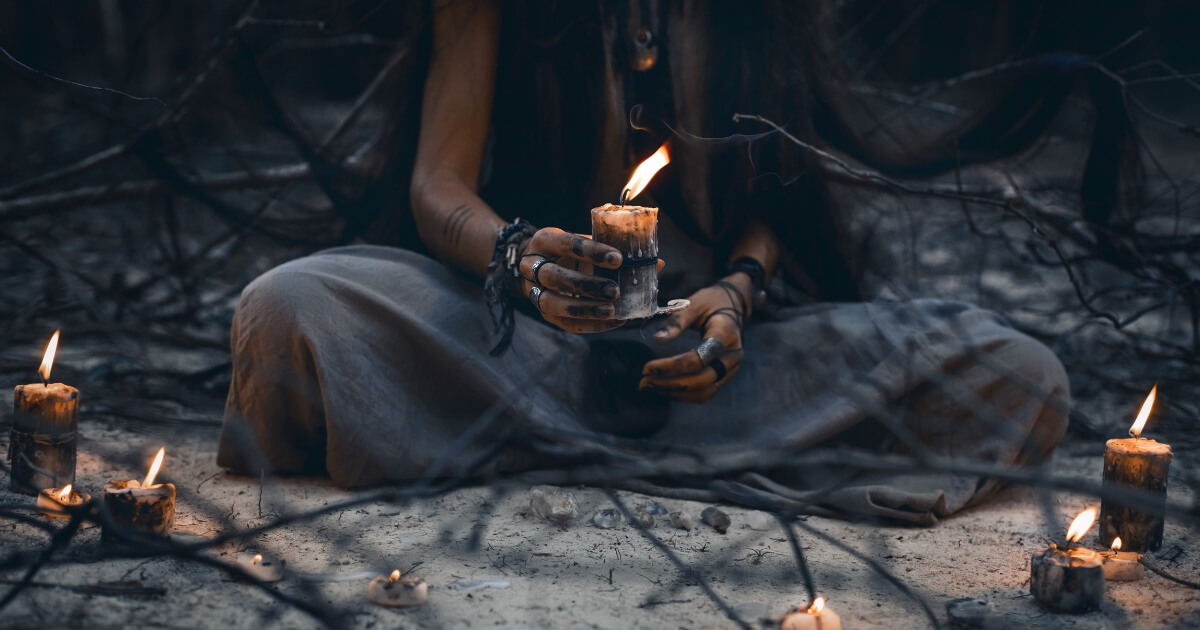 Dem Candidate Was Leader in Cult, Says Only 'Religious Bigots' Care
Lissa Lucas, a Democratic candidate for the West Virginia House of Delegates, has worn many hats in her life.
In 2018, she's been deemed an "American hero" by the left after a video of her speaking against a proposed fossil-fuel related bill in the West Virginia House of Delegates went viral. Her site's biography page says that she "brews beer, hikes with her rescue dog, takes nature photographs, crochets, and loves to cook."
But a far less-advertised fact about Lucas is that she has also spent many years devoted to the Wiccan cult, enjoying success there and rising to become one of the highest ranking members. Hats off to her. Well, witches' hats, that is.
Advertisement - story continues below
As a leader, the Democrat instructed lower-level witches in the art of the occult, sharing her expertise in pagan rituals and spells, according to the Daily Caller. Possibly an overachiever when it comes to witchcraft, Lucas went above and beyond the job description, publishing two books on the topic under her pen name Llysse Wylle.
Her 2007 book, "The Art of Magic Words," which serves as a guide for creating and casting spells, also showcases her proficiency with witchcraft. According to the book, she first became interested in Neopaganism in 1993, and was a practicing member starting in 2000.
Lucas' about-the-author description for her book boasts, "Llysse Smith Wylle has been Pagan for many years and Wiccan for seven. She is a member of the Third Circle of the Tradition of Universal Eclectic Wicca; she also teaches and coordinates its First Circle degree via the Coven of the Far Flung Net."
"For a number of years, she has studied Chaos and other magical techniques privately, as well as with a small esoteric study society called the Order of the Golden Breath," the description goes on.
Advertisement - story continues below
Someone who "studied Chaos" yet came out a Democrat might have missed something.
Her second title, which she co-authored, was the ambitious cult textbook "Wicca 334: Further Advanced Topics in Wiccan Belief." This book focuses on Wiccan philosophy, and promises that it "completes the Master Class" already begun on the topic. Its description says that it "is designed for the serious student of Wicca interested in covering controversies, debates and injustices within the religion."
Do you think being against Wicca is "bigoted"?
Now, Lucas wants to apply her Wiccan philosophy to government.  She still uses her pagan pen name on her Facebook and Twitter usernames, with her campaign Twitter working under the handle "@LlysseWylle."
Could this spell-casting witch be the face of the modern day Democratic party? She's certainly been given a lot of support from the left, raking in around $90,000 in donations, about five times that of Republican incumbent Delegate Jason Harshbarger.
And since going viral in February, when she had to be forcibly removed from the state House for violating procedural rules, Lucas has been given recognition from such liberal media outlets as The New York Times, The Washington Post and HuffPost.
Advertisement - story continues below
"I'm a regular person," Lucas explains on her campaign's biography page. "just a regular person who got so disgusted with money in politics that, despite being an introvert, I'm running for office."
Just an ordinary citizen like everybody else … who has spent decades devoutly practicing occult rituals.
In the eyes of the left, though, Lucas' self-evaluation is correct. This is their new normal. The Democratic party has become so radical that they now endorse literal witches to run and hold office, if that's what it takes to bring about a blue wave in the November elections.
According to Lucas, her beliefs won't bother anyone except "religious bigots," which I guess includes anyone not too keen on occultism.
Advertisement - story continues below
In an email to The Daily Caller News Foundation (DCNF), Lucas seemed annoyed by criticism of her spiritual practices that she claimed her opponent Harshbarger made.
"I think what really bugs me about my opponent's attacks on my spirituality is that for that kind of attack to be an effective political strategy, he has to have presumed that the people of this district are religious bigots, and they're just not," Lucas wrote about Harshbarger.
"I don't like that he views them that way," she continued, defending the people of her district against being intolerant of witchcraft. "They're good, kind, hard-working people who love their neighbors. In small towns and rural areas we love and stand up for each other, period."
She did not reply to a follow-up email from the DCNF asking her if she is still an active Wiccan.
Advertisement - story continues below
It's hard to comprehend that this is the current state of the Democratic party and not the plot of a dark fantasy novel. Unfortunately, we can't just rely on the craziness of the Democratic party to keep people from voting for them.
Voting on all levels in November is crucial to preventing a blue wave. So unless you show up at the polls and make your voice heard, start preparing yourselves for more insanity like the above.
Conversation