Commentary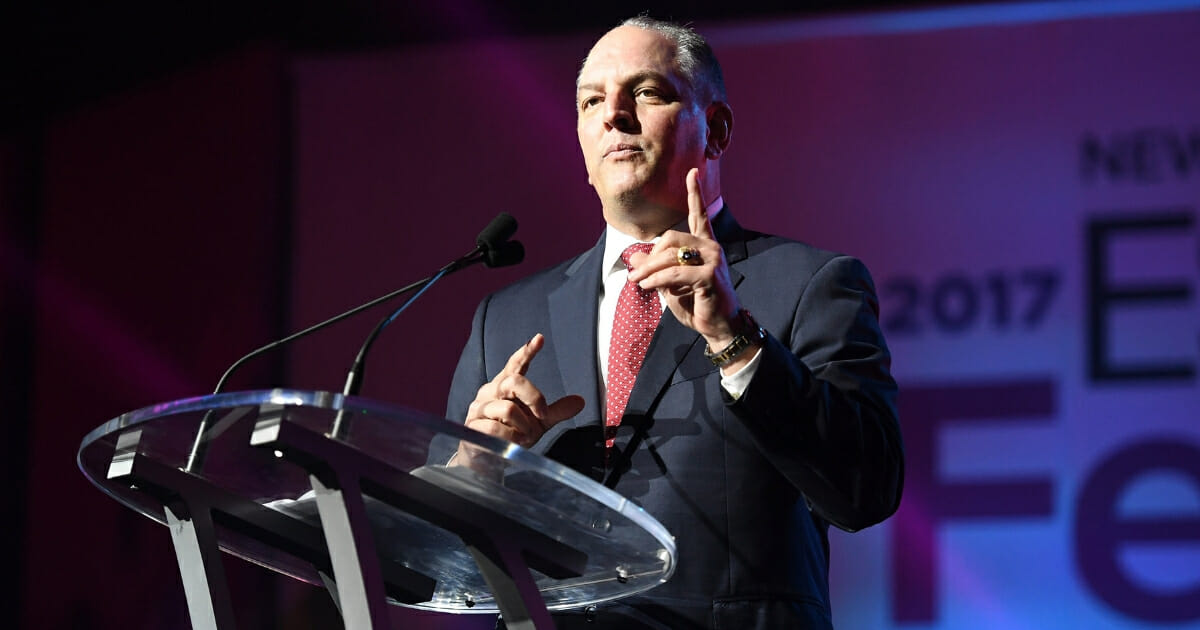 Dem. Governor Not Buying His Party's Narrative, Signs Major Pro-Life Bill Into Law
John Bel Edwards probably isn't a particularly well-liked man among Democrats at the moment.
He's the governor of Louisiana and a Democrat. He's a member of the party that's desperately trying to codify Roe v. Wade to the greatest extent possible before the Supreme Court makes some ruling that restricts abortion in any way — as the Court is hopefully bound to do now that Justice Brett Kavanaugh is on the bench.
And yet, Edwards isn't buying into that narrative. Not by a long shot.
Advertisement - story continues below
"Louisiana's Democratic governor has signed a ban on abortion as early as six weeks of pregnancy, a move that has provoked anger from members of his own party," The Associated Press reported.
"Gov. John Bel Edwards signed the measure Thursday, making Louisiana the fifth state to enact such a law, joining Mississippi, Kentucky, Ohio and Georgia. Alabama's gone further, outlawing virtually all abortions."
"The new law will outlaw abortion when a fetal heartbeat is detected, which can come before a woman knows she's pregnant. The law doesn't contain exceptions for pregnancies from rape or incest," the AP added.
Now, Edwards has described himself as "pro-life for the whole life," according to The Washington Post; he opposes abortion while supporting the expansion of safety-net programs and increasing the minimum wage under the same auspices.
Advertisement - story continues below
There's also the fact that his veto would have been ostensibly worthless. The bill passed the state Senate by a vote of 31-5 and the House by 79-23, both of which were veto-proof majorities.
It also wouldn't have won him sympathy with voters; a 2014 Pew Research Center study found that 57 percent of Louisiana adults thought abortion should be illegal in all or most cases, compared to 39 percent who thought it should be legal.
Do you support what John Bel Edwards did?
Oh, and then there's the fact that even though it was signed, it doesn't take effect yet. The bill will only be enforced if a similar fetal heartbeat bill from Mississippi is upheld when it reaches an appeals court.
So, all of that may make this seem like a combination of cynicism and timidity on Edwards' part.
However, I'd posit that's not the case, at least not when you consider the fact that national Democrats and their surrogates have made Edwards and Louisiana a target.
Advertisement - story continues below
Take the national party, which made it clear they opposed the bill:
Louisiana could become the next state to pass an abortion ban that will take away a woman's right to choose. We have to keep speaking out to make a change. Sign here if you believe women should control their own bodies: https://t.co/gk8ieRBOjj

— The Democrats (@TheDemocrats) May 23, 2019
And then there was the American Civil Liberties Union of Louisiana:
Advertisement - story continues below
Governor John Bel Edwards may be preparing to sign this extreme abortion ban –but we're committed to making sure it never take effect. https://t.co/ufIYvNPXiV #lalege #stopthebans pic.twitter.com/nYeCg5aDKW

— ACLU of Louisiana (@ACLUofLouisiana) May 21, 2019
"Governor John Bel Edwards may be preparing to sign this extreme abortion ban –but we're committed to making sure it never take effect," they wrote in a tweet.
After the bill was signed, the group went even further.
Advertisement - story continues below
"Louisiana politicians have now sunk to a new low," the ACLU of Louisiana said in a statement, The Post reported.
"We're committed to making sure this brazen attack on the constitutional right to abortion access never takes effect," Alanah Odoms Hebert, executive director Louisiana's ACLU chapter, said, according to CNN.
She added that the law was "plainly unconstitutional."
Other surrogates issued statements that have ranged between apoplectic and apocalyptic.
Advertisement - story continues below
"By passing this extreme abortion ban today, anti-women's health politicians in Louisiana voted to join their counterparts in places like Alabama, Ohio, Mississippi, Missouri, and Georgia to devastate the health and well-being of women and families," a statement from Dr. Leana Wen, president of Planned Parenthood, reads.
"Banning abortion will not stop abortion — but it will end access to safe, legal abortion care."
"When Republicans are taking away women's rights at every step, it's on the Democrats to show that we are the party that will protect women. When we fail to do that, we make it absolutely hopeless for women around the country," Rebecca Katz, a Democrat consultant, told CBS News of the bill.
Yes — by fighting for bills which allow abortion of children up until the very moment of birth, and by refusing to protect babies born alive during abortion procedures or the unborn from sex-selective abortions, Democrats are protecting women.
Advertisement - story continues below
Sure, OK. Some protection that is.
This even made Stacey Abrams, the losing candidate in Georgia's 2018 gubernatorial election (unless you ask her, of course) sound positively restrained when she said last week she was "a little annoyed with the governor of Louisiana," because "[t]hey've made some dodgy choices with abortion recently," according to BuzzFeed News.
In a statement, Edwards trumpeted his liberal credentials while defending his decision to sign the fetal heartbeat bill.
My statement on the passage of SB 184 following final passage by the Louisiana Legislature. #lalege #lagov pic.twitter.com/SxadrmuUTC

— John Bel Edwards (@LouisianaGov) May 29, 2019
Advertisement - story continues below
"In 2015, I ran for governor as a pro-life candidate after serving as a pro-life legislator for eight years," he said.
"As governor, I have been true to my word and my beliefs on this issue."
The rest of the statement was entirely liberal, but that doesn't matter to Democrats.
Advertisement - story continues below
If you're not with them on this one — or any one, for that matter — you're pretty much dead to them.
We haven't seen any fiery denunciations of Edwards yet, but he just signed the bill Thursday and the day is still young.
My guess is there are more than a few national Democrat politicians searching online thesauruses for synonyms to "horrible" and "traitor."
(To save them some time, I've always found "execrable" and "quisling" useful, although their use in the same statement is probably supererogatory; they should just use one and save the other for a colleague.)
Advertisement - story continues below
Whatever the case, don't expect any of them to offer support.
As for Edwards, it's not often one would implore conservatives to rush to the defense of an otherwise liberal Democrat.
If there ever was a case where it was warranted, however, this is it.
Conversation