Commentary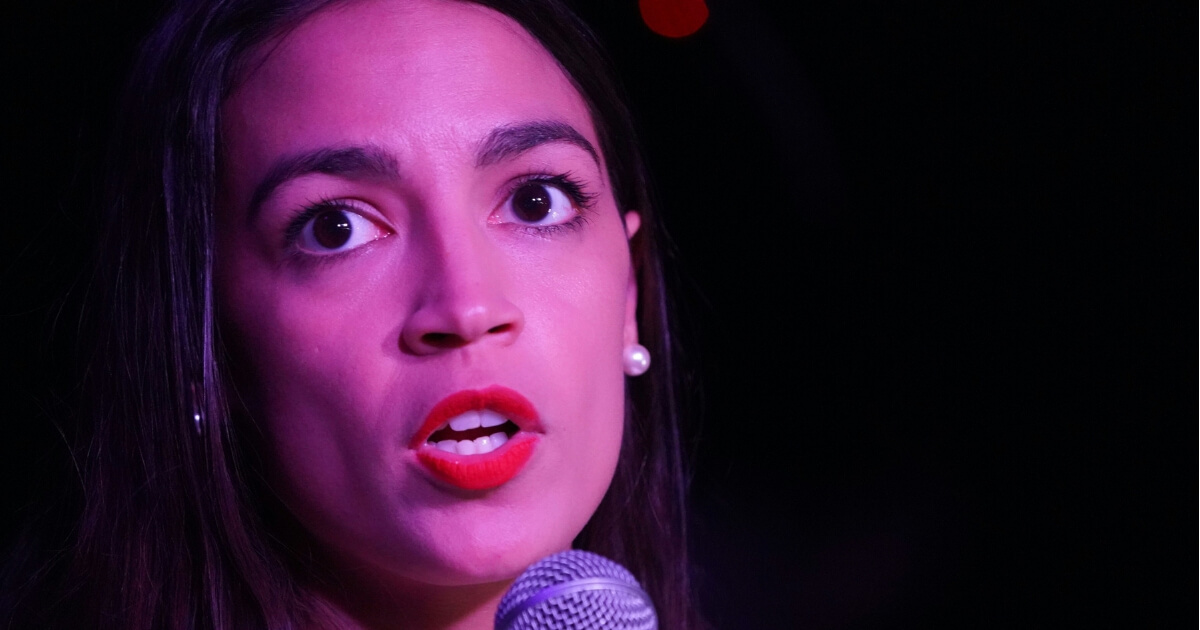 Democrats Are Engaged in a Widespread Effort To 'Rein In' Ocasio-Cortez
Rep. Alexandria Ocasio-Cortez — the newly elected democratic socialist from New York — has seized the mantle as the brightest and hottest rising star among the progressive wing of the Democratic Party.
Unfortunately for her, however, it would appear that she has stepped on the toes of a few of her fellow Democrats and upset the party's status quo in the process, which has resulted in a reported effort to try and "rein in" the ambitious young upstart in Congress.
Politico reported — citing nearly 20 Democratic lawmakers and aides — on the "carrot and stick" operation to try and bring her under the control of the party's leadership or banish her as an outcast … in essence, an effort to put her in her purportedly rightful place as a freshmen member of the legislative body, rather than allow her to continue her meteoric rise as some sort of leftist superstar eclipsing all but the top names of her party.
Advertisement - story continues below
Three major complaints against Ocasio-Cortez emerged from the report, all of which boil down to her sparking infighting among Democrats when they should be united in opposition to Republicans and President Donald Trump.
Ocasio-Cortez has drawn the ire of Democratic leaders for publicly taking a stand against the new House rules package put in place by Speaker Nancy Pelosi, and rank-and-file members are angry over a grass-roots effort on the freshman member's behalf to garner a coveted seat on a top committee, something that is generally earned over time.
Members of the party are also said to be upset over Ocasio-Cortez's repeated calls for primary challenges to incumbent Democrats who aren't progressive or left-leaning enough for her liking, which some Democrats fear could cause electoral trouble for moderate incumbents in closely-fought swing districts.
Democratic Missouri Rep. Emanuel Cleaver told Politico, "I'm sure Ms. Cortez means well, but there's almost an outstanding rule: Don't attack your own people." He added, "We just don't need sniping in our Democratic Caucus."
Advertisement - story continues below
An anonymous House Democrat described as being "in lockstep" with Ocasio-Cortez's ideology, told Politico, "She needs to decide: Does she want to be an effective legislator or just continue being a Twitter star?" That legislator added, "There's a difference between being an activist and a lawmaker in Congress."
However, it remains unclear if the party is even capable of reining in Ocasio-Cortez, as she has already garnered so much attention from the media during her rapid rise in fame, not to mention the fact that she got to where she now is by bucking the status quo and utilizing politically unconventional guerilla tactics, evidenced mostly by her surprising primary challenge and victory over party leadership member and incumbent Rep. Joe Crowley.
The report noted that some Democrats have been privately pulling Ocasio-Cortez to the side to try and cajole her into holding her fire against fellow Democrats and reserving that fury for Republicans and Trump.
Fellow New York Rep. Nydia Velasquez is one of those people, and she told Politico that she served as a "bridge" between the party and the young member. She explained, "Washington is a political animal where a lot of the work that you want to accomplish depends on relationships within the Democratic Caucus," and added, "The honeymoon between the voters that you represent and yourself could be a short one. People want to see results."
Fellow Democratic New York Rep. Yvette Clark agreed, and chimed in, "I think she needs to give herself an opportunity to know her colleagues and to give herself a sense of the chemistry of the body before passing judgment on anyone or anything."
Advertisement - story continues below
Rather hilariously, Ocasio-Cortez's Twitter habits were also a topic of discussion, one in which the outspoken democratic socialist was compared to President Trump, in that many Democrats were afraid to openly criticize her because she might clap back with a snarky tweet to her 2.2 million followers, similar to how some Republicans have refrained from criticizing Trump to avoid being named in a mean tweet.
Indeed, one unnamed senior Democratic aide simply said, "People are afraid of her."
Obviously, it remains to be seen how this effort to "rein in" Ocasio-Cortez will play out for Democrats, and it is worth noting that it could blow up in their faces either way it goes. Should she resist the effort to be reined in, she will undoubtedly deepen the growing rift between the party's moderate establishment and progressive wings, but if she gives in and settles down, the much-needed urgency of the left's base could simmer down and be depressed ahead of the important 2020 election.
Regardless, conservatives and Republicans should simply kick back and watch the fireworks fly, knowing that they likely stand to benefit no matter how the Democratic Party's wrangling of Ocasio-Cortez ends up playing out.
Conversation