Commentary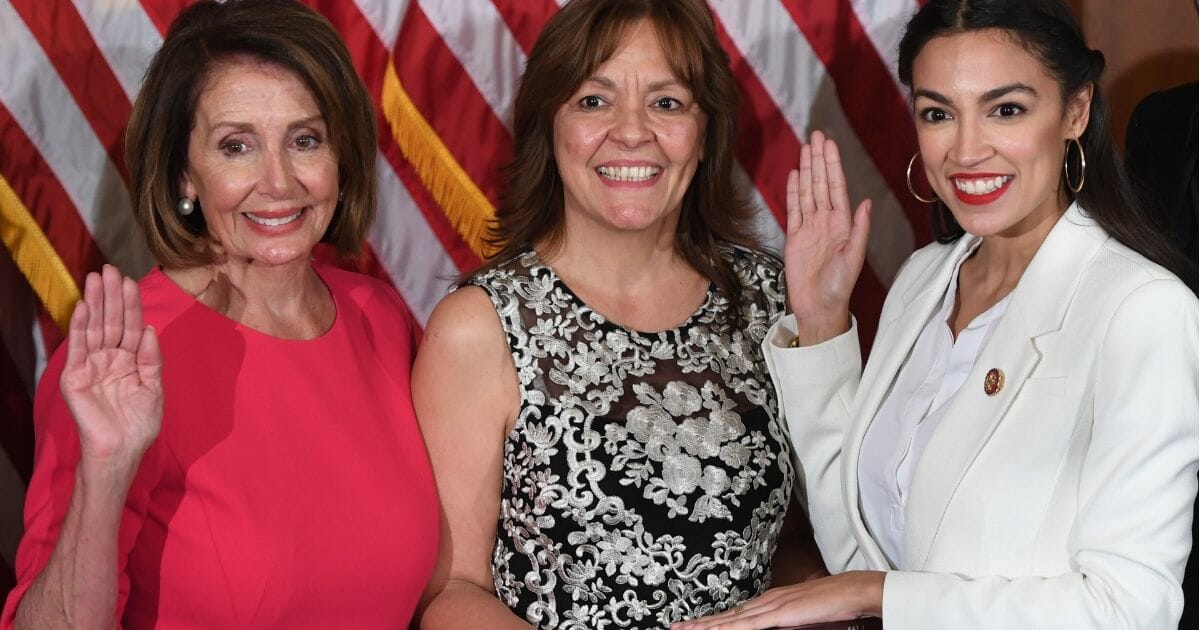 Democrats Risked Everything to Support Illegal Immigrants... Now It's Dividing the Party in a Big Way
Democrats have furiously opposed President Donald Trump's approach to dealing with the influx of illegal immigrants over the past several months.
But as Congress votes on legislation Tuesday to send a $4.5 billion aid package to the border, a Democratic civil war is in the making and members are choosing sides.
The aid package is meant to help provide humanitarian care for migrants who've been detained at the border. And while House Speaker Nancy Pelosi and traditional (dare I say, reasonable) Democrats support the aid package, the radical wing of the party is up in arms.
Advertisement - story continues below
Critics of the bill, like freshman Rep. Alexandria Ocasio-Cortez, claim that the Trump administration will not use the funds appropriately and instead, use them to bolster detention and deportation procedures.
That's coming from the same lawmaker who recently called migrant holding facilities "concentration camps" and likened them to Nazi-era death camps, which drew harsh criticism from all sides.
Trump gave Pelosi and her Democrats two weeks to figure something out after the Speaker begged him to halt the nationwide U.S. Immigration and Customs Enforcement raids that were set to take place Monday.
Now, Pelosi appears to be scrambling to keep the House in order.
Advertisement - story continues below
The increased backlash from the party's progressive wing came amid reports that hundreds of migrant children were living in poor conditions in a Clint, Texas holding facility, lacking basic hygenic necessities like toothbrushes and soap.
According to The New York Times, the children were eventually moved to other facilities, as the Clint facility was meant for only temporary shelter.
Do you think Pelosi is losing control of the House?
But even that momentarily unfortunate situation was enough to nearly derail the aid package bill, which required Pelosi to hold late night meetings to make sure it was still on track, according to The Daily Caller.
Massachusetts Rep. Ayanna Pressley, another House freshman, joined Ocasio-Cortez in the dramatic opposition to letting any of the aid package funds go toward ICE, going so far as to claim on Twitter that the agencies were "killing" migrant children.
ICE & CBP – radicalized, criminal agencies – are destroying families & killing innocent children. It is absolutely unconscionable to even consider giving one more dollar to support agencies that openly commit human rights abuses. #NotOneDollar #DefundHate pic.twitter.com/VixcmzF3NZ

— Rep Ayanna Pressley (@RepPressley) June 22, 2019
Advertisement - story continues below
The extreme opposition by radical left-wing lawmakers is textbook fear-mongering. They're playing on the emotions of American voters because, well, politics is dirty and nobody — not even innocent children — are off limits for what they'll exploit to grab a headline.
Democrats have dug themselves into a deep hole and have forgotten to take a ladder on this issue.
Pelosi will either have to figure out a way to get her radicals in the House on board, or face Trump's promise that the raids will, in fact, take place if Democrats can't come to the table.
Advertisement - story continues below
It appears at this point that Pelosi is rapidly losing control of the House.
At the end of the day, with all political ideologies aside, the American people will take notice of the hissy fit drama from the radical progressive Democrats and in 2020, will hopefully vote accordingly.
Conversation