Commentary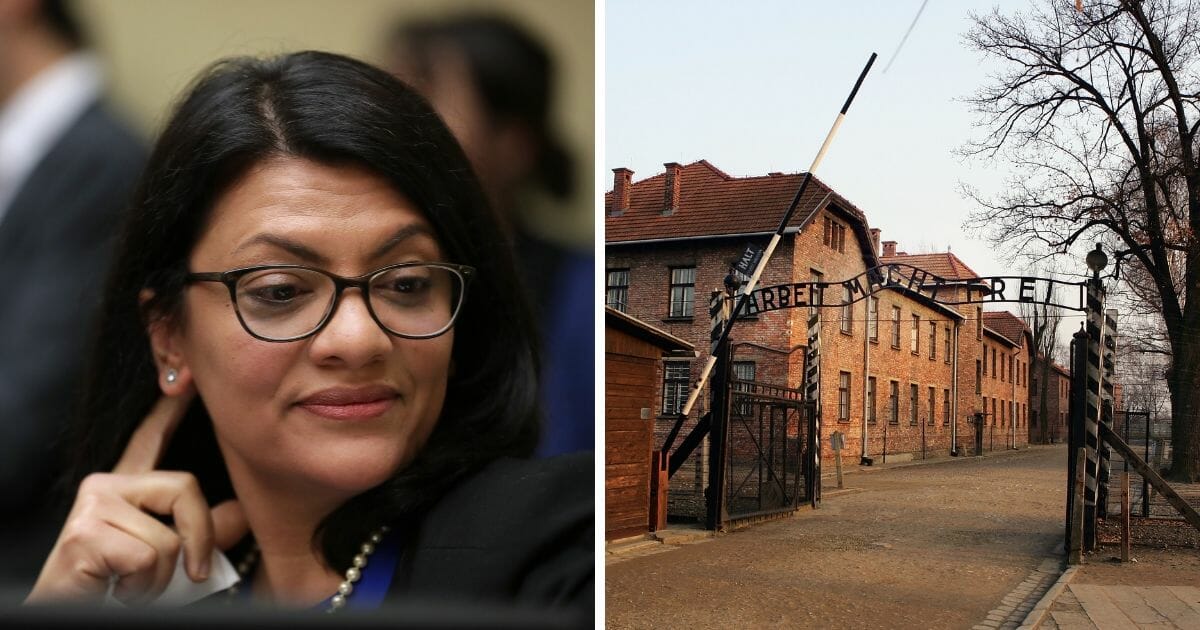 How Did Dems Punish Rep. Tlaib's Disturbing Holocaust Comment? They Let Her Preside Over the House
Not even a week has passed since Democratic Rep. Rashida Tlaib made jaw-dropping anti-Holocaust remarks during a Yahoo podcast. And instead of facing consequences — like any Republican would have if he or she made the same outrageous remark — Tlaib was handsomely rewarded by her party's top brass.
The freshman representative from Michigan made the now infamous remarks on the May 11 edition of the Yahoo-hosted "Skullduggery" podcast, in which she disgustingly stated that thinking of the Holocaust gave her a "calming feeling."
"There's always kind of a calming feeling I tell folks when I think of the Holocaust, and the tragedy of the Holocaust, and the fact that it was my ancestors — Palestinians — who lost their land and some lost their lives, their livelihood, their human dignity, their existence in many ways, have been wiped out, and some people's passports," Tlaib said during the podcast.
Advertisement - story continues below
And on Wednesday, House Speaker Nancy Pelosi gave her the honor of presiding over the House — the first Muslim woman ever to do so. No slap on the wrist, no censures or rebukes from her party. Just rewards. That's the Democratic way.
"Tlaib presided over the House during a vote on a tribal lands bill Wednesday afternoon which was aimed at securing a federal trust status for the Mashpee Wampanoag tribe's land in Massachusetts. The measure had been opposed by President Trump, but passed with support from Democrats," The Hill reported.
What's perhaps even more bizarre than her statement is the fact that Democrats immediately scrambled to stand behind her. They even had the audacity to demand an apology from Republicans for supposedly taking her remarks out of context.
Pelosi was one of the first Democrats of note to defend Tlaib via social media, tweeting a full paragraph of support while simultaneously blaming Republicans.
Advertisement - story continues below
Republicans' desperate attempts to smear @RepRashida & misrepresent her comments are outrageous. President @realDonaldTrump & House GOP should apologize to Rep. Tlaib & the American people for their gross misrepresentations.

— Nancy Pelosi (@SpeakerPelosi) May 13, 2019
President Donald Trump pulled no punches on Twitter not long after Tlaib's anti-Semitic tirade, slamming her for having a "tremendous hatred of Israel and the Jewish people."
Democrat Rep. Tlaib is being slammed for her horrible and highly insensitive statement on the Holocaust. She obviously has tremendous hatred of Israel and the Jewish people. Can you imagine what would happen if I ever said what she said, and says?

— Donald J. Trump (@realDonaldTrump) May 13, 2019
He also raised a valid question, asking his followers what they think would happen to him if he said anything similar. And he's right, because it would be nothing less than utter chaos — Democrats would scramble to publicly persecute him in any way possible and use it to their full advantage.
Upping the ante, Sen. Bernie Sanders accused the President of attacking Tlaib because she's Muslim — this coming from a Senator who was raised in a Jewish household.
Mr. President: Stop dividing the American people up by their religion, their race or their country of origin–and stop your ugly attacks against Muslim women in Congress. You are taking Rep. @RashidaTlaib's comments out of context and should apologize. https://t.co/QlYNn46zXQ

— Bernie Sanders (@SenSanders) May 13, 2019
Advertisement - story continues below
Tlaib's anti-Holocaust rant was so bad that even CNN's John King dug in and called her out on the myriad inconsistencies she spouted during the podcast. It's pretty clear that something is wrong if a high-profile Democrat is being called out by CNN.
Do you think Tlaib should apologize for her Holocaust comment?
Her incident comes on the heels of derogatory remarks made by her friend and fellow freshman Rep. Ilhan Omar, who recently said that "Israel has hypnotized the world, may Allah awaken the people and help them see the evil doings of Israel," among other anti-Israel remarks.
Although we've suspected it for a long time, it now seems more apparent than ever that anti-Semitism is a perfectly acceptable practice for a majority of Democrats.
Advertisement - story continues below
We'll be interested to see how that works out for them with the Jewish vote in 2020.
Conversation