Op-Ed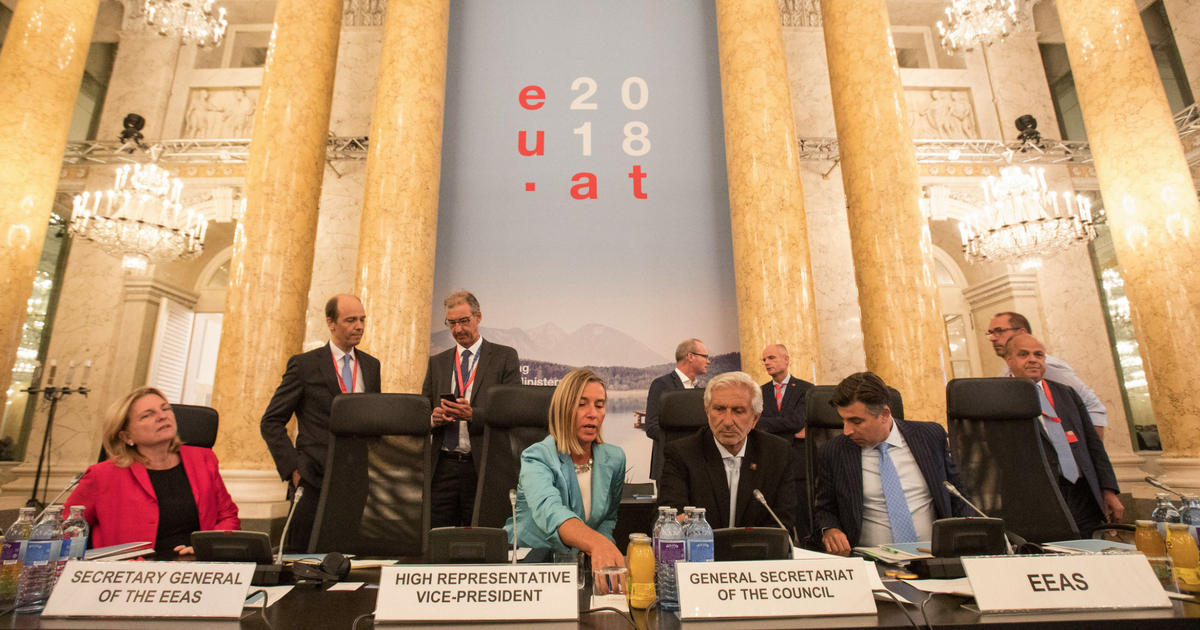 Dick Morris: The EU's Struggle Against US Sanctions on Iran Is Futile
President Donald Trump's new sanctions on Iran are meeting fierce opposition from the European Union — and there's not a damn thing Brussels can do about them.
With the U.S. unilaterally re-imposing economic sanctions on Teheran, the EU has passed a "blocking statute" that "forbids EU persons from complying with the (Iran) sanctions" and promises to help European businesses and financial institutions recover damages due to the sanctions.
But nobody is biting. European bankers and businesses are all signaling that they have no real choice but to obey the sanctions, regardless of what the EU says.
Advertisement - story continues below
Risky Business, a financial periodical, reported that "the largest European companies are making plans to close their business units in Iran or have already done so, all to the great distress and dissatisfaction of the European Union's (EU) foreign policy chief, Federica Mogherini."
Patrick Pouyanné, the French CEO of the huge oil company Total, said, "You cannot operate in 130 countries in the world without access to US financial system. Therefore, we are enforcing and complying with US laws and have to leave Iran's profitable market."
Soren Skou, head of Denmark's Maersk shipping line, said, "With the sanctions the Americans are to impose, you can't do business in Iran if you also have business in the US, and we have that on a large scale … I am certain we're also going to shut down in Iran."
The most compelling threat that is making companies toe the line on sanctions, ignoring the EU's appeal, is cutting off the access of businesses and banks to Society for Worldwide International Financial Telecommunications. SWIFT is the main way banks and other financial institutions process their transactions. It handles 15 million messages a day from 11,000 institutions in 200 countries. Since the sanctions prohibit dollar dealings with Iran, companies and banks cannot use SWIFT. Citi and JPMorgan sit on the SWIFT board.
Advertisement - story continues below
German Foreign Minister Heiko Maas is pushing Europe to establish an alternative to SWIFT, but as Richard Goldberg and Behnam Ben Taleblu of the Foundation for the Defense of Democracies write, the German plan is doomed. "Given the current strength of the U.S. dollar and the deterrent power of secondary sanctions, no legitimate actor will want to use a payment channel that cannot do business in dollars and subjects all participants to a total cutoff from the U.S. financial system."
Sen. Ted Cruz, R-Texas, has rounded up 15 colleagues to urge Treasury Secretary Steven Mnuchin to enforce U.S. sanctions against SWIFT banks if they fail to disconnect from Iran before sanctions come back in force in November.
Are you glad the United States is imposing sanctions on Iran?
Critics of Trump's go-it-alone course on sanctions say that China, Russia and India might step into the void and help Iran survive. But Richard and Taleblu write that "Chinese banks are highly exposed to the U.S. financial system.
With China's economy cooling, and the country's banks potentially overextended on credit, state planners in Beijing can ill afford additional risk."
Russia is too hobbled by U.S. sanctions already to risk another layer being imposed over Iran, and the State Bank of India has announced that it will stop processing payments for Iranian oil beginning in November.
Advertisement - story continues below
Nor will a cutoff of Iranian oil have an upward effect on oil prices. U.S. production is soaring and Saudi Arabia — a strong backer of the new sanctions — has promised to raise production by two million barrels per day to offset the loss of Iranian oil.
Indeed, when sanctions on Iranian oil were first imposed in 2011, Iran petroleum exports dropped 42 percent but global oil prices actually fell.
Ever since the deal with Iran was signed in 2015, the Obama administration has raised the need for global unity to argue against unilateral U.S. action.
But now the EU and the appeasers have huffed and puffed and failed to blow the sanctions house down. It's a lesson in U.S. power and EU weakness.
The views expressed in this opinion article are those of their author and are not necessarily either shared or endorsed by the owners of this website. If you are interested in contributing an Op-Ed to The Western Journal, you can learn about our submission guidelines and process here.
Conversation