Sports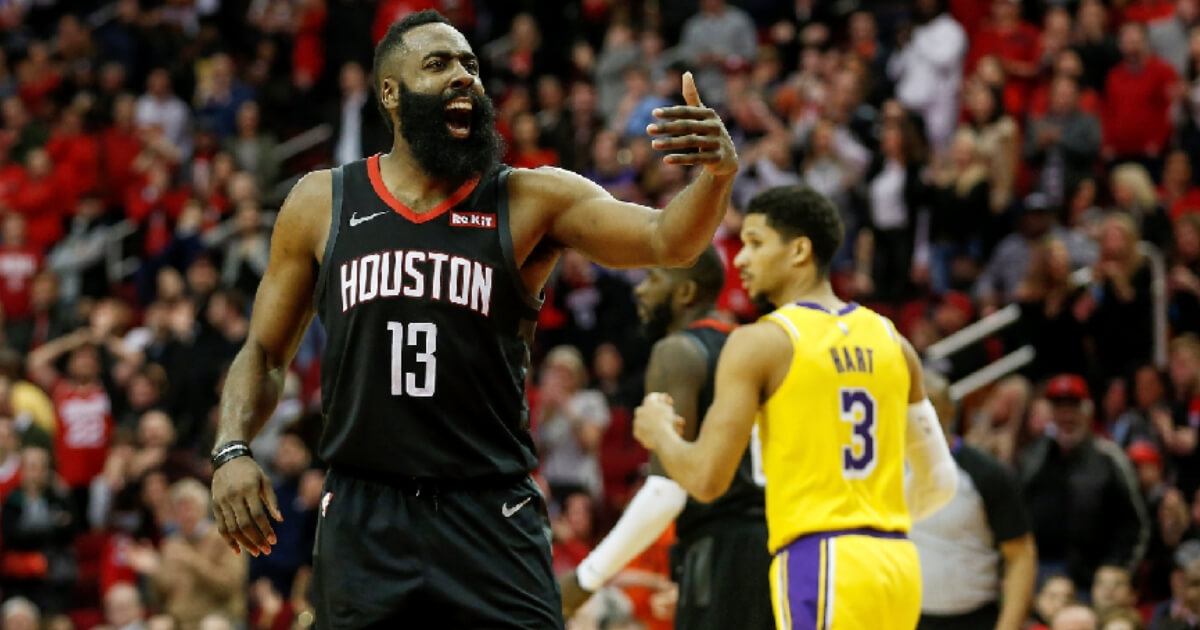 Divisive NBA Star Inches Closer to Impossible Wilt Chamberlain Record
James Harden is on such a tear as of late that his play is being compared to that of one of the all-time greats — former Warriors/76ers/Lakers star Wilt Chamberlain.
Chamberlain has ruled the NBA record books for much of the last 50 years or so, but Harden is currently creeping closer to one of Chamberlain's records that few thought would ever be touched.
With 48 points in Saturday night's overtime victory over the Lakers, Harden joined Chamberlain as the only other player in NBA history to score at least 30 points in 19 straight games.
Advertisement - story continues below
Chamberlain holds the record with 65 straight games in which he scored at least 30 points, but also has streaks of 20, 25 and 31 games, according to NBA.com.
While Harden is still looking up at Chamberlain for that milestone, he's already surpassed The Big Dipper, and everyone else, for another record:
Advertisement - story continues below
Harden's 48 points were just his fifth-highest total of the season. His performance actually pales in comparison to the 57- and 58-point games he had in back-to-back contests earlier in the week.
As is often the case with the league's reigning MVP, he paced the Rockets on Saturday thanks to a combination of successful 3-point attempts and free-throw tries.
Do you think James Harden will repeat as NBA MVP?
Harden attempted 19 3-pointers and 15 3-pointers in the game, while just six of his made field goals came from within the 3-point arc.
In attempting at least 10 free throws and 15 3s in seven straight games, Harden is perfectly executing the Rockets' "Moreyball" approach to analytics.
Watching him hunt for fouls or shoot unending 3s is not always aesthetically pleasing or exciting, but his style of play does seem to get the job done.
Advertisement - story continues below
Despite Harden's heroics, though, the player of Saturday night's game might actually have been Eric Gordon, who made a 3-pointer with two seconds left in regulation to send the game into overtime.
Sixteen of Gordon's 30 points came in the final two minutes of regulation and overtime, according to ESPN, as the Rockets avoided an embarrassing loss to the LeBron James-less Lakers.
"It takes a lot of burden off me," Harden said of Gordon's presence. "He's so offensively gifted and talented — being able to shoot the basketball, being able to get to the rim, being able to make plays for others. You get a guy like that on the floor with you, it makes the game easier not only for myself, but for everybody."
Conversation