Commentary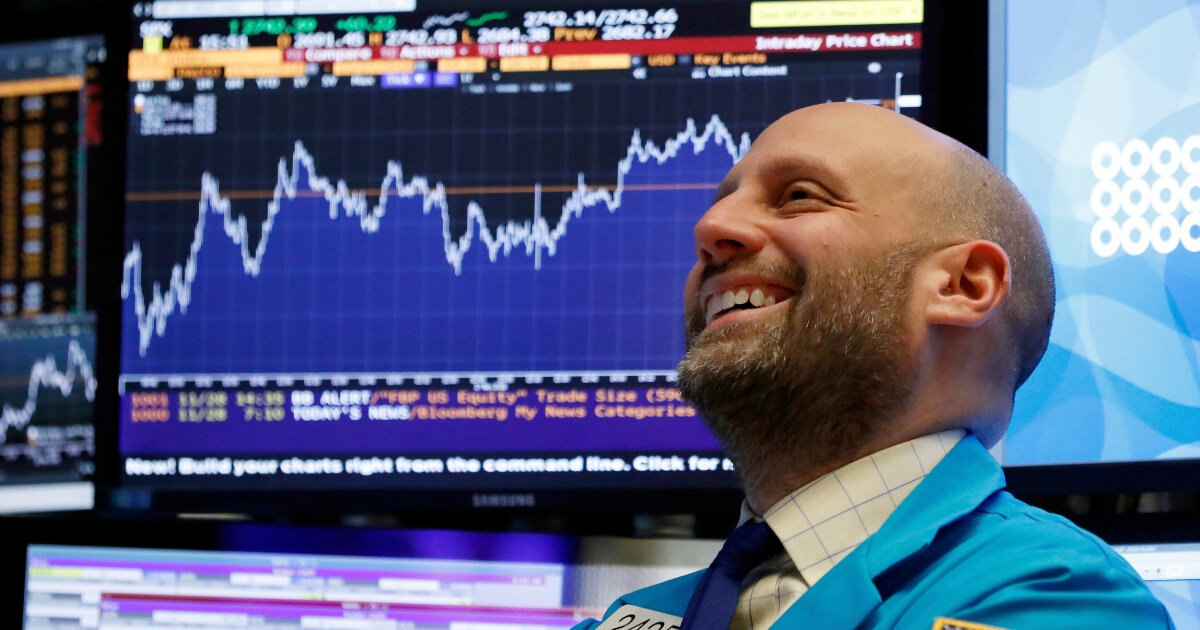 Dow Jones Explodes as Biggest Rally in Eight Months Sends Ticker Through the Ceiling
Are you tired of winning yet?
Look no further than the stock market to see how the economic policies put in place by President Donald Trump are benefiting American workers and employers.
The Dow Jones Industrial Average surged more than 600 points Wednesday following remarks from Federal Reserve Chairman Jerome Powell suggesting a possible pause in interest rate hikes next year.
Advertisement - story continues below
The comments are in contrast to early last month, when Powell suggested more increases in interest rates were needed. Those comments sent the stock market from its all-time high in early October into a month-long downturn in which the Dow shed roughly 4,000 points amid fears that rising interest rates would slow the economy.
But during a speech Wednesday at the Economic Club of New York, Powell said benchmark interest rates are now close to neutral, suggesting that a significant increase in rates is no longer necessary to prevent the economy from overheating.
"Interest rates are still low by historical standards, and they remain just below the broad range of estimates of the level that would be neutral for the economy — that is, neither speeding up nor slowing down growth," Powell said.
Stocks immediately began to surge after Powell's comments, propelling the market to its biggest one-day gain since late March.
Advertisement - story continues below
Dow Jones jumps after Fed chair Jerome Powell reaffirms solid economic outlook and says that rates are "just below" neutral https://t.co/z6rOBu8HXI pic.twitter.com/6kK9X9N7aC

— Bloomberg (@business) November 28, 2018
Has President Trump has been the primary reason for the current economic surge?
The surge extended beyond the Dow. The Nasdaq Composite jumped nearly 3 percent and the S&P 500 surged 2.3 percent.
As much as those on the left love to criticize the president whenever the stock market goes through some of its downturns, the market is in good shape. In fact, the Dow is up nearly 28 percent since his inauguration in 2017.
Even liberals who have money in 401k plans have to be happy about that — not that they'll ever admit it.
Advertisement - story continues below
It appears policies that put America first, grow the economy and bring back jobs have a positive impact on the nation financially. Once again: Trump right, left wrong.
With interest rates likely to hold steady and any uncertainty from what the market perceived after the midterm elections behind it, analysts believe the market should avoid any major swings the rest of the year.
"There will be noise going into year-end, but I think we'll end the year with a moderate message on the Fed and a moderate message on trade," Tom Martin, senior portfolio manager at Globalt, told CNBC.
Investors will be watching this week's G20 summit in Argentina, especially in the light of the expected finalization of the U.S.-Mexico-Canada trade deal and the efforts to ease the current trade war with China.
Advertisement - story continues below
White House economic adviser Larry Kudlow has said talks with China have resumed "at all levels" in advance of the summit.
Kudlow has said that Beijing needs to "do more" in regards to "addressing U.S. concerns." However, he also said there is a willingness on Trump's part to work with China on creating a favorable deal for both countries.
Resolving things with China would not only help America economically, but it would also likely spark yet another surge in the stock market.
Is anyone tired of winning yet?
Conversation