Commentary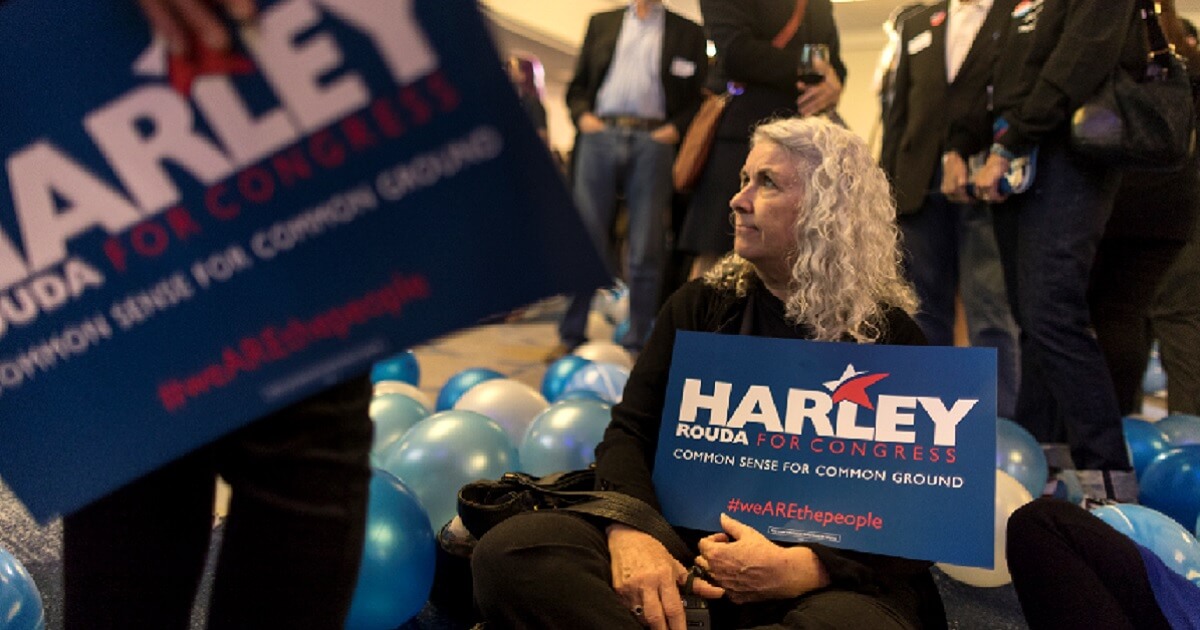 Enough Is Enough: Google Bias May Have Cost Republicans 3 Seats in Midterms
Call it the Google Effect.
Conservatives have long complained about the overwhelmingly liberal bias of the tech giants that dominate so much of American culture in 2019, but now a San Diego-based psychologist has actually put a potential number on the votes he said could have been swayed by the liberal bias built into Google, the world's largest search engine.
And the results from the 2018 election should be anything but comforting for conservatives confronting a tech world that is stacked against them.
Advertisement - story continues below
According to the Los Angeles Times, Robert Epstein, a visiting scholar at the University of California, San Diego, posits that at least 35,455 voters in three swing California districts could have been swayed by their search engines to pull the lever for the Democrat running for the House in last year's midterms.
And that could mean millions more voters all across the country.
Considering the L.A. Times is as much a part of the liberal, establishment media as The New York Times on the other side of the continent, the newspaper approached Epstein's findings with about the level of respect you'd expect, which is darn little.
The story was headlined "This psychologist claims Google search results unfairly steer voters to the left. Conservatives love him."
Advertisement - story continues below
It's a title that both sneers at the topic and the group of Americans the topic most directly affects, but the article should be troubling for liberals, too. Essentially, it means that control of the House of Representatives is in the hands of a relatively small group of people, whose political prejudices have an influence far outside their numbers.
"These are new forms of manipulation people can't see," Epstein told the Times. "People have no awareness the influence is being exerted."
Do you think Google had an impact on the 2018 midterms?
After the sneering headline and an equally sneering opening paragraph, the Times summed up the situation with a forthrightness that would rarely show up in the Gray Lady on the East Coast:
"Yet even some scholars who think the San Diego-based psychologist is wrong about the political impact of search engines — he believes bias built into Google's processes could have cost Republicans three California congressional districts in the last election — have started paying attention to his detailed work on how voters respond to tens of thousands of search results.
"At a moment when misinformation about search engines and social media bias is rampant, with both the left and the right amplifying unsupported claims, Epstein is asking the right questions, they say, about the unseen power of algorithms and how little most Americans understand about the way they work."
Advertisement - story continues below
In a nutshell, Epstein's team tracked 47,300 searches by voters in the three districts – which were all won by Democrats.
In each of those searches, according to the Times, "Mainstream outlets, including the Los Angeles Times and the New York Times, dominated the Google search results. By contrast, searches conducted on Yahoo and Bing more often showcased links from deeply conservative outfits such as Breitbart."
Now, no honest person is going to dispute a characterization of Breitbart News as "deeply conservative," but it says a lot about the L.A. Times that it describes itself and The New York Times as simply "mainstream."
Both news outlets lean considerably to the liberal end of the spectrum – and it stands to reason that search results that produce them as top sources are pushing their users in a liberal direction. So it follows that it's producing at least some votes favoring liberals.
Advertisement - story continues below
It was more than "some," Epstein found. As the L.A. Times put it:
"Using a model he has developed to gauge the subliminal effect of what he sees as tilted search results, Epstein projected 35,455 voters who were on the fence were persuaded to vote for a Democrat entirely because of the sources Google fed them."
And that number, according to the Times, was enough to put three seats in the House of Representatives into the Democratic Party's hands.
Now, consider that study more broadly, in a hotly contested midterm election in which literally millions of Americans are trying to do their civic duty to educate themselves about the issues facing the republic.
Advertisement - story continues below
And consider that each of them is pushed by the internet's dominant search engine to consult sources that have an undeniably liberal slant.
Here's how Breitbart News described Epstein's work:
"The total Democrat win margin across all three districts was 71,337, meaning that bias Google searches could account for the vast majority of Democrat votes. Extrapolated to elections around the country, Epstein says that bias Google results could have influenced 4.6 million undecided voters to support Democrat candidates.
"Moreover, Epstein's findings are based on modest assumptions, such as the assumption that voters conduct one election-related search per week. According to Epstein, marketing research shows that people typically conduct 4-5 searches per day, not one per week. In other words, the true impact of biased search results could be much higher."
Advertisement - story continues below
Can anyone seriously doubt that President Donald Trump is facing a determined Democratic-controlled House at least in part because of Google's mysterious, left-leaning algorithms?
Google, of course, denies it's a possibility. As the L.A. Times reports, "Company Chief Executive Sundar Pichai said at a House Judiciary Committee hearing in December that Google had investigated Epstein's findings and found his methodology flawed."
So, Google heard the criticisms about Google. Google investigated Google. And Google decided Google's work was blameless.
Well, we can all relax now.
Advertisement - story continues below
But seriously, take a second right now and Google, "What political party was Abraham Lincoln?"
Here's what popped at at 4 p.m. Eastern Daylight Time on Sunday:
Seriously?
Advertisement - story continues below
For generations, American schoolchildren were taught that Lincoln was the first president from the Republican Party – a party that had been founded to abolish the institution of slavery. That's because he was the first president from the Republican Party, a party that had been founded to abolish the institution of slavery.
But for Google in 2019, as it was in 2018, Lincoln was a member of something called the National Union Party. That's not exactly wrong, of course. But it had to do with the peculiarities of the 1864 presidential election in the middle of the Civil War.
It takes a considerable stretch of cowardly, pedantic intellectual dishonesty to describe Lincoln as anything but a Republican. But that's a stretch Google is easily capable of making.
Conservatives already know they're up against the massed might of popular culture – from mass-market movies to late-night television.
Advertisement - story continues below
They know they're up against the vast majority of print news outlets in the United States, led by The New York Times and virtually every big-city daily newspaper.
They know that modern tech giants like Twitter and Facebook have an undeniable leftist bias.
And now they know – if there was ever any doubt – that even search engine bias could well be swaying elections too, to the point where swing districts that could well be in the hands of Republicans supporting the Trump White House are represented by Democrats today instead.
It bears noting that Epstein, no matter what the L.A. Times headline implies about him, is no conservative Republican. He was a Hillary Clinton supporter in 2016, which gives his study's results some credibility, even if it takes away from faith in his intellect.
Advertisement - story continues below
"I have become a darling of conservatives, which is driving me crazy," Epstein said, according to the Times. "But they love me because I am saying things they want to hear. People I am closer to politically don't want to hear what I have to say."
The Google Effect can affect people that way.
Conversation