Sports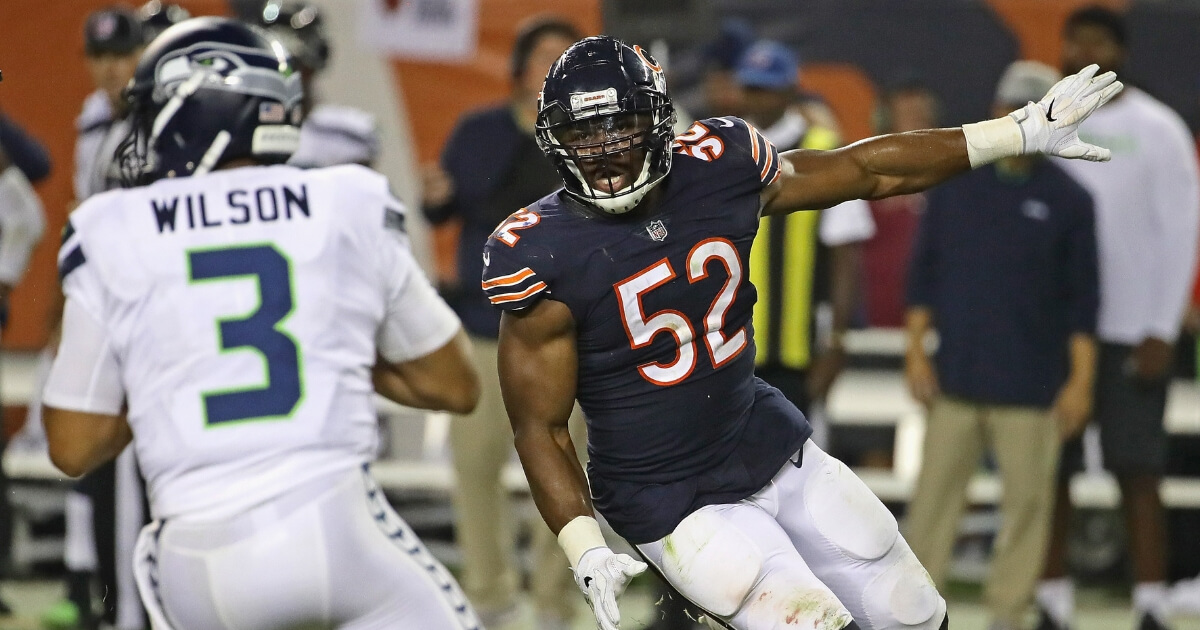 ESPN Gets Unprecedented Bad News on 'Monday Night Football' Ratings
While the broadcast networks saw a small ratings increase in Week 2 of the NFL season, that success didn't carry over to cable as ESPN experienced record-low ratings for "Monday Night Football."
The game between the Seahawks and Bears, which featured two of the league's brightest stars in Seattle quarterback Russell Wilson and Chicago linebacker Khalil Mack, drew an 8.2 overnight rating, which is the lowest ever for a Week 2 "MNF" matchup on ESPN.
Bears' 24-17 win over the Seahawks last night marked lowest Week 2 "MNF" overnight rating yet for ESPN (8.2). Previous low was 8.3 for Eagles-Bears in 2016. Had Emmys competition last night, but that also hit new low at 7.4 overnight on NBC

— Austin Karp (@AustinKarp) September 18, 2018
Advertisement - story continues below
The 8.2 rating represents a 6 percent drop from last year's game between the Detroit Lions and New York Giants, which drew an 8.7.
The game itself wasn't the most exciting affair as there was only one touchdown scored through the first three quarters. The viewership peaked late in the first half when the Seahawks were driving to set up a 56-yard field goal. The Bears eventually won the game 24-17.
The ratings were among the lowest in all of the key demographics as the game scored a 4.0 with adults 18-49 and a 4.6 with adults 25-54. Both of those were the lowest ratings in each demographic since the 2001 season.
ESPN's telecast pulled a 9.8 rating in Seattle and an 8.8 rating in Chicago. Those numbers don't include over-the-air simulcasts within those respective cities as KIRO-TV in Seattle pulled a 21.3 and WLS-TV in Chicago had a 20.3.
Advertisement - story continues below
As bad as the ratings were for Week 2 of "Monday Night Football," it was actually an increase over the doubleheader in Week 1. In the "MNF" season opener, the Jets and Lions drew a 7.5 rating, while the Rams and Raiders drew a 7.0.
But Week 2 of "MNF" also failed to measure up with Week 2 of the broadcast networks, all of which had an increase over Week 1.
Did you watch any of this week's "Monday Night Football" game?
The CBS national game — a rematch of the AFC championship game between the New England Patriots and Jacksonville Jaguars — was the highest-rated game on any network (14.0), and it was the best opening NFL doubleheader game rating in three years.
Fox drew a 10.9 rating for its collection of single-header games highlighted by the Minnesota Vikings-Green Bay Packers tie. Its rating was a 6 percent increase over the first Fox single-header game last year (Week 3).
The "Sunday Night Football" game between the Giants and Cowboys was the top primetime show and drew a 13.8 rating. That represented a 10 percent increase over last year's Week 2 game.
Advertisement - story continues below
Overall, the Sunday games represented a 4 percent increase compared with the Sunday games in Week 2 of last season.
Yesterday's 4 NFL windows were up 4% in the overnights: 48.1 total rating points vs 46.3.

— John Ourand (@Ourand_SBJ) September 17, 2018
ESPN hopes to rebound with next week's "MNF" matchup between the Pittsburgh Steelers and Tampa Bay Buccaneers. With Pittsburgh surprisingly winless and Tampa Bay surprisingly undefeated, there could be plenty of eyeballs on that game.
There will also be a bit of history at stake as the Steelers have 47 wins on "Monday Night Football" and are one win away from tying the San Francisco 49ers for the most in "MNF" history.
Conversation