Commentary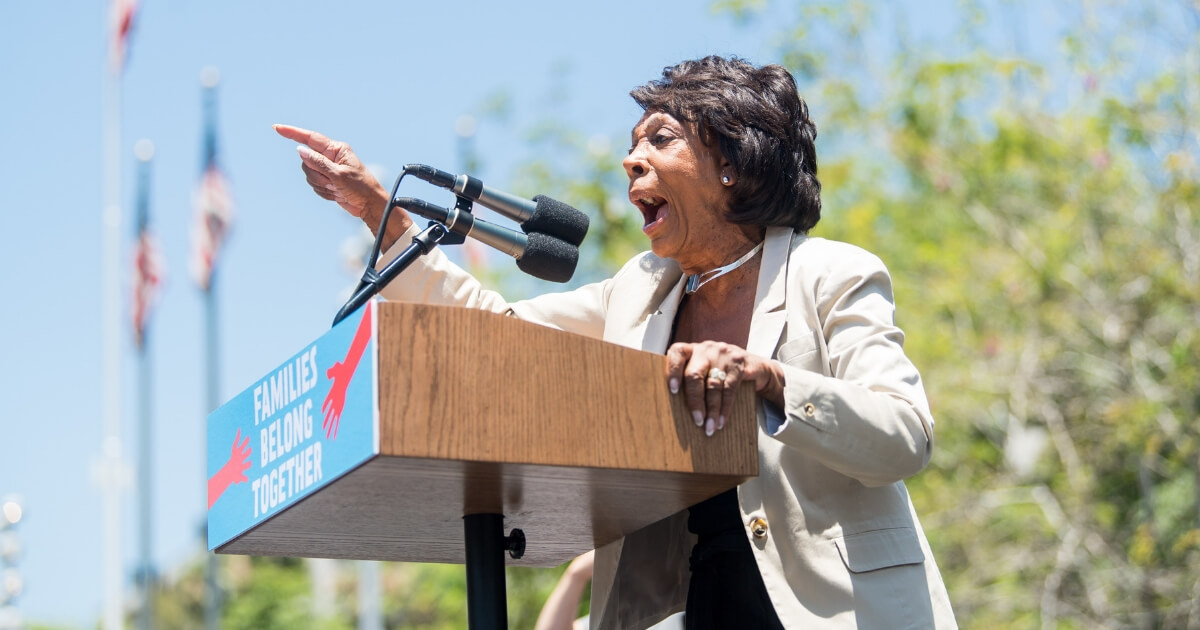 Ethics Complaint Filed Against Waters for Inciting Violence
Pretty much everyone has heard the audio or seen the video of Democrat California Rep. Maxine Waters not-so-subtly encouraging potentially violent mob action against members of President Donald Trump's administration.
And just in case anyone has somehow missed seeing or hearing those remarks first uttered in June, she has gleefully repeated them in media appearances and campaign speeches in the months since then.
Her call for mobs of leftists to harass and protest members of a Republican administration in public have been taken by many as an incitement toward violence, given the heated rhetoric and intense nature of the current political divide, and now Waters has been referred to the House Office on Congressional Ethics for an investigation of her behavior and statements.
Advertisement - story continues below
The non-partisan government watchdog group Judicial Watch reported in June that they had sent an official letter to the congressional ethics office with regard to Waters' inflammatory commentary, as her remarks quite possibly were in violation of a specific House rule governing the behavior of representatives.
The letter was addressed to Office of Congressional Ethics Chairman Doc Hastings and Co-chair David Skaggs — along with a copy sent to House Committee on Ethics Chairwoman Susan Brooks and minority Ranking Member Ted Deutch — and requested the office investigate whether Waters violated House rules with her incitement to violence and mob action.
The letter provided the exact quote from Waters that had been delivered at a campaign/protest rally in Los Angeles on June 23, and provided a link to a YouTube video of the moment in question as well.
"If you see anybody from that Cabinet in a restaurant, in a department store, at a gasoline station, you get out and you create a crowd and you push back on them! And you tell them that they are not welcome, anymore, anywhere," Waters had yelled with great vitriol to a crowd of boisterous supporters.
Advertisement - story continues below
"In encouraging individuals to create 'crowds' who will 'push back' on President Trump's Cabinet members at private business establishments and in seemingly trying to prevent these Cabinet officials from obtaining basic necessities without fear of assault and violence, Rep. Waters seems to be (in) violation of House rules," stated the letter from Judicial Watch.
Do you think Maxine Waters deserves some sort of punishment for inciting potentially violent mob action against ideological opponents?
"Specifically," that rule is House Rule 23, clause 1, which states, "A Member, Delegate, Resident Commissioner, officer, or employee of the House shall conduct himself at all times in a manner that shall reflect creditably on the House."
"We hereby request that the Office of Congressional Ethics conduct a preliminary investigation into whether Rep. Maxine Waters violated House Rules in encouraging attacks on Cabinet officials," the letter concluded.
Judicial Watch President Tom Fitton, in the article announcing the letter, said, "Rep. Maxine Waters incited violence and assault against members of President Trump's Cabinet."
Advertisement - story continues below
"It is urgent that the House Ethics Office quickly acts to hold her accountable for this dangerous incitement," added Fitton.
It is worth noting that right around the same time as Waters' urging for confrontations, Homeland Security Secretary Kirstjen Nielsen had been protested while eating at a restaurant, then-EPA administrator Scott Pruitt was confronted by a protester while eating, Transportation Secretary Elaine Chao — and her husband, Senate Majority Leader Mitch McConnell — were accosted by protesters outside a private residence, and other high-profile conservative activists or Republican politicians have been similarly confronted in public spaces by angry protesters.
It isn't hard to imagine that any one of these or similar instances yet to occur could easily transition from mere angry protests to violent actions such as assault — or worse — which is why Waters' remarks deserve close scrutiny.
Waters should arguably be held accountable to an extent if any individual is eventually injured or killed in the commission of one of these stunts that she openly encouraged.
Advertisement - story continues below
Unfortunately, ethical complaints tend to disappear and die in the dark void that is the Office of Congressional Ethics, so people probably shouldn't get their hopes up too much that Waters will be held responsible for her actions.
However, she and others have been placed on notice that their game has been recognized and will not be tolerated or allowed to persist without some well-deserved "push back" in its own right.
Conversation