News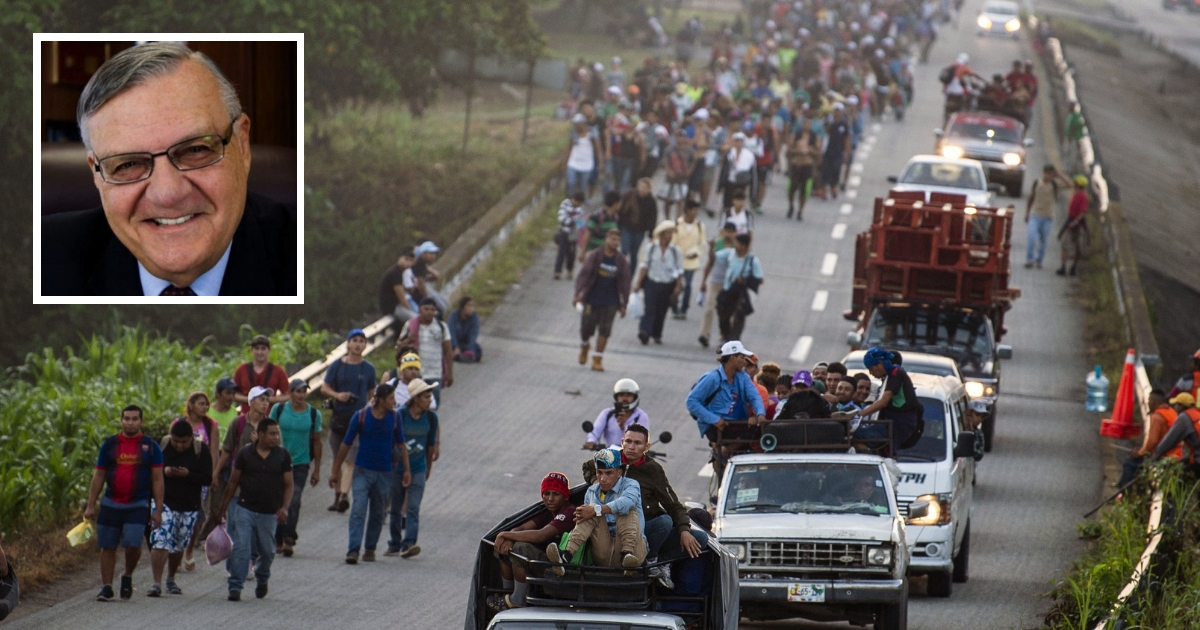 Exclusive - Arpaio Backs Trump's Tent Cities: Our Soldiers Live in Them, Why Not Migrant Caravan?
Former Maricopa County, Arizona, Sheriff Joe Arpaio offered his support for President Donald Trump's plans to house migrants in tent cities while they await their asylum hearings, arguing American soldiers fighting overseas live in them, and the move also might help serve as a deterrent.
In an interview on Fox News on Monday, Trump told host Laura Ingraham that his administration will detain the migrants in a U.S.-bound caravan if they cross the border illegally.
"We're catching, we're not releasing," the president said. "If they apply for asylum, we're going to hold them until such time as their trial takes place."
Advertisement - story continues below
"Where? We have the facilities?" Ingraham asked.
"We're going to put up — we're going to build tent cities," Trump replied. "We're going to put tents up all over the place. We're not going to build structures and spend all of this, you know, hundreds of millions of dollars — we're going to have tents. They're going to be very nice. They are going to wait, and if they don't get asylum, they get out."
Trump recounted the problem with releasing asylum seekers until they have a trial: "Nobody shows up."
Advertisement - story continues below
The president went on to argue that holding people in tents and other facilities, rather than catching and releasing them, will deter others from coming.
Arpaio — who opened a complex of jail tents in the 1990s to deal with prison overcrowding — agrees.
Do you support Trump's plan to build tent cities for migrants?
"I think it's a great idea," he told The Western Journal. "Three or four months ago, I recommended that they put up tents because I had mine in for almost 24 years. Been very successful. I'm very happy that the president is thinking about opening a tent city at the border."
"America's Toughest Sheriff" said over a half-million inmates lived in Tent City during the years it was open, from 1993 to 2017.
"I took my criticism for almost 24 years about the Tent City," Arpaio said. "I always say that our soldiers are fighting for our freedom in foreign countries, so why can't inmates, violators of the law live in tents?"
Advertisement - story continues below
During Phoenix's hot summers, prisoners could go into an indoor day room area that was air-conditioned to escape the 100-degree-plus temperatures.
Arpaio gave Vermont Sen. Bernie Sanders' wife, Jane, a tour of the facility in March 2016 after she showed up outside to protest it.
Cronkite News, a division of Arizona PBS, noted that Sanders offered no negative statement about Tent City following her tour.
Advertisement - story continues below
However, CNN reported that her husband's campaign released a statement afterward in which Jane Sanders said, "What I saw and heard firsthand today by visiting with the families and seeing tent city was very disturbing."
Arpaio said at the time, "If Tent City is as bad as critics and activists say, why have four U.S. presidential candidates visited the tents during campaign stops?"
"No presidential candidate would step foot in Tent City if it truly was the cruel and inhumane jail my critics claim it to be," he added.
Arpaio told The Western Journal the four candidates were Republicans Sens. Bob Dole of Kansas, Phil Gramm of Texas, John McCain of Arizona and former California Gov. Pete Wilson. He further pointed out all but one were from border states.
Advertisement - story continues below
Fox News reported that approximately 80 percent of those traveling in the largest migrant caravan are men under the age of 35, so of military service age, strengthening Arpaio's argument they could physically endure living in tents as American soldiers do.
The former lawman said adults could be moved into the new tent cities at the border to make room in regular holding facilities for children and presumably their parents.
Thad Bingel, former chief of staff with U.S. Customs and Border Protection, said Trump really does not have a choice but to set up tent cities, given that regular facilities are at maximum capacity.
Bingel told Fox News sheltering migrants in this manner "is certainly better than the conditions that many of these people are enduring in the caravan. … We've seen them sleeping under plastic tarps, if that. So a tent, by comparison, is not a bad situation."
Advertisement - story continues below
Arpaio, like Trump, hopes establishing tent cities at the border will serve as a deterrent to other migrant caravans forming.
"I hope it is a deterrent. Let the people keep calling them awful. Maybe these people won't come over," he said. "It was a great program."
When radio talk show host Rush Limbaugh heard of Trump's plans to establish tent cities at the border, he exclaimed on his program earlier this week, "I hope he has Joe Arpaio run it!"
Conversation