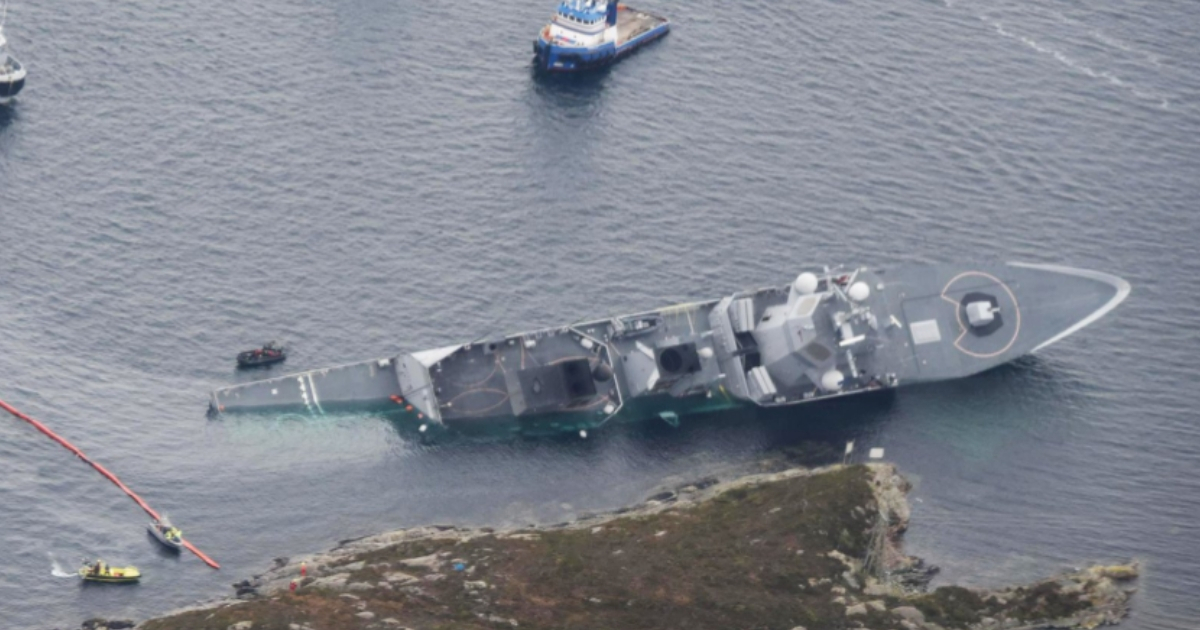 Fast-Thinking Captain Saves 5,000-Ton Frigate with Unorthodox Grounding Order
A Norwegian frigate was badly damaged Thursday after colliding with an oil tanker in a fjord near Bergen, Norway.
Eight members of the 137-person crew of the KNM Helge Ingstad were injured, according to the BBC. The tanker, the Sola TS, did not suffer enough damage that it was leaking oil, officials said, although it put back to port for an inspection.
An oil slick was reported near the frigate, however.
Advertisement - story continues below
Tyler Rogoway, who writes for the website TheDrive, said the frigate was run aground intentionally to prevent sinking.
Norwegian Navy images of frigate KNM #HelgeIngstad late this afternoon. Resting precariously on rocks and could slide off.

Open to the sea down much of her starboard side, a complex salvage operation will be required – she has sensitive equipment and munitions on board pic.twitter.com/Ui11mCRVse

— NavyLookout (@NavyLookout) November 8, 2018
" … the move to ground her seems to have been successful at keeping her from heading down to Davy Jones' locker and the fact that everyone lived, at least according to the info we have now, is great news that supports the skipper's grounding decision," he wrote.
Advertisement - story continues below
The frigate was returning from a NATO military exercise when the accident took place.
The BBC reported that Norwegian accounts of the crash said the two ships had been communicating prior to the collision.
Was this crash preventable?
"The tanker, which was heading northbound, contacted the frigate, heading southbound, to ask if they had a plan to safely pass them as they seemed to be on a collision course," said Kjetil Stormark, the editor of AldriMer.no,
"The response was: 'We have everything under control,'" he said.
Officials did not confirm those reports.
Advertisement - story continues below
"This was a very serious accident and [the authorities] need the time to investigate," said John Erik Hagen, who is in charge of the Norwegian Coastal Administration's western region.
The website Norway Today published what it said were transcripts of the communications between the 5,290-ton frigate and the tanker.
In those snippets, a crewman from the tanker repeatedly asks the frigate to move to avoid a collision, but that the frigate feared moving too close to breakers by the side of the waterway.
According to the website, seconds before impact, the tanker's radio crewman said, "We're colliding then."
Advertisement - story continues below
Stormark said the frigate would have been obligated to move around the "slow, heavy and much larger" tanker.
He called the collision "fairly unusual given that one is a highly modern military vessel — the pride of the Norwegian navy — which should detect and avoid a huge tanker."
He said all things considered, to have an armed frigate collide with a fully loaded tanker, things could have been worse.
"The magnitude of that collision — it could have been a huge catastrophe, environmentally and with casualties," Stromark said.
Conversation