Commentary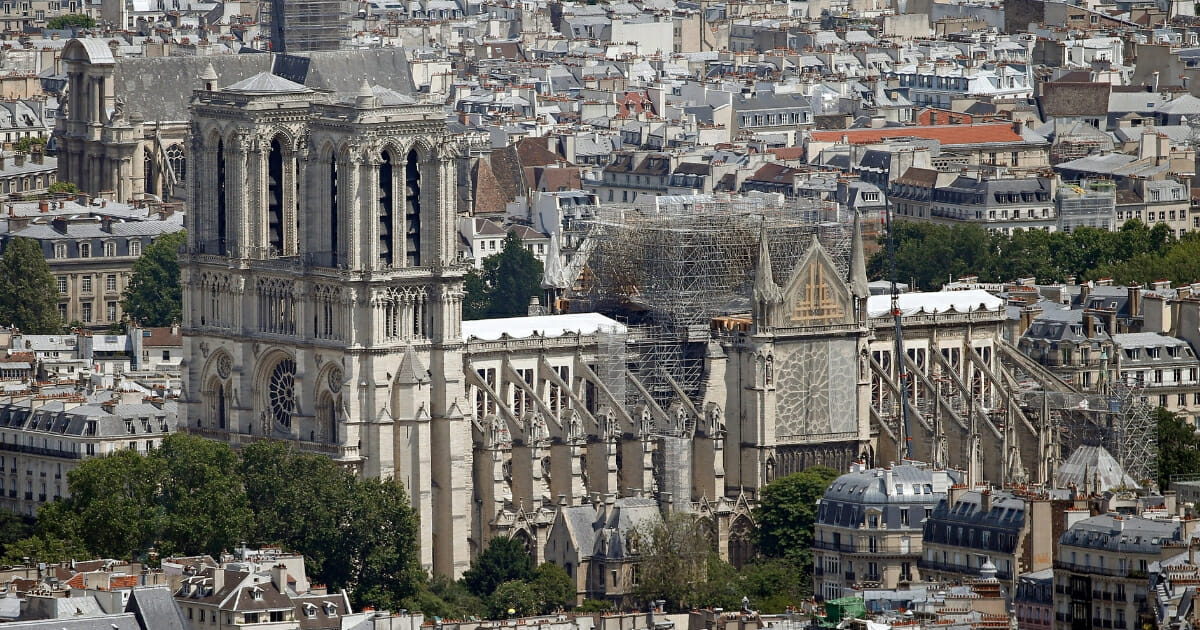 As French Elites Stall on Notre Dame Rebuilding Promise, Everyday Americans Begin Stepping Up
On April 15, the upper regions of the Notre-Dame Cathedral — where wood framing was most prevalent — went up in flames and brought ruin to the second floor, the roof and the spire of the magnificent and historic structure.
In the aftermath of this tragedy, wealthy families and famous individuals in France pledged hundreds of millions of dollars to restore this medieval cathedral, in a show of national pride.
However, they have yet to donate any funds, ultimately providing an opportunity for the "little guy" to make a mark on the reconstruction, according to The Associated Press.
Advertisement - story continues below
"The big donors haven't paid. Not a cent," said Andre Finot, a senior press official at Notre Dame. "They want to know what exactly their money is being spent on and if they agree to it before they hand it over, and not just to pay employees' salaries."
The AP reports that charitable organizations that manage small French and American donations have given a whopping $4 million to the cathedral this month.
Americans, in particular, seem to be doing the heavy lifting.
Michel Picaud, president of the Friends of Notre Dame de Paris, believes nearly 90 percent of donations received have come from United States citizens.
Advertisement - story continues below
"Americans are very generous toward Notre Dame and the monument is very loved in America. Six out of our 11 board members are residents in the U.S.," Picaud told the AP.
During a roundtable meeting when the fire began to engulf the cathedral, President Donald Trump lamented the destruction.
Are you proud of Americans for stepping up and helping France rebuild the Notre-Dame Cathedral?
"It's one of the great treasures of the world. Probably, if you think about it … it might be greater than almost any museum in the world. And it's burning very badly. It looks like it's burning to the ground," Trump said.
"So that puts a damper on what we're about to say, to be honest, because that is beyond countries, that's beyond anything," Trump continued. "That is a part of our growing up, it's a part of our culture, it's a part of our lives.
"That's a truly great cathedral. I've been there and I've seen it, and there's no cathedral — I think I can probably say there's no cathedral in the world like it. It's a terrible scene," he concluded.
Advertisement - story continues below
After the fire was contained and expunged, Trump called French President Emmanuel Macron to provide his condolences.
Later, Macron canceled everything on his calendar for the day and went to the cathedral, where he gave a short address.
After the French president finished, vigils were held throughout the night and into the next day. People gathered non-stop to sing and pray about the tragic incident.
Americans participated in this mourning process through social media, watching the vigils through online broadcasts.
Advertisement - story continues below
The bottom line is that Americans were moved and they showed it through the strength of prayer and financial support.
Despite nearly a billion dollars being pledged by France's elites, Americans quietly put up their own hard-earned dollars to help restore one of the most iconic structures in human history.
Conversation