Op-Ed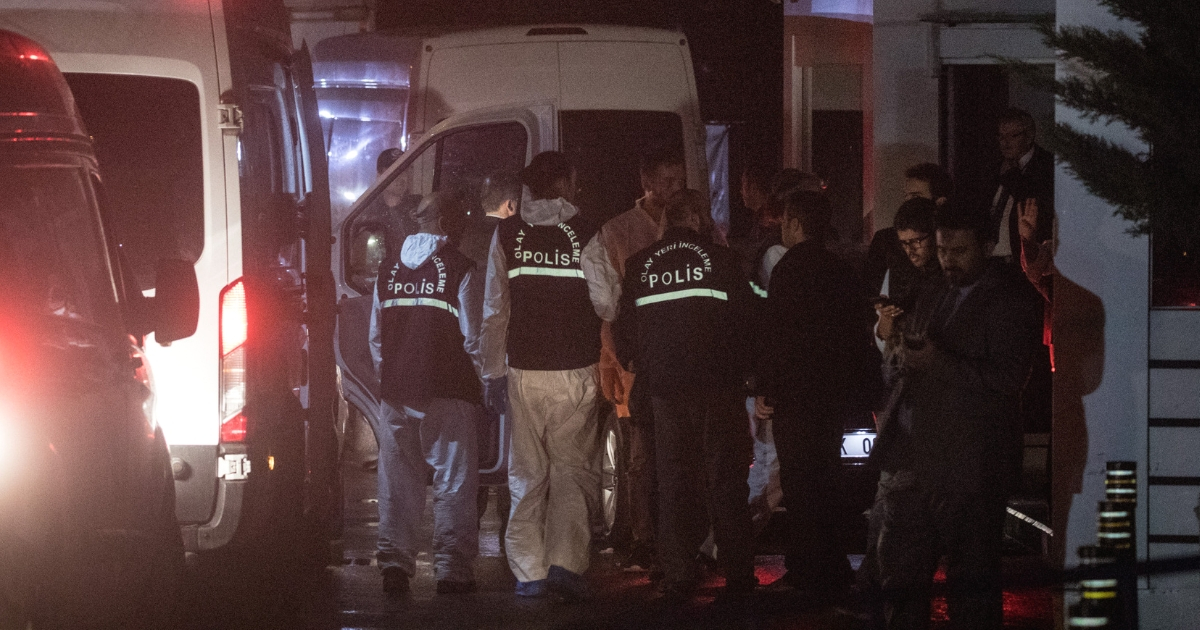 Full Investigation Needed Before US Takes Action on the Khashoggi Crisis
The disappearance and suspected murder of Saudi journalist Jamal Khashoggi threatens to derail Washington's relationship with Saudi Arabia, a key Middle Eastern ally.
The Trump administration is under mounting pressure to take action to punish the Saudi government, despite continued uncertainty about what transpired when Khashoggi disappeared after entering the Saudi consulate in Istanbul, Turkey, on Oct. 2.
Before the Trump administration takes action on the issue, it must ascertain the facts of the matter. This will be no easy task. Complicating a murky situation is an information war being waged between Turkey and Saudi Arabia.
Advertisement - story continues below
Turkey, which is competing with Saudi Arabia for the leadership of the Sunni Muslim world, is not exactly a trustworthy source of information.
Under the rule of President Recep Tayyip Erdogan, an increasingly authoritarian leader, Turkey has drifted away from the West. Erdogan exploited a failed 2016 military coup to crack down on his opposition, jail numerous reporters, and impose political restrictions on Turkey's media.
In addition to arresting tens of thousands of Turks for alleged ties to the coup plotters, Erdogan's regime has a long record of arresting Americans on false charges to advance its own political agenda.
Pastor Andrew Brunson, an American evangelical missionary released just last week under U.S. pressure, was jailed for two years on spurious charges that he supported the coup and Kurdish terrorists. Two other Americans, as well as three Turkish employees of the U.S. consulates in Istanbul and Adana, and scores of Europeans also remain jailed on dubious charges.
Advertisement - story continues below
Given the Erdogan regime's record of politicizing and exploiting false legal charges, Americans should take Turkey's current allegations with large grains of salt until they have been verified by U.S. intelligence and law enforcement officials.
After all, the Khoshoggi affair has essentially become a murder investigation. Facts matter.
Do you agree that a full investigated is needed?
Turkey's Politicized Investigation
The model for the investigation should have been the British investigation of the March 2018 failed plot to murder Sergei Skripal, a Russian defector living in the United Kingdom who was poisoned by Russian intelligence agents.
The United Kingdom gained broad international support because it launched a transparent and credible investigation. But Erdogan's government has made a series of inflammatory leaks to pro-government Turkish newspapers.
Advertisement - story continues below
Some of these newspapers have major credibility problems of their own. Yeni Safak, the pro-government Turkish newspaper that on Wednesday published a transcript of an audio recording purportedly made of Khashoggi's alleged torture and murder, also has alleged in the past that the U.S. supports ISIS and Kurdish terrorists against Turkey.
The newspaper has been accused of fabricating interviews, altering the audio track of a videotape to discredit Kurdish protesters, anti-Semitism, and disseminating disinformation on anti-government protests. The newspaper's editor in chief, a hardline supporter of Erdogan, has denounced the U.S. as the "greatest and most open threat to Turkey."
Rather than conduct a professional and transparent investigation, Erdogan has chosen to pressure Saudi Arabia and the U.S. by trying the case in the pages of a supportive Turkish newspaper.
However, Turkey had not shared the purported recordings with U.S. or western authorities as of Wednesday — a possible indication that it sees them as being more valuable for propaganda purposes than legal purposes, if they exist.
Advertisement - story continues below
A Disturbing Pattern of Saudi Blunders  
Washington also should be skeptical about Saudi officials denying responsibility for Khashoggi's disappearance.
Although no "smoking gun" has been publicly revealed, there is substantial circumstantial evidence linking Saudi officials to Khashoggi's disappearance. In recent years, other Saudi reporters and dissidents have disappeared, only to resurface later in Saudi jails.
There are strong reasons to be concerned over Khashoggi disappearance, which could further undermine international norms — already shattered by Iran, Russia, China and North Korea — relating to extraterritorial kidnappings and assassinations of political dissidents and defectors.
Advertisement - story continues below
Crown Prince Mohammed bin Salman, the power behind the Saudi throne, is a young man in a hurry, eager to lead a "revolution from above" to restructure the Saudi economy through his Vision 2030 project, intended to modernize and diversify the oil-dependent economic system.
But his drive for reform does not extend to the kingdom's political sphere, where he has ruthlessly consolidated his own power.
The impetuous prince has aggressively overreached on several occasions, including by:
Arresting hundreds of prominent businessman, senior officials, and members of the royal family to extract millions of dollars in what was billed as an anti-corruption campaign;
Launching a blockade of Qatar that has led to an unproductive diplomatic standoff;
Detaining Lebanese Prime Minister Saad Hariri in a bizarre effort to force his resignation; and,
Most recently, overreacting to mild Canadian criticism of Saudi human rights policies by breaking off diplomatic relations, freezing all new bilateral trade and investment transactions, withdrawing thousands of Saudi students from Canada, and suspending direct air travel to and from Canada.
Advertisement - story continues below
These questionable policies have undermined the crown prince's reputation and raised questions about his judgment.
If Khashoggi's apparent death is proven to be an act of the Saudi state, it would be a permanent stain on the leadership of the crown prince and a death blow to his pet Vision 2030 project, which requires substantial injections of foreign investment. Investors seek to minimize risk and would be reluctant to invest in a country where the rule of law is subverted by a mercurial leader.
The U.S. Response
The Trump administration must make it clear to the Saudis that a failure to come clean on the Khashoggi affair could severely undermine Saudi-American ties.
Advertisement - story continues below
It should disabuse Riyadh of any notion that the White House is willing or able to protect Saudi Arabia from congressionally-imposed sanctions if the Saudis continue to stonewall international efforts to get to the bottom of the matter.
In this context, Thursday's announcement that Treasury Secretary Steven Mnuchin had canceled his participation in next week's Saudi investment summit is an appropriate and necessary signal.
The U.S. cannot turn a blind eye to state-sponsored murder or allow it to pass without consequences. As a matter of principle, Washington should support free speech, a free press, and respect for the rule of law.
It cannot give Saudi Arabia a free pass. If guilt is established, then it must hold the Saudis accountable. There must be real consequences for such a horrific act.
Advertisement - story continues below
Saudi officials found responsible for criminal acts should be removed from their positions and prosecuted. But until guilt has been established through a full investigation, it would be premature for U.S. officials to impose punitive measures against Saudi Arabia.
Washington should not overreact by torpedoing the alliance, which could trigger even more dangerous actions by Saudi Arabia and play into the hands of U.S. adversaries, such as Iran, Russia, and China.
If proven to have occurred, it is likely the murder of Khashoggi was motivated by a sense of insecurity and vulnerability. Washington must take care that its response does not exacerbate that insecurity, leading Riyadh to take further steps that undermine American interests.
In any event, the U.S. should try to insulate vital bilateral security cooperation from the fallout of the Khashoggi affair.
Advertisement - story continues below
The worst possible outcome would be a rush to judgment which destroys an important long-term partnership, pushes Saudi Arabia into the arms of Russia or China, and undermines efforts to contain Iran, defeat ISIS, and stabilize the volatile Middle East.
James Phillips is the senior research fellow for Middle Eastern affairs at the Douglas and Sarah Allison Center for Foreign Policy Studies at The Heritage Foundation. He has written extensively on Middle Eastern issues and international terrorism since 1978.
A version of this Op-Ed previously appeared on The Daily Signal website under the headline, "Full Investigation Needed Before US Takes Action on the Khashoggi Crisis."
The views expressed in this opinion article are those of their author and are not necessarily either shared or endorsed by the owners of this website. If you are interested in contributing an Op-Ed to The Western Journal, you can learn about our submission guidelines and process here.
Conversation