Sports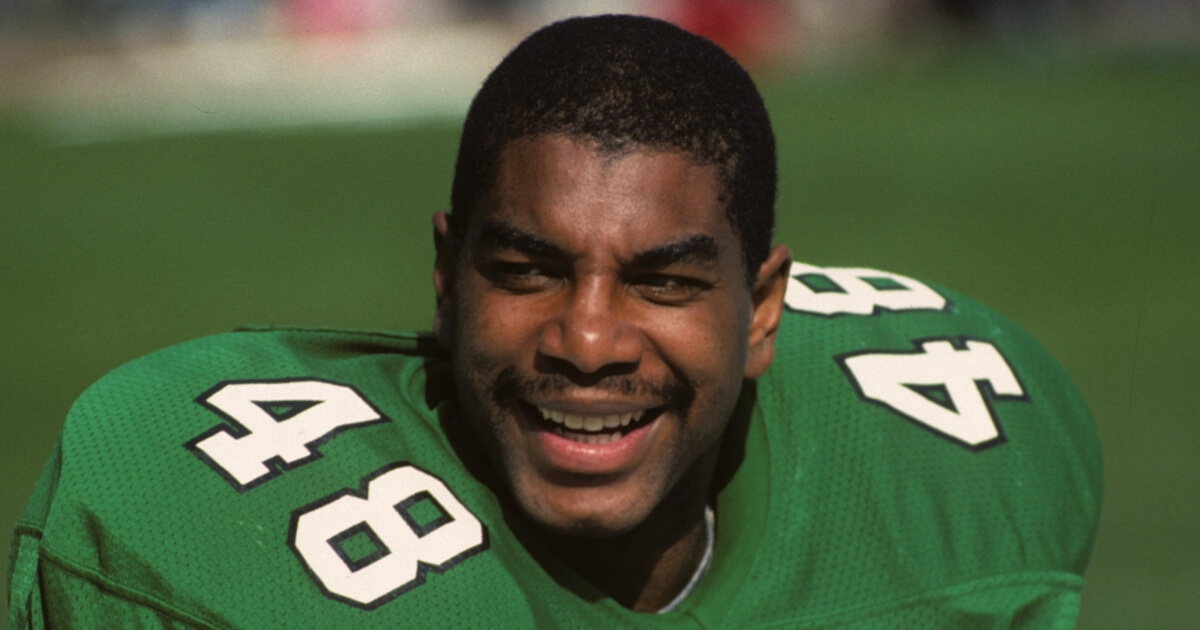 'Gang Green' All-Pro Wes Hopkins Dead at 57
Wes Hopkins, a former All-Pro safety with the Philadelphia Eagles, died Friday at the age of 57.
The cause of death was not made public, but Hopkins had been in failing health for a couple of months, according to Philly.com.
The Eagles are saddened to learn of the passing of former safety Wes Hopkins.https://t.co/6uEpyvnQPn pic.twitter.com/xxvoQxVaeY

— Philadelphia Eagles (@Eagles) September 28, 2018
Advertisement - story continues below
"Wes Hopkins is one of the best safeties in the history of our franchise and played a major role in the team's success during his time here in Philadelphia," Eagles CEO Jeffrey Lurie said in a statement. "He was well-respected among his teammates and coaches, not only because of the way he played the game and what he was able to accomplish on the field, but also because of the way he carried himself and the type of leader he was."
I'm sorry to report that one of the best @Eagles players I've ever known, safety Wes Hopkins passed away this morning. He played the game with #Passion and #Commitment. He was a great player, a great teammate and we will all miss him dearly. @sethjoyner @EricAllen619 pic.twitter.com/DiPUrypjVg

— Garry Cobb (@GarryCobb) September 28, 2018
Hopkins played his entire career with the Eagles after being drafted 35th overall out of SMU in 1983.
"He had a genuine love of the game and that's one of the reasons he connected so well with the people of Philadelphia. Wes will be forever remembered as an Eagles Legend and somebody who helped build the foundation for our organization's success. Our thoughts are with his family during this time," Lurie said.
Advertisement - story continues below
Hopkins was named first team All-Pro in 1985 and made the Pro Bowl that year, when he had six interceptions. His 30 career interceptions is fifth on the Eagles all-time list.
Also, Hopkins played in 137 games, which is tied for third all time in games played among Philadelphia defensive backs.
Wes Hopkins loved football and knew only one way to play it. That way made him an All Pro. It also probably took his life much too early. My story: https://t.co/FwiL1VkmFn

— Paul Domowitch (@pdomo) September 29, 2018
In 1988, he won the Ed Block Courage Award for his exemplary commitment to the principles of sportsmanship and courage.
Hopkins retired in 1993 after 10 seasons with Philadelphia. He is considered one of the biggest hitters of his era.
Advertisement - story continues below
"People speak of the big hitters that played the game, but I don't hear Wes's name enough," Harvey Armstrong, former Eagles teammate and friend, told Philly.com. "I was just talking with Eric Dickerson, and he was talking about the big hitter that Wes was. He put him right up there with the top hitters who have ever played the game."
"He just went into a shell, much like Andre [Waters] did," Armstrong said. "You could see some of the things he was dealing with. The depression and the anxiety and the other things that CTE causes."
Waters, a former Eagles safety who played with Hopkins, died from suicide in 2006.
Armstrong said he visited Hopkins in the hospital near his home in Birmingham, Alabama, before he died.
"They didn't think he was going to make it through the week," Armstrong said. "But I sat there with him for two days, and you could see him getting stronger and trying to speak. A week later, his family sent me pictures of him doing rehab. He had gotten out of ICU. He was moving better. Speaking.
"Wes fought his whole life. I thought he would get through this because he's always persevered. He's always beaten the obstacles that he's faced. But it got to a point where he couldn't fight anymore."
We send our condolences to his family and friends.
Conversation