Lifestyle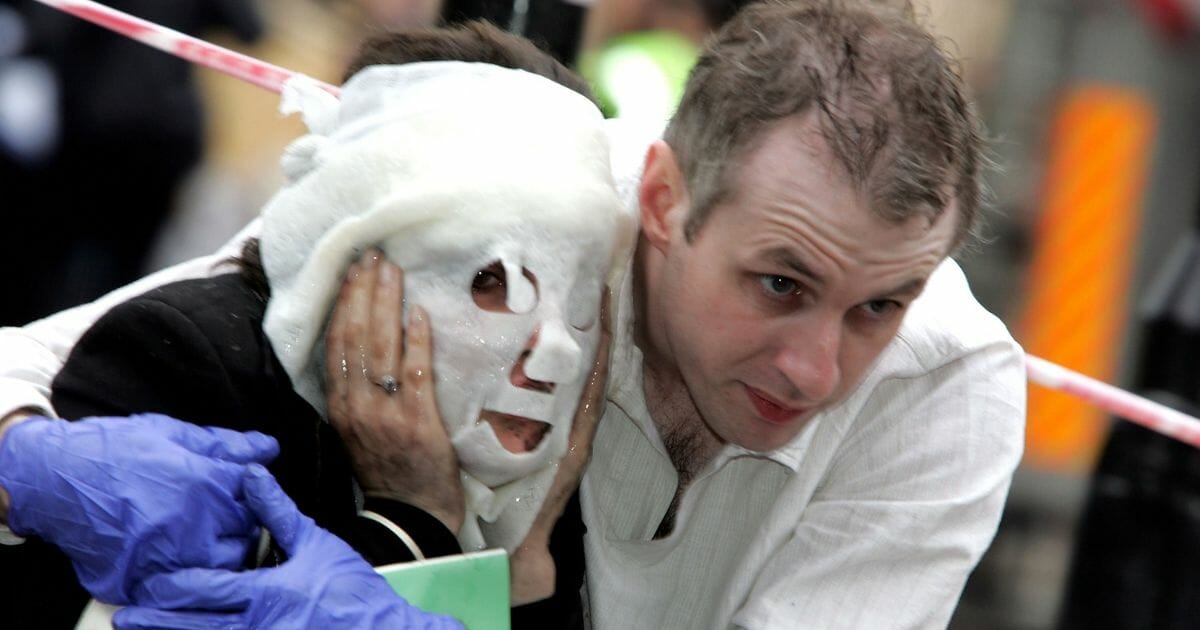 Here's What Happened 14 Years Ago When 52 People Died During the London Bombings
Fourteen years ago, London suffered from a series of horrific terrorist attacks on the city's transportation system.
By the end of the day, fifty-two people had died and over 700 were injured after four suicide bombers targeted different areas of the metropolis.
The events that took place on July 7, 2005, are a harrowing reminder of the religious strife that has long existed in the world.
Advertisement - story continues below
Like any tragic event in history, it is worth revisiting no matter how uncomfortable it may make us feel so that we can be reminded of its implications and continue to establish peace.
What happened on July 7, 2005? 
At 8:50 a.m. three suicide bombers walked onto three separate trains on the London Underground. The three explosions happened within 50 seconds of each other.
Advertisement - story continues below
Seven people died on a train near the Liverpool Street station.
Six people died on a train near the Edgware Road station.
Twenty-six people died between the King's Cross and Russell Square stations.
Less than an hour later, at 9:47 a.m., a fourth suicide bomber attacked a double-decker bus that was parked in front of the British Medical Association headquarters, where a conference was being held. Thirteen more people died.
Scott Mackenzie was one of the many first responders that day. He recently told the Metro in an exclusive interview that July 7, 2005, is forever ingrained in his mind.
Advertisement - story continues below
"It just appeared like utter carnage," he said of the scene when he and his colleagues arrived. "We didn't really know what we were doing."
Triage units were set up all around the city to tend to people injured from the blasts.
Mackenzie specifically remembers one man who was covered in ash, sitting in the midst of the chaos with a single tear rolling down his face.
To this day, the image of that man haunts his memory.
Advertisement - story continues below
"He just sat in total silence when everyone else was chatting and he was just staring out of the window," the police officer recalled. "He wasn't even watching, he was just staring into the distance."
What happened after the 7/7 bombings?
Prime Minister Tony Blair addressed the nation on July 11 and called the horrific attacks what they were: "acts of terrorism."
He commended law enforcement for their swift reaction and noted that they did everything they could to keep the people of London safe.
Advertisement - story continues below
"I know of no intelligence specific enough to have allowed them to prevent last Thursday's attacks," he said. "By their very nature, people callous enough to kill completely innocent civilians in this way, are hard to stop."
Blair also recognized that the bombings were only the latest in a series of hateful acts of terrorism across the world and pledged to introduce more counter-terrorism measures in light of the 7/7 bombings.
"Together, we will ensure that though terrorists can kill, they will never destroy the way of life we share and which we value, and which we will defend with the strength of belief and conviction so that it is to us and not to the terrorists, that victory will belong," he concluded.
Advertisement - story continues below
Only five days after the attacks, more than twelve undetonated bombs were found in a car parked at Luton station.
Blair's Terrorism Bill received some criticism for its extreme measures, such as allowing terrorist suspects to be detained for up to 90 days and requiring closure of extremist mosques. But after some adjustments, the bill was passed and put into effect in April 2006.
Who were the suicide bombers, what was their motive and were they caught?
The four men who committed the 7/7 attacks were all British citizens who were 30 and under. They all committed the attacks for the terrorist group al-Qaida.
Advertisement - story continues below
Based on the profiles compiled by the BBC, all four men led relatively normal lives until July 7, 2005.
A video of Mohammad Sidique Kahn, the man who detonated a bomb on one of the subway trains, surfaced after his death where he claimed to be a "soldier" at "war."
What are the implications of the 7/7 bombings? 
The London bombings occurred around the same time as other terrorist attacks across the world. While the 7/7 bombings did not impact England like 9/11 impacted America, both of the attacks were part of a larger war and only fueled the fight against extremist groups.
Advertisement - story continues below
Do you remember the London bombings?
After Sept. 11, 2001, President George W. Bush called for a global "War on Terror."
"Our war on terror begins with al-Qaeda, but it does not end there," President Bush said on Sept. 20, 2001. "It will not end until every terrorist group of global reach has been found, stopped and defeated."
Advertisement - story continues below
A war in Afghanistan began with airstrikes carried out by American and British troops just a few weeks later.
On March 11, 2004, four trains in Madrid were attacked by bombers that were later identified as Islamic militants. Just over a year later, the attacks in London took place.
The war in Afghanistan continued until 2014, but American troops still remain in the Islamic county.
The 7/7 bombings are a chilling reminder of the religious discord and tension that was brought to light in the early 2000s and still exists today.
Advertisement - story continues below
Take a moment today to remember the innocent lives lost on July 7, 2005, reflect how far we have come since then and recognize how much work is still left to be done.
Truth and Accuracy
We are committed to truth and accuracy in all of our journalism. Read our editorial standards.
Conversation