Commentary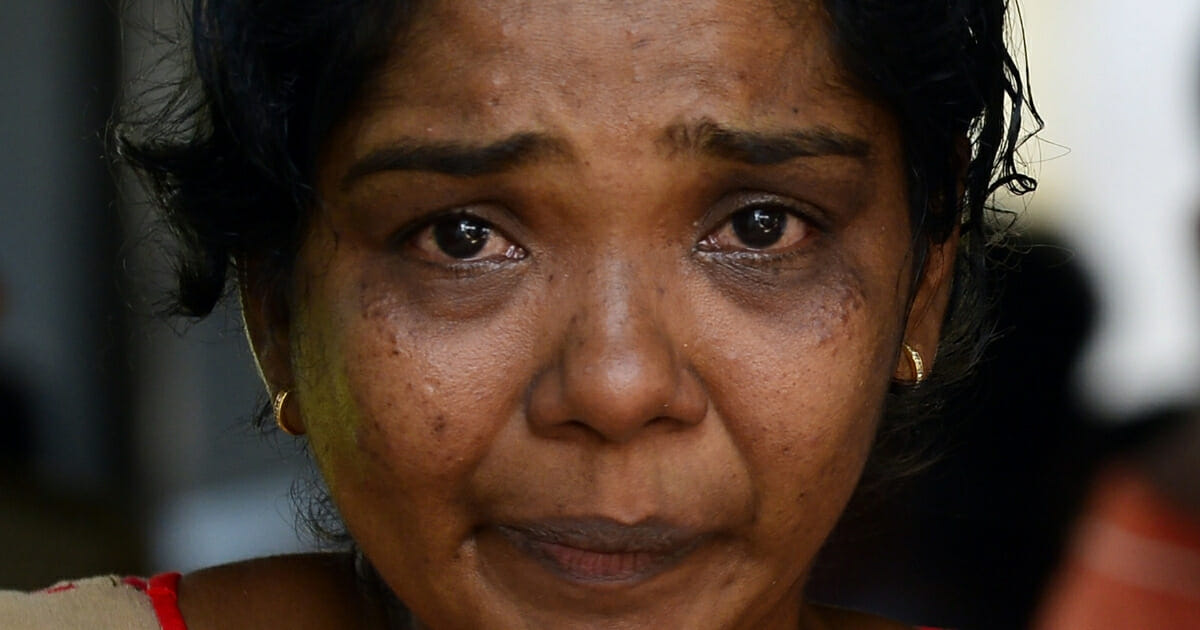 Clinton and Obama Refuse To Call Sri Lanka Bombing Victims 'Christians'
As of Monday morning, the death toll in the Sri Lankan terror attacks had hit 290, with 500 injured.
According to Reuters, suspicion in the Easter Sunday attack has fallen on a little-known domestic radical Islamist organization, though a government spokesman has indicated they believe an international terrorist network is also involved.
Obviously, an attack that claimed the lives of hundreds of innocent people in three churches and four hotels on the holiest day of the Christian calendar is a major event that would trigger condolences from famous individuals of every stripe — politicians especially.
Advertisement - story continues below
Barack Obama and Hillary Clinton were two of the political figures who mourned the tragic loss of life in Sri Lanka. However, many Twitter users noticed a bit of a problematic response to the tragedy:
The attacks on tourists and Easter worshippers in Sri Lanka are an attack on humanity. On a day devoted to love, redemption, and renewal, we pray for the victims and stand with the people of Sri Lanka.

— Barack Obama (@BarackObama) April 21, 2019
On this holy weekend for many faiths, we must stand united against hatred and violence. I'm praying for everyone affected by today's horrific attacks on Easter worshippers and travelers in Sri Lanka.

— Hillary Clinton (@HillaryClinton) April 21, 2019
Advertisement - story continues below
Did you notice the nettlesome phrase here? Bekah Baker, the deputy editor here at The Western Journal, did:
I think the word you're looking for is "Christians."#SriLankaAttacks #EasterWorshippers pic.twitter.com/c9PKCKKjaS

— Bekah Baker (@bekahjoy03) April 22, 2019
She wasn't the only one:
The word you're looking for is "Christians." https://t.co/LlJ8KCEdFx

— Michael Knowles (@michaeljknowles) April 22, 2019
Advertisement - story continues below
Christians, not #EasterWorshippers.

— Emma for Bernie Sanders (@Emma_Romola) April 22, 2019
Hey @BarackObama and @HillaryClinton

I believe those "Easter Worshippers" are actually called "Christians." pic.twitter.com/72hl2GlI6n

— Kyle Kashuv (@KyleKashuv) April 22, 2019
Advertisement - story continues below
Hillary after New Zealand attack: My heart breaks for the Muslim community.

Hillary after Orlando attack: I am an ally of the LGBT community.

Hillary after Sri Lanka: Praying for Easter worshippers and tourists.

Are we really supposed to believe that this isn't intentional? https://t.co/CmeGYpggQQ

— Matt Walsh (@MattWalshBlog) April 22, 2019
It's not just that they decided to go with "Easter worshippers" as opposed to "Christians," it's the fact that they identified the dead, in one reading of the phrase, as worshippers of Easter. That's a rather, um, curious way of describing what Christians do.
Advertisement - story continues below
By the way, at least two of the 2020 Democrat presidential candidates also declined to use the word Christian in their tweeted condolences:
On a day of redemption and hope, the evil of these attacks on Easter worshippers and tourists in Sri Lanka is deeply saddening. My prayers today are with the dead and injured, and their families. May we find grace.

— Julián Castro (@JulianCastro) April 21, 2019
I'm heartsick for the victims of today's terrorist attacks in Sri Lanka. Hundreds have been killed and wounded. To slaughter worshippers at church during Easter service is an act of great evil. My thoughts and my prayers are with the victims and their loved ones.

— Elizabeth Warren (@ewarren) April 21, 2019
Advertisement - story continues below
At least Elizabeth Warren knew enough to realize these weren't individuals worshipping a holiday as if it were some sort of pagan God, but apparently the C-word is kind of like Voldemort's name at Hogwarts.
Do you think that what Obama and Clinton tweeted was inappropriate?
I'll note two things here. First, we can probably guess that these individuals weren't targeted because they went into a church on Easter. They were targeted because they were Christians. That makes naming the religion somewhat important here — if just to make plain the impetus behind the inhumanity in this inhuman act.
Advertisement - story continues below
Second, this is the kind of embarrassment that the left shows when it's dangerously uneducated on issues of the Christian faith. In one newspaper — The New York Times — over the over the past week, we've seen Easter described as "the celebration of the resurrection into heaven of Jesus" and the Eucharist a priest saved from the Notre Dame cathedral in Paris identified as a statue because the reporter didn't know what "the body of Christ" refers to in Roman Catholicism.
And that's a whole left-leaning newspaper, not just one individual. Even the individuals I mentioned, however, would know better than to identify Jews as "Yom Kippur worshippers" or Muslims merely as "mosque-goers."
Why is it, therefore, they refuse to even speak the name of our nation's largest religion?
Conversation