Commentary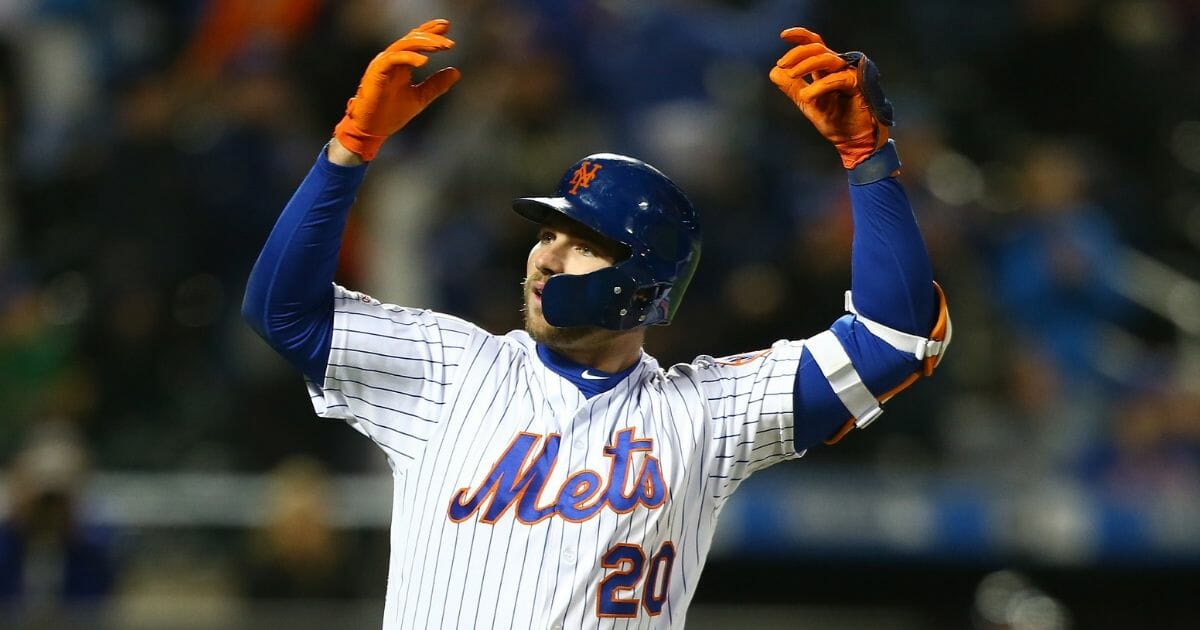 Home Run Derby Champ Makes Amazing Move for Wounded Warriors
Baseball players are called the boys of summer, but the last few years have been one long, protracted winter for New York Mets' fans.
Oh, sure, the ever-fatalistic supporters of New York's second team would always tell you that, but this time they have reason to feel that way. The team sits 40-50 at the All-Star break, the worst record in the National League when you don't count the Miami Marlins. (And really, I'm not sure they're a team anymore.)
If you want to see how wretched things have gotten, Google "Mets defense." (First result at the moment: "The Mets' Defense Is Historically Bad.")
Advertisement - story continues below
But there's been one definite bright spot this season: Pete Alonso.
Alonso, a rookie first baseman, got into Monday night's Home Run Derby at the All-Star festivities in Cleveland, Ohio, by dint of hitting 30 home runs before the break — matching the record for any Met, according to The New York Times. He won the contest in a nail-biter over fellow rookie Vladimir Guerrero Jr. of the Toronto Blue Jays.
YOUR 2019 HOME RUN DERBY CHAMPION, PETE ALONSO!!! pic.twitter.com/UX0v5LoPst

— SNY (@SNYtv) July 9, 2019
Advertisement - story continues below
As it turns out, Alonso is just as amazing off of the diamond as he is on it — something that the Wounded Warrior Project will be thankful for.
Alonso will be donating 5 percent of the $1 million he made off of the derby to the veterans charity, something he announced back in May.
Do you support the Wounded Warrior Project?
"Obviously, it's a big purse for the winner," Alonso said to MLB.com's Anthony DiComo. "To be in that moment, to win, it would be awesome if I could just give back."
To put in perspective how big it is for Alonso, his rookie salary is just $550,000. Not only did he make more money in one night than he will all year, he's also giving $50,000 to the Wounded Warrior Project, a charity that helps veterans wounded in combat since Sept. 11, 2001.
Alonso made the declaration before he was even picked for the event, though he said that it was part of him using his position in Major League Baseball to help others.
Advertisement - story continues below
"That's what I want to do," he said.
"I feel really lucky and I feel like all of us are, because without brave men and women who have served this country, we wouldn't be able to do what we do. This sport probably wouldn't exist. We wouldn't have the freedom to do what we do. It's a high price to pay. I just want to recognize all the good things those men and women do for this country.
"I respect the hell out of people who have not just served this country, but who currently serve this country," Alonso said. "It's something I feel really passionate about, and I want to do something to say 'Thank you' for those who have served."
Of course, having a long family history of serving the United States helps too.
Advertisement - story continues below
Both of his grandfathers served during wartime, his paternal grandfather in the U.S. Army during the Second World War and his maternal grandfather in the Marines during the Korean War.
The team also visited Walter Reed National Military Medical Center earlier in the season:
What an Amazin' experience! #Mets players, coaches and staff made a special visit to the Walter Reed Medical Center where we hosted service members for lunch and games. #BiggerThanBaseball pic.twitter.com/Q09lKueDvB

— New York Mets (@Mets) May 15, 2019
Advertisement - story continues below
And the Wounded Warrior Project isn't the only thing getting 5 percent of Alonso's check for winning.
Also benefiting is Tunnel to Towers, which supports the families of veterans, first responders and emergency medical personnel killed in the line of duty.
That's $100,000 going to charity — almost a fifth of his salary as a rookie.
"I've been living a fantasy," Alonso said, "and I just want to use my platform."
Advertisement - story continues below
As for his strategy to get there, the Mets rookie was blunt: "Hit more homers than everyone else."
Pete Alonso on his strategy for the Home Run Derby: "Hit more homers than everyone else" ? ? pic.twitter.com/4V8RQsr6Wf

— SNY (@SNYtv) July 7, 2019
That he did — and a lot of veterans, first responders and their families are going to be better off because of it. And, if Alonso keeps hitting and playing like he has, there's going to be a lot more in charity where that came from. Here's hoping he'll even make a winner out of the Mets sometime soon. Their fans will still be their same fatalistic selves, however.
Conversation