Commentary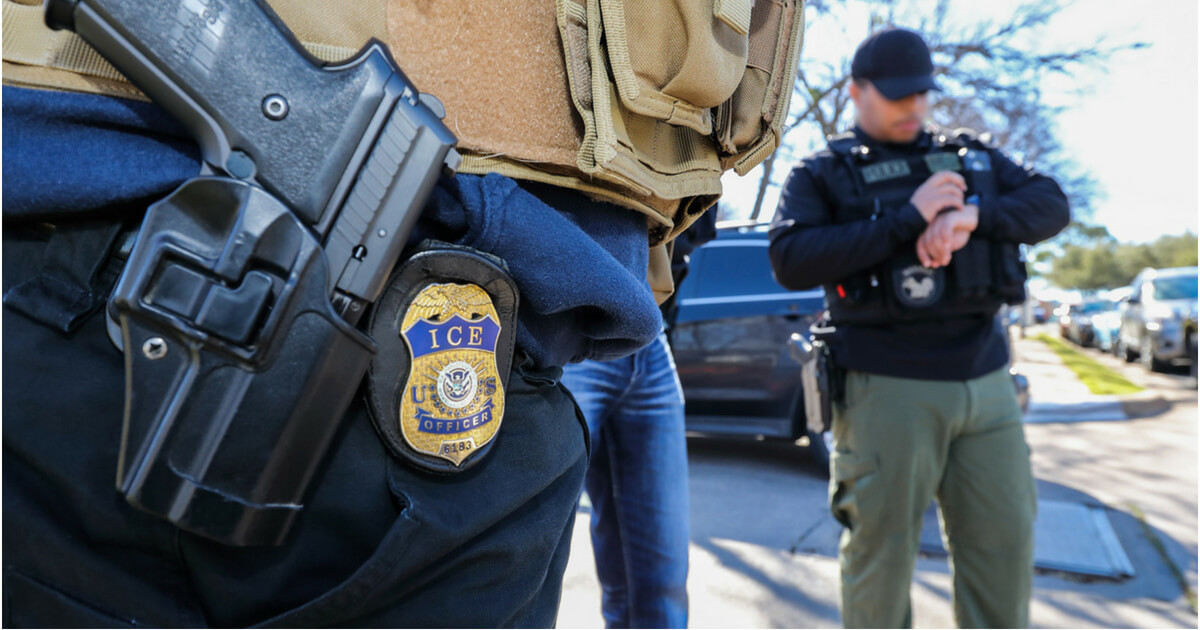 ICE Snags Illegal Alien with Beyond-Disturbing Track Record - 'The Devil Lives in Him'
A man who facilitated prostitution and trafficked in underage children will potentially spend the rest of his life behind bars — all thanks to the people at Immigration and Customs Enforcement.
Alan Nash, a 31-year-old "Dallas-area pimp," received the life sentence in federal prison on Friday. He was brought to justice after an investigation by ICE's Homeland Security Investigations department, the Texas Department of Public Safety, the Bureau of Alcohol, Tobacco, Firearms and Explosives, the Shreveport (Louisiana) Police Department and the FBI.
According to a statement from ICE, Nash "was convicted in April of the following charges: Sex trafficking children; conspiracy to commit sex trafficking; sex trafficking through force, fraud or coercion; transporting a minor to engage in commercial sex acts; and illegally possessing ammunition after he forced two victims, aged 17 and 19, into the illicit sex trade in the fall of 2014.
Advertisement - story continues below
"During his four-day trial, victims told jurors that Nash lured them into engaging in commercial sex acts by promising a better life. Instead, he joined forces with the owner of the 'Doll House' massage parlor, demanding the girls work day and night," the statement added. "He confiscated their proceeds and used violence and threats to keep them from leaving."
The report detailed how Nash intimidated the girls.
"When one victim dozed off in a motel room, Nash dragged her out of bed and slammed her head into a toilet, cracking the seat with her skull — a warning to other victims about what could happen to them if they failed to earn enough money," the statement said.
ICE also described how he groomed one 17-year-old girl on social media with "promises of gifts and trips" and by showing up to her parents' house in a Mercedes.
Advertisement - story continues below
"I was a vulnerable little girl in need of guidance. I was desperate for help. Allen Nash knew that," the now-22-year-old victim said in an impact statement delivered before the court.
"I think it's safe to say the devil lives in him."
Does the media purposely under-report ICE's efforts to stop human trafficking?
Authorities said Nash helped Doll House owner Connie Su Moser, 64, arrange for sex via Backpage.com, a personals website notorious for its use by the sex-trafficking industry.
According to ICE, "customers often responded to these ads either by calling to make an appointment or by walking into the spa. Clients then arranged to visit the Doll House under the guise of receiving a 'body rub,' but in reality they paid for and received commercial sex.
"These clients paid an initial fee to the spa manager; the client would then be taken into a room by one of the female employees where the commercial sex acts would occur. The employee received a 'tip' once the commercial sex act had been performed, and the employee paid a portion of this money back to the Doll House each day."
Advertisement - story continues below
The arrest also netted the government plenty of cash.
"Authorities seized over $1 million dollars in assets from Moser, including more than $400,000 in cash from her home, $70,000 in her bank account, and her 2015 Lexus — all of which the court determined were proceeds from the trafficking operation," ICE noted.
Moser has been sentenced to eight years in prison for the offense.
"Preying on vulnerable young women is despicable, and this sentence validates that important message," U.S. District Attorney Erin Nealy Cox said in reaction to the verdict.
Advertisement - story continues below
"I'm proud of the women who came forward to help us bring Mr. Nash to justice. We will continue to prioritize human trafficking cases across the Northern District of Texas."
Of course, this is the human trafficking that the media doesn't want to talk about, mostly because no human being can defend it.
They don't want to talk about it because it exposes a very important truth about the organization: ICE is and will continue to be a force for justice. The department doesn't just help enforce our immigration laws, they help keep people safe — whether it's Americans who are affected by the externalities of illegal immigration or individuals affected by human trafficking.
How many individuals, we wonder, will respond to this story with the reactive #AbolishICE hashtag? How many advocates of open borders will post this story on their Facebook page?
Advertisement - story continues below
Those questions, sadly, are rhetorical — but they ought not to be.
Conversation