Commentary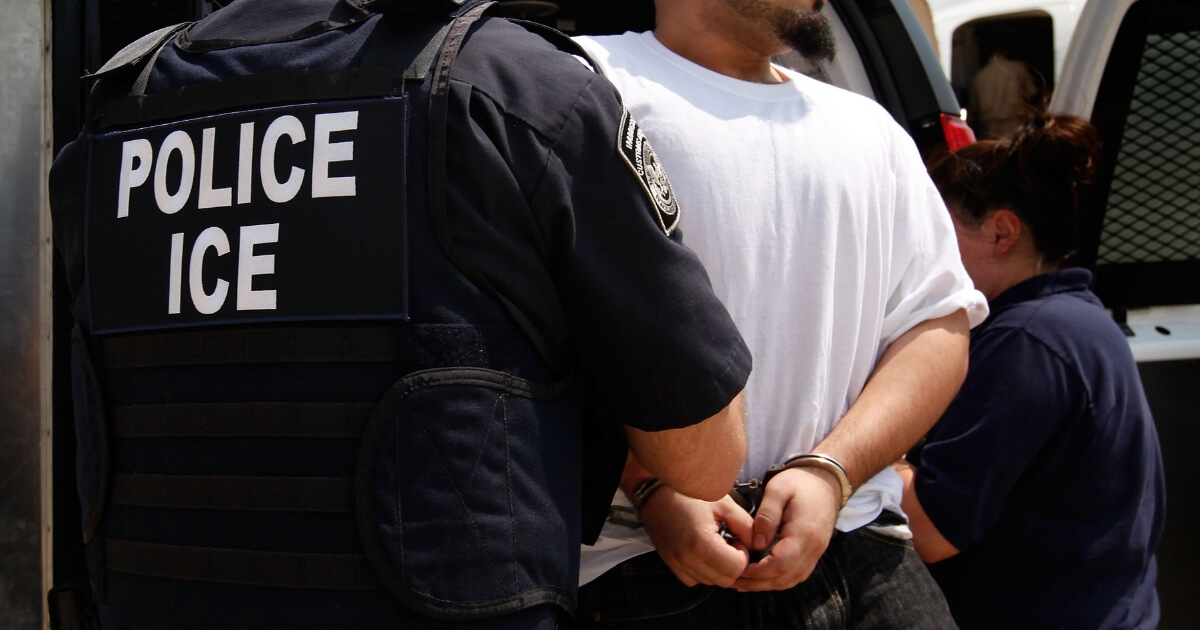 Massive Immigration Sweep in New England Captures 58 Illegals, Many with Terrifying Rap Sheets
When President Donald Trump referred to illegal aliens in less than flattering terms, he was roasted by the left. However, recent reports have shown that he had a point and was right to be so tough on illegal alien immigration.
The latest 'proof' of his accuracy comes from an Associated Press report. In a five-day sweep across New England, police arrested 58 illegal aliens, the majority of whom have some kind of criminal charge previously or pending.
ICE arrests 58 in New England enforcement action https://t.co/5dW2eMcEvs pic.twitter.com/gYFwfnQjY1

— ICE (@ICEgov) December 7, 2018
Advertisement - story continues below
The Associated Press reported that of the 58, according to immigration officials, "Thirty of the people have prior felony convictions for serious or violent offenses, and 33 have criminal charges pending." Additionally, "Nine had been previously deported, and 15 had been previously released by local authorities despite the agency's request to hold them."
The sweeps were conducted in Connecticut, Massachusetts, New Hampshire, and Rhode Island. They concluded on December 4.
Some of the examples cited included individuals wanted for murder in other countries. Two men, one in Massachusetts and one in Connecticut, were both wanted in Brazil on murder charges.
Advertisement - story continues below
In addition, an ICE press release about the roundup noted that, "9 of those arrested had been previously removed from the United States and returned illegally. And 4 had active Interpol Red Notices."
Because a number of cities across New England have adopted "sanctuary city" stances, immigration officials must take independent action. Acting director of ICE's Boston's field office, Todd Lyons, explained the situation in the press release.
Should Sanctuary Cities be eliminated?
"ICE officers in New England continue to enforce immigration laws as they have always done, targeting criminal aliens and removing them from our streets. Despite unjustified criticism, our officers continue to work daily with professionalism and integrity to enforce immigration law and protect our communities from criminal aliens."
He added that, "Ultimately, efforts by local politicians have shielded removable criminal aliens from immigration enforcement and created another magnet for more illegal immigration, all at the expense of the safety and security of the very people it purports to protect. Despite the severe challenges that local policies have created for ICE, we remain committed to our public safety mission and we will continue to do our sworn duty to seek out dangerous criminal aliens and other immigration violators."
"ICE seeks straightforward cooperation with all local law enforcement and elected officials." In his statement he gave other examples, not reported by the Associated Press, of the criminal behavior related to the illegal aliens who were picked up.
Advertisement - story continues below
One such example involved drugs and identity theft. "In Methuen, Massachusetts, a 23- year old national of the Dominican Republic who had assumed the identity of a U.S. citizen with prior convictions for drug trafficking, identity theft, and resisting arrest, who is facing current pending drug trafficking charges.
Another example included extreme violence. "In Brockton, Massachusetts, a 41-year old national of France with previous convictions for cocaine possession and multiple instances of assault and battery whose history also includes 30 adult arrangements with arrests for kidnapping, assault and battery with a deadly weapon, domestic violence and other felony charges."
Other cases cited included drugs and drug trafficking, identity theft, money laundering, embezzling, and gun trafficking. The illegal aliens picked up came from a wide variety of countries, including Antigua, Brazil, the Dominican Republic, France, Haiti, and Jamaica.
Federal criminal prosecution will apply to some of the individuals due to illegal entry and illegal re-entry after deportation. Lyons explained that,"Any individual that returns to the United States illegally after being deported, is subject to immediate removal from the United States."
Advertisement - story continues below
A quick perusal of press releases from ICE shows that this is just one of such sweeps being conducted across the United States. On a regular basis, ICE is picking up illegal aliens, many of whom have other alleged criminal activity to their names, including child pornograpy and child sexual abuse.
ICE arrests 105 in New Jersey operation targeting criminal aliens and public safety threats https://t.co/KRSGN9T1aU pic.twitter.com/IArCelYmVz

— ICE (@ICEgov) December 7, 2018
The threat to public safety is real. Despite the choice by some cities to ignore the law and shield illegal aliens regardless of their other alleged crimes, Lyons made it clear that ICE will continue to pursue, arrest and deport them.
Conversation