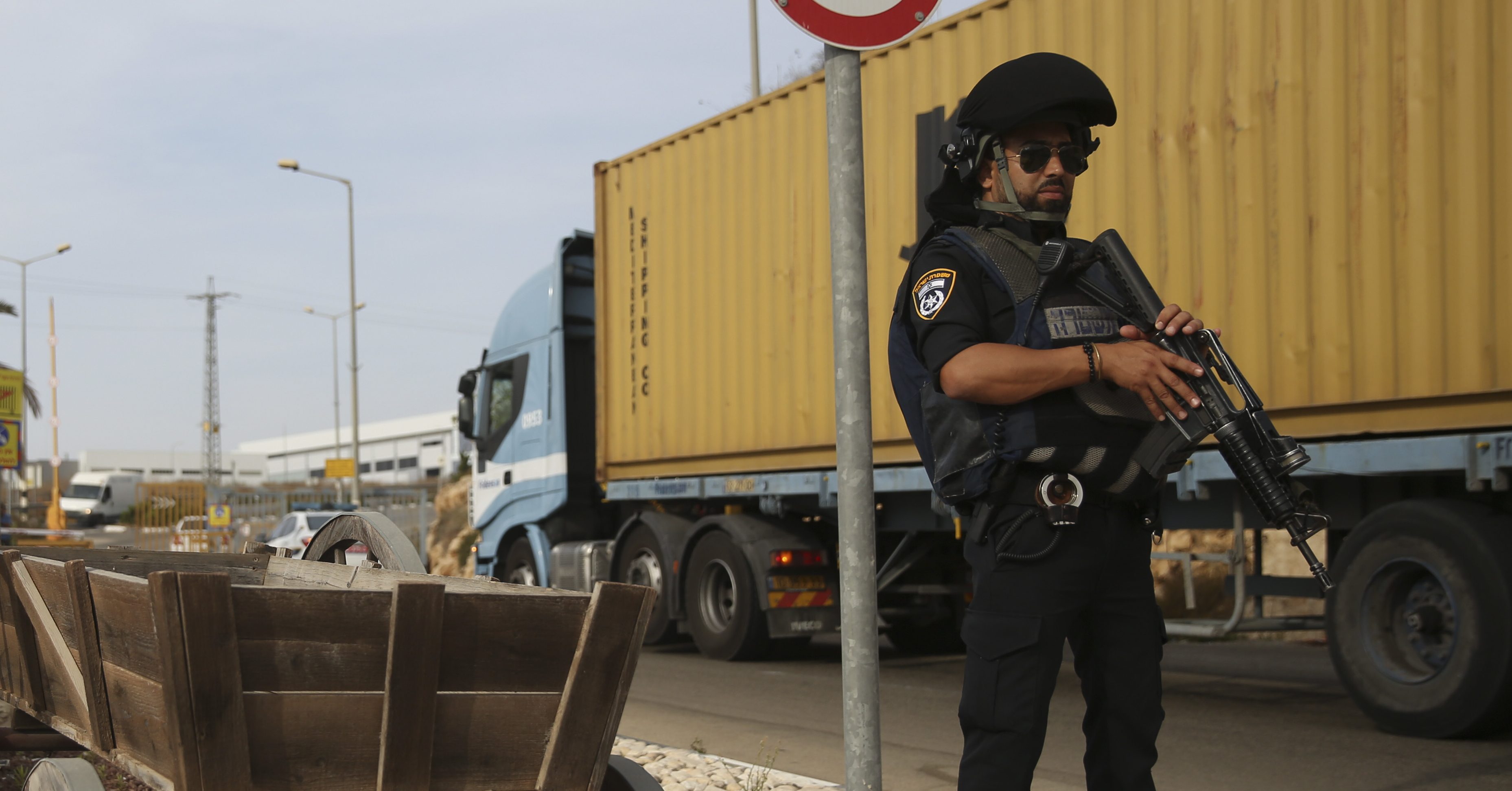 Israeli Mother, Father Killed by Palestinian Terror Attacks
A Palestinian attacker opened fire inside a West Bank industrial zone Sunday morning where Israelis and Palestinians work together, killing two Israelis and seriously wounding a third, the military said.
Military spokesman Lt. Col. Jonathan Conricus said the preliminary finding is that a 23-year-old from a nearby village carried out a "terror attack" in the Barkan industrial zone near the settlement of Ariel before fleeing the scene. But other workers in the industrial zone suggested the attack was carried out by a disgruntled employee and was not politically motivated.
Conricus said the suspect was not known to authorities and was not believed to belong to a Palestinian militant group, saying it appeared to be a "lone wolf" attack. "We know he is still armed and considered dangerous," he added.
Advertisement - story continues below
Both Prime Minister Benjamin Netanyahu and Defense Minister Avigdor Lieberman denounced the attack and said the perpetrator would be brought to justice.
"Our security forces are chasing after the despicable murderer," Netanyahu wrote on Twitter. "I am sure we will catch him and bring him to justice soon."
Since 2015, Palestinians have killed over 50 Israelis, two visiting Americans and a British tourist in stabbings, shootings and car-ramming attacks. Israeli forces killed over 260 Palestinians in that period, of which Israel says most were attackers.
Gaza's Hamas rulers and other militant groups praised Sunday's attack, but none claimed responsibility for it.
Advertisement - story continues below
One of the victims was identified as Kim Yehezkel, a 28-year-old mother of an infant son who worked in the office that was attacked. The second was named as Ziv Hajbi, 35, a father of three. Another woman in her 50s was seriously wounded. Closed-circuit footage from the scene showed a man holding a handgun and wearing a backpack, fleeing down a flight of stairs and then dashing past stunned onlookers.
Israeli media reported that those killed were found shot to death on their office floor with their hands bound. At his weekly Cabinet meeting, Netanyahu said they had been killed "with great cruelty."
Do you think this attack will affect how Israelis and Palestinians co-exist?
Thousands of Israelis and Palestinians work side by side at Barkan, an industrial zone in the West Bank that includes some 160 factories. The Palestinian economy is heavily restricted under Israeli military rule, forcing tens of thousands of Palestinians to seek work in Israel as well as Jewish settlements.
Conricus said the attacker was employed in one of the factories and had a valid working permit. While insisting the attack was an act of terrorism, he acknowledged there were "other factors involved as well," without elaborating.
Moshe Lev-Ran, an export manager at a company whose factory is located next to the scene of the attack, said he doubted the official account.
Advertisement - story continues below
"One of the workers was fired and he didn't like the owner … Everybody knew him. He went upstairs to the second floor because he knew who he wanted to shoot, and he shot," he said. "That's what I think happened. I don't believe it was one of the Palestinians who just woke up in the morning and took a gun to shoot an Israeli."
"No way in our industrial zone," he said, describing an atmosphere of camaraderie in Barkan.
Israeli President Reuven Rivlin said: "This was not only an attack on innocent people going about their daily lives, it was also an attack on the possibility of Israelis and Palestinians co-existing peacefully."
The Western Journal has reviewed this Associated Press story and may have altered it prior to publication to ensure that it meets our editorial standards.
Conversation