Commentary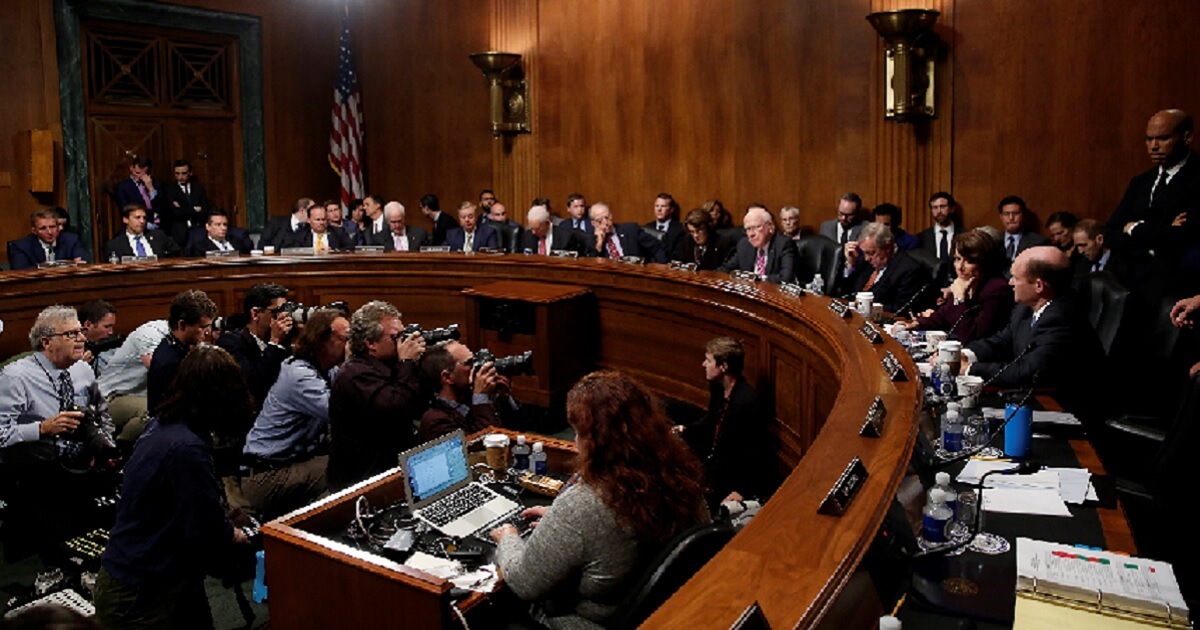 Judiciary Committee Refers Potential False Allegation Against Kavanaugh to FBI
An allegation made by a Rhode Island man against Supreme Court nominee Brett Kavanaugh has been referred to the FBI because it represents a potential false statement, The Washington Times reported.
"Chairman Charles E. Grassley said the committee had to waste resources tracking down the claim by the man, who said Judge Kavanaugh raped one of his friends back in the 1980s," The Times reported.
"The man said he and another friend went to beat Judge Kavanaugh up — then said he recognized him recently when television showed Judge Kavanaugh after he was nominated to the high court."
Advertisement - story continues below
After reporters discovered his identity, the unnamed man backed off of the story and repudiated his narrative.
But Grassley, an Iowa Republican, said the damage had been done.
"Such acts are not only unfair; they are potentially illegal. It is illegal to make materially false, fictitious or fraudulent statements to congressional investigators. It is illegal to obstruct committee investigations," Grassley said in a letter to Attorney General Jeff Sessions and FBI Director Christopher Wray, according to The Washington Times.
The Senate Judiciary Committee also issued a statement about the investigation.
Advertisement - story continues below
"In a letter to Attorney General Jeff Sessions and FBI Director Chris Wray, Chairman Chuck Grassley sought a criminal referral of the actions by a named individual who provided Congress with the information, diverting Committee resources from an ongoing investigation," the Judiciary Committee's statement read.
"Committee investigators have actively pursued a number of tips the committee has received regarding the nomination of Judge Kavanaugh to the Supreme Court, though the committee has not been able to substantiate any allegations of wrongdoing by Kavanaugh.
Do you think that the new FBI investigation was called for?
"One tip was referred to the committee by staff for Sen. Sheldon Whitehouse (D-RI). While Whitehouse referred the accuser to a reporter, the committee took the claim seriously and questioned Judge Kavanaugh about the allegations under penalty of felony.
"Judge Kavanaugh denied any misconduct," the statement continued. "After the transcripts of that interview became public, the individual recanted the claims on a social media post."
The statement concluded by noting the chairman called on authorities "to review the matter as a possible violation of 18 U.S.C. §§ 1001 and 1505, portions of the U.S. code criminalizing the sharing of materially false information with committee investigators and obstruction of proceedings of congressional committees."
Advertisement - story continues below
"The Committee is grateful to citizens who come forward with relevant information in good faith, even if they are not one hundred percent sure about what they know," Grassley said in the statement.
"But when individuals provide fabricated allegations to the Committee, diverting Committee resources during time-sensitive investigations, it materially impedes our work.
"Such acts are not only unfair; they are potentially illegal. It is illegal to make materially false, fictitious, or fraudulent statements to Congressional investigators. It is illegal to obstruct Committee investigations."
.@senjudiciary today referred potential false statements alleging misconduct by Judge Kavanaugh to federal law enforcement for criminal investigation after accuser recanted.https://t.co/4KOoBMz6xX pic.twitter.com/JorhgqiiYk

— Senate Judiciary (@senjudiciary) September 30, 2018
Advertisement - story continues below
The move comes as the FBI conducts an additional one-week investigation into allegations against Kavanaugh at President Donald Trump's request — although with considerable prodding from Republicans like Arizona Sen. Jeff Flake, who said he wouldn't vote to confirm the nominee without additional vetting to make him "feel better" about the choice.
The Washington Post has reported that investigation will include the second Kavanaugh accuser, Deborah Ramirez, a Yale classmate of Kavanaugh's.
"She has agreed to cooperate with their investigation," a statement from Ramirez attorney John Clune read. "Out of respect for the integrity of the process, we will have no further comment at this time."
Julie Swetnick, a third accuser represented by Stormy Daniels lawyer Michael Avenatti, has yet to be contacted by the FBI.
Conversation
Notice: Due to threatened de-monetization, we have temporarily removed commenting while we build a long-term commenting solution that allows you to voice your opinion freely and allows us to continue to publish the news fearlessly and cover topics that you care about. If you would like to personally partner with The Western Journal to help us continue publishing while under relentless assault by Big Tech, please visit our
subscription page
here. We encourage you to share this article and discuss with your friends.