Commentary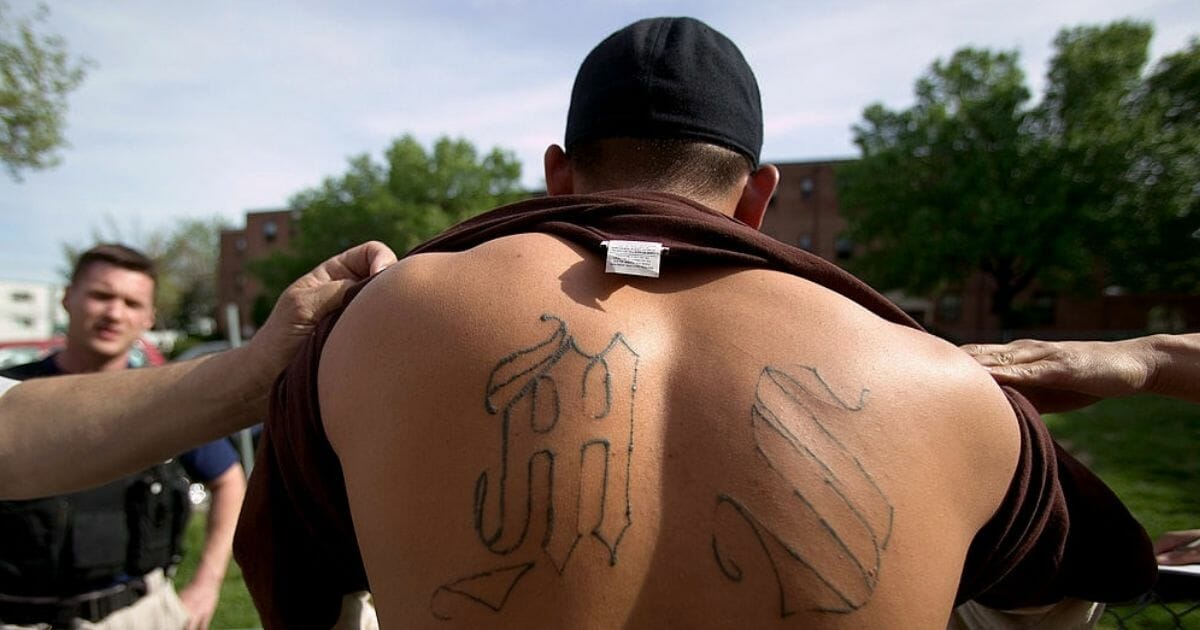 Just In: 19 MS-13 Gang Members Charged with 'Medieval-Style' Slayings Here Illegally
As part of his administration's ongoing effort to crack down on criminal illegal aliens residing in the United States, President Donald Trump has focused on MS-13, a ruthlessly violent transnational street gang that originated in El Salvador.
That scrutiny of MS-13, which conducts criminal operations across much of Central America and in the U.S., paid off with an unsealed indictment announced Tuesday. It charged 22 MS-13 members from the Los Angeles, California, area with several murders and a host of other violent crimes that were part of an alleged racketeering conspiracy, according to a media release from the U.S. Attorney's Office in the Central District of California.
The 12-count, 78-page indictment linked the gang members to at least seven brutal murders in the past two years in the L.A.-area. The members were part of an MS-13 subset known as the Fulton clique, whose base of operations was centered in California's San Fernando Valley.
Advertisement - story continues below
The murder victims, in most cases, either members of rival gangs or individuals suspected of cooperating with the police, though at least one of the victims was a homeless man living in a park controlled by the gang. Most of the murders were also part of a gang initiation ritual in which young associates were "required to kill an MS-13 rival or someone perceived to be adverse to MS-13 to be initiated into MS-13."
According to Fox News, a spokesman for the U.S. Attorney's Office in L.A., Thom Mrozek, revealed that 19 of the 22 defendants were illegal aliens who'd illegally entered the country within the past two or three years.
The media release from the U.S. Attorney's Office noted the particular brutality used by MS-13 to commit the murders, with the weapons of choice being machetes, knives and baseball bats.
One particular grisly murder involved a rival gang member being abducted and attacked with machetes, after which the "victim was dismembered, and his body parts were thrown into a canyon after one of the defendants allegedly cut the heart out of the victim's body."
Advertisement - story continues below
"We have now taken off the streets nearly two dozen people associated with the most violent arm of MS-13 in Los Angeles, where the gang is believed to have killed 24 people over the past two years," U.S. Attorney Nick Hanna said.
"The collaborative law enforcement effort solved several murder cases and dealt a severe blow to members of the gang who engaged in acts of brutality not seen in the region for over 20 years," Hanna added.
Are you glad the Trump administration has focused on taking down MS-13 members?
The "collaborative effort" and resultant RICO case Hanna described was the culmination of an extensive investigation led by the Los Angeles Metropolitan Task Force on Violent Gangs, which included the FBI, Los Angeles Police Department, Los Angeles County Sheriff's Department and local, state and federal prosecutors.
"Taking violent offenders off the street should send a message to MS-13 members and their associates that medieval-style violence and senseless murder will not be tolerated in Los Angeles," Paul Delacourt, assistant director in charge of the FBI's L.A. Field Office, said in the statement.
Delacourt's reference to "medieval-style violence" in L.A. is rather ironic, given the recent resurgence of "medieval" infectious diseases among the city's homeless, diseases that had once been all but wiped out in the civilized Western world.
Advertisement - story continues below
L.A. County District Attorney Jackie Lacey noted that most of MS-13's victims were also newly arrived immigrants and said, "The greatest tragedy in these cases is that these young victims likely left their homelands hopeful that in the United States they would find safety and prosperity."
"Instead, these victims had the misfortune of crossing paths with violent gang members who preyed on the vulnerabilities of their immigrant experience," Lacey added.
The accused MS-13 killers' immigration status is a key point that bears repeating: Nearly all of those arrested and charged were residing in the country illegally and never should have been here in the first place to have the opportunity to commit horrific crimes.
It is criminal illegal aliens like these that Trump and his administration are most focused on locating, apprehending, holding accountable for their crimes and ultimately deporting out of the country, and we can only hope and pray that his administration will continue to do so for the remainder of his time in office.
Conversation